Battery Van Forms Basis of Ambulance
13th November 1942
Page 25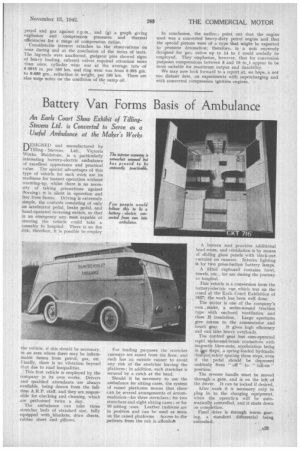 Page 25, 13th November 1942 —
Battery Van Forms Basis of Ambulance
Close
An Earls Court Show Exhibit of TillingStevens Ltd. is Converted to Serve as a Useful Ambulance at the Maker's Works
rNESIGNED and manufactured by Tilling Stevens, Ltd., Victoria \Wicks, Maidstone, is a particularly interesting battery-electric ambulance of excellent appearance and practical value. The special advantages of this type of vehicle for such work are its readiness for instant operation without warming-up, whilst there is no necessity of taking precautions against fkezing'; it is silent in operation and free from fumes. Driving is extremely simple, the controls consisting of only an accelerator pedal, brake pedal, and hand-operated reversing switch, so that in an emergency any man capable of steering the vehicle could take a casualty to hospital. There is no fire risk; therefore, it is possible to employ
the vehicle, if this should be necessary, in an area where there may be inflammable fumes from petrol, gas, etc. Finally, there is no vibration beyond that due to road' inequalities, This first vehicle is employed by the ' company in its own works. Drivers and qualified attendants are always available, being drawn from the fulltime A.R.P. staff, and they are responsible for checking and cleaning, which are performed twice a day.
The ambulance can take three stretcher. beds of standard size, fully equipped with, blankets, draw sheets, rubber sheet and pillows. •
For loading purposes the stretcher runways are raised from the floor, and each has an outside runner to avoid any risk of the stretcher leaving the platform ; in addition, each stretcher is secured by a catch at the head.
Should it be necessary to use the ambulance for sitting cases, the system of raised platframs means that there' Sean be several arrangements of accommodation—for three stretchers ; for two stretchers and eight sitting cases ; or for 16 sitting sases. Leather cushions are in position and can be used as seats on the raised platforms. Access to the patients from the cab is affordet.4s A la tern roof provides additional head ro and ventilation is by means of slidi g glass panels with black-out curtain. on runners. Interior lighting is by t o press-button battery lamps.
A fi ted cupboard contains bowl, towels, tc.. for use during the journey to hos -tal.
This ehicle is a conversion from the battery electric van which was on the stand a the Earls Court Exhibition of 1937; t e Work .haa been well done.
The otor is one of the company's
.own ke, a series-wound traction type ith enclosed ventilation and
class insulation. Large apertures give a ess to the commutator and brush r. It gives high efficiency and ca take heavy overloads.
The •ontrol gear has cam-operated rapid ake-and-broak contactors with magneti blow-outs, acceleration being in Ilya teps, a spring-loaded hydraulic ilaslipot safely spacing these steps, even if the pedal should be depressed suddenl from " off " to " full-on " position
The •verse handle must be moved through a gate, and is on the left of the driv r. It can be locked if desired.
After work it is necessary only to plug in to the charging equipment,
when e operatic n will be automaticaR controlled, and it shuts down on corn etion.
Final drive is through worm gearing, a standard differential being embodit, .