Passing Comments
13th November 1942
Page 18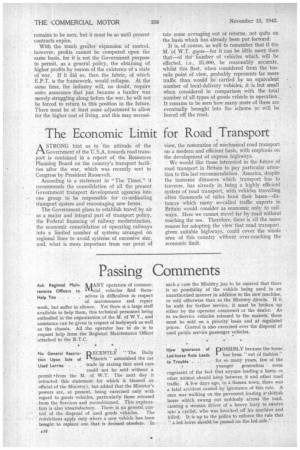 Page 19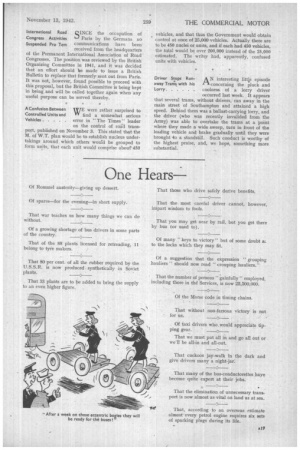 Page 18, 13th November 1942 —
Passing Comments
Close
Ask Regional MainItiTANY operators of commertenance Officers to 11cial. vehicles firid themHelp You . . . . selves in difficulties in respect
of maintenance and repair work, but suffer in silence. Yet there is a large staff available to help them, this technical personnel being embodied in'the organization of the M. of W.T., and assistance can be given in respect of bodywork as well as the chassis. All the operator has to do is to request help from the Regional Maintenance Officer attached to the R.T.C.
No General RestricECENTLY. "The Daily
tion Upon_ Sate of "Sketch " astonished the car Used Lorries . . trade by stating that used cars could not be sold without a permit from the M. of W.T. The next day it retracted this statement for which it blamed an official of the Ministry), but added that the Minister's powers are, at present, being exercised only with regard to goods vehicles, particularly those released from the Services and reconditioned. This explanation is also unsatisfactory. There is no general con trol of the disposal of used goods vehicles. The restrictions apply only where a new vehicle has been bought to replace one that is deemed obsolete. In
such a case the Ministry "has to be assured that there is no possibility of the vehicle being used in an unauthorized manner in addition to the new machine, or sold otherwise than as the Ministry directs. If it be unfit for further service, it must be broken up either by the operator concerned or the dealer. As to ex-Service vehicles released to the makers, these must be sold on a priority basis and at regulated prices. Control is also exercised over the disposal of used public service passenger vehicles.
How Ignorance of pOSSIBLY because the horse
Led-horse Rule Leads has been "out of fashion" to Trouble . . . . for so many years, few of the
younger generation seem cognizant of the fact that anyqne leading a horse or other animal should keep between it and other road traffic. A few days ago, in a Sussex town, there was a fatal accident caused by ignorance of this rule. A man was walking on the pavement leading a, skittish horse which swung out suddenly across the road, causing a woman driver of a heavy lorry to swerve into a cyclist, who was knocked off his machine and killed. It is up to the police to enforce the rule that " a led horse should be passed on the led side." SINCE the occupation of Paris by the Germans no communications have been received from the headquarters of the Permanent International Association of Road Congresses. The position was reviewed by the British Organizing Committee in 1941, and it was decided that an effort should be made to issue a British Bulletin to replace that formerly sent out from Paris. It was not, however, found possible to proceed with this proposal, but the British Committee is being kept in being and will be called together again when any useful purpose can be served thereby.
International Road Congress Activities Suspended Pro Tern
A Confusion Between WE were rather surprised to Controlled Units and find a somewhat serious Vehicles error in " The Times" leader
on the control of road transport, published on November 3. This stated that the M. of W.T. plan would be to establish nucleus undertakings around which others would be grouped to form units, that each unit would comprise about 450 vehicles, and that thus the Government would obtain control at once of 25,000 vehicles. Actually there are to be 450 nuclei or units, and if each had 450 vehicles, the total would be over 200,000 instead of the 25,000 estimated. The writer had, apparently, confused units with vehicles.
Driver Stops RunA N interesting little episode away Trams with his 1-1 concerning the pluck and Lorry coolness of a lorry driver
occurred last week. It appears that several trams, without drivers, ran away in the main street of Southampton and attained a high speed. Behind them was a ballast-carrying lorry, and the driver (who was recently invalided from the Army) was able to overtake the hams at a point where they made a wide sweep, turn in front of the leading vehicle and brake gradually until they were brought to a standstill. Such conduct is worthy of the highest praise, and, we hope, something more substantial.