AGENTS MEET AND DINE.
13th November 1923
Page 7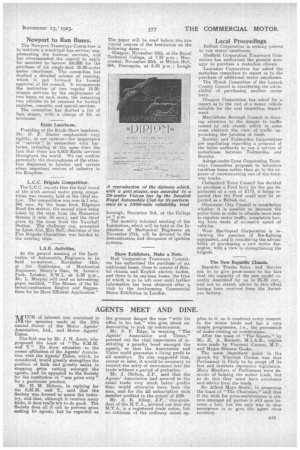 Page 7, 13th November 1923 —
AGENTS MEET AND DINE.
Close
MUCH of interest was contained in the speeches made at the 10th annual dinner of the Motor Agents' A.ssoelation, Ltd., and Motor Agents' Union.
The first was by Mr. j. H. Jones, who proposed the toast of "The S.M.M. and T." He drew attention to the recent affiliation of the Agents' Association with the Agents' Union, which, he considered, would greatly strengthen the position of both and greatly assist in stopping price cutting amongst the agents, and he appealed to the Society for the inskitution. of "one price only for a partioular product. Mr. H. M. Hobson, in replying for the S.M.M. and T.' said that the Society was formed to assist the industry, and that, although it receives many kicks, it does Teeny !try to do good. The Society does all it can to prevent price cutting by agents, but he regarded as
the greatest danger the man "with his office in his hat, ' who goes about endeavouring to pick up commissions. Mr. S. F. Edge, in toasting " The Agents' Association and Union," pointed out the vital importance of instituting a penalty bond amongst the agents, so that the Association and Union could guarantee a living profit. to all members. He also suggested that, sooner or later, it would be necessary to restrict the entry of newcomers into the trade without a period of probation.
Mr. J. 0.hilton, J.P., said that the Agents' Association had secured to the retail trade very much better profits than would otherwise have been the ease, and for the £5 subscription each member profited to the extent of £50. Mr. A. R. Atkey, J.P., vice-president of the M.T.A,, pointed out that the M.T.A.. is a registered trade union, but no criticism of the ordinary union ap
plies to it, as it combines every interest an the motor trade and has a very simple programme, i.e., the prevention of under-cutting on commissions.
After the toast of "The Guests," by Mr. H. A. Bennett, M.I.A.E., replies were made by Viscount Curzon, M.P., and Major Steneon Cooke.
The meet important point in the speech by Viscount Cure= was that Parliament is likely to be swept off its feet and institute repressive legislation. Many Members of Parliament were desirous of helping the motor trade, but to do this they must hove assistance and advice from the trade
Sir Alfred Mays Smith, in proposing the toast of "The Chairman," said that if the wish for price-maintenance is sincere amongst all parties it will soon become a fact, but the only way to stop corruption Is to give the agent chose territory.