1924: THE INTENTIONS OF THE TRADE
13th November 1923
Page 10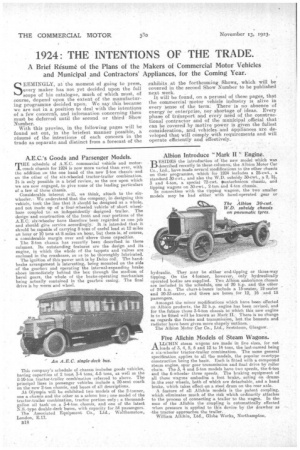 Page 11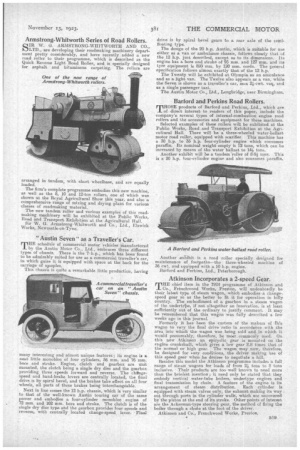 Page 12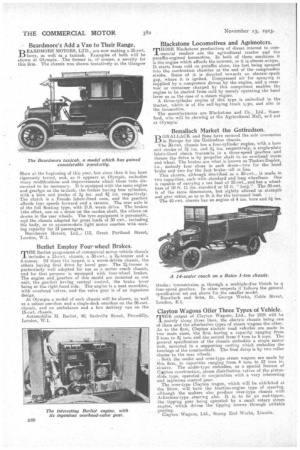 Page 13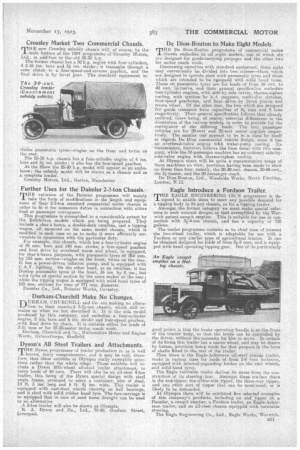 Page 14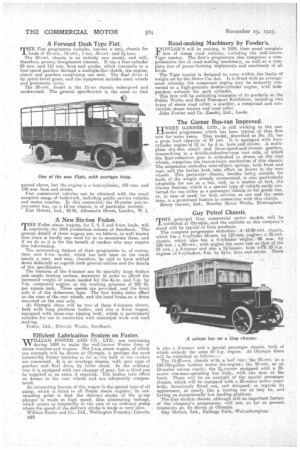 Page 15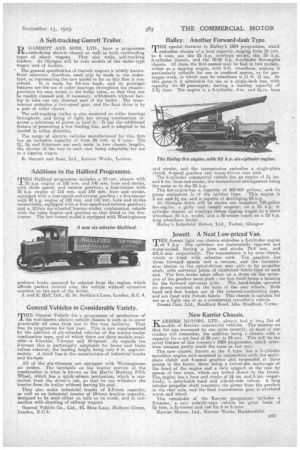 Page 16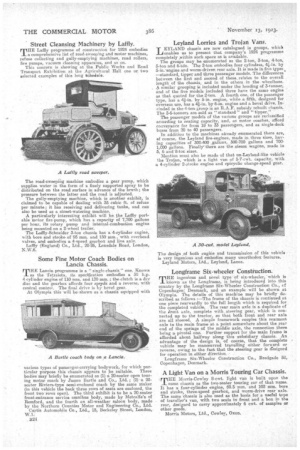 Page 17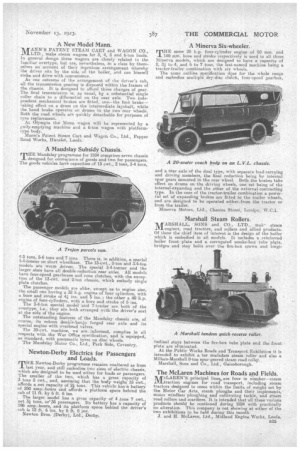 Page 18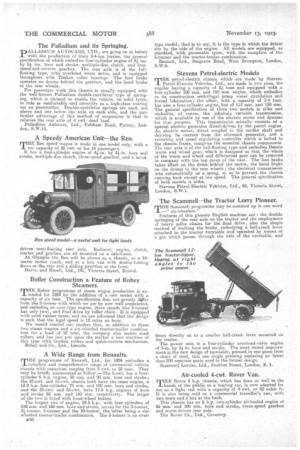 Page 19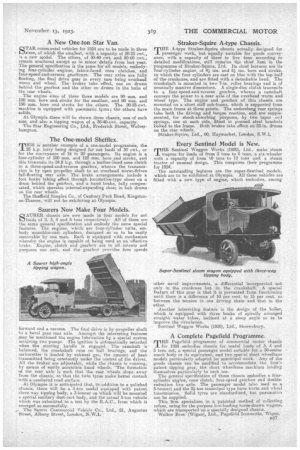 Page 20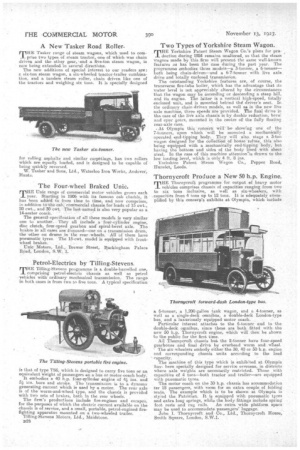 Page 21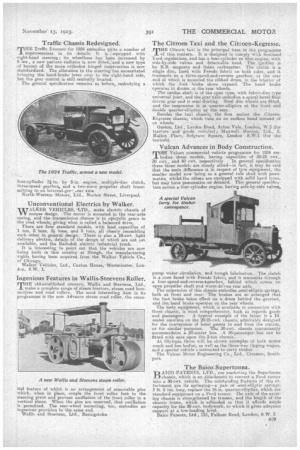 Page 22
Page 10, 13th November 1923 —
1924: THE INTENTIONS OF THE TRADE
Close
Keywords :
Land Transport
,
Transport
,
Road Transport
,
Leyland Motors
,
Trucks
,
Standard Motor Company
,
Albion Motors
,
Four-wheel Drive
,
Scammell
,
Vulcan
,
Off-roading
,
Rolls-royce 15 Hp
A Brief Résumé of the Plans of the Makers of Commercial Motor Vehicles and Municipal and Contractors' Appliances, for the Coming Year.
SEEMINGLY, at the moment of going to press, every maker has not yet decided upon the full scope of his catalogue, much of which must, of course, depend upon the extent of the manufacturing programme decided upon. We say this because we are not in a position to deal with the intentions of a few concernig, and information concerning them must be deferred until the second or third Show Number.
With this proviso, in the following pages will be found set out, in the briefest manner possible, a résumé of the intentions of each concern in the trade as separate and distinct from a forecast of the exhibits at the forthcoming Shows, which will be covered in the second Show Number to be published next week.
It will be found, on a perusal of these pages, that the commercial motor vehicle industry is alive in every Sense of the term. There is no absence of energy or enterprise, nor shortage of ideas, Every phase of trnsport and every need of the constructional contractor and of the municipal official that . can be covered by motive power is given the fullest consideration, and. vehicles and appliances are developed that will comply with requirements and will operate efficiently and effectively.
A.E.C.'s Goods and Pwsenger Models.
MHE schedule of A.E.C. commercial vehicle and motor coach chassis for 1924 is now more varied than ever, with the addition on the one hand of the, new 2-ton chassis -and on the other of the six-wheeled tractor-trailer combination. It is only possible in a brief review, as the one upon which we are now engaged, to give some of the leading particulars of a few of these chassis.
Considerable interest will, we think, attach to the sixwheeler. We understand that the company, in designing this vehicle, took the line that it should be designed as a whole, and not made up of a four-wheeled vehicle. of short wheelbase coupled to. an independently designed trailer. The design and construction of the front and rear portions of the A.E.C. six-wheeler have therefore been 'regarded as one job and should. give. service -accordingly. It .is intended that it should be capable of carrying 8 tons of useful load at 12 miles an hour or 10 tons at-8.miles an hour, but there is, of course, a considerable margin over and above these capacities.
The 2-ton chassis has recently been described in these columns. Its outstanding -features are the design and its engine, in which the whole of the tappets and valves are enclosed in the crankcase, so as to be thoroughly lubricated.
The ignition of this power unit is by Delco coil. The handbrake arrangement is interesting, being mounted on the side of the gearbox and operating the internal-expanding brake shoes immediately behind the box through the medium of bevel gears, the whole of tile brake-operating mechanism being actually contained in the gearbox casing. The final drive is by worm and ..vheel.
This company's schedule of chassis includes goods vehicles, having capacities of 2 ten, 3-4 tons, 4-5 tons, as well as the 8-10-ton tractor-trailer combination referred to above. The principal lines in passenger vehicles include a 20-seat coach on the new 2-ton chassis, and buses of all descriptions.
At Olympia will be exhibited two models of the 2-tonner, one a chassis and the other as a saloon bus ; one model of the tractor-trailer combination, tractor portion only ; a thousandgallon oil tank on .a 3-4-ton chassis, and one of die latest N.S.-type double-deck buses, with capacity for 54 passengers. The Associated Equipment Co., Ltd., Walthamstow, London, E.17.
1318
Albion Introduce "Mark H" Engine.
BESIDES the introduction of -tbe new model which was described recently in these columns, the Albion Motor Car Co., Ltd.-, have-made several modifications to the other chassis on their programme, -which for 1924 includes a 25-cwt., a standard 30-cwt., and also the W.D. subsidy 30-cwt., a 2, 21, 3 and 4-ton, a. special 72-cwt. fantechnicon chassis, and tipping wagons on 30-cwt., 2-ton and 4-ten chassis.
In connection with the tipping wagons, the two smaller models may be had either with hand-operated gear or hydraulic. They may be either end-tipping or three-way tipping. On the 4-tonner, however, only hydraulically operated bodies are supplied. Two Albion ambulance chassis are included in the schedule, one of 20 h.p. and the other of 24 len. The chars-a-bancs include a. 15-seater, 19-seater aiad 20-23-seater, and there are buses for 12, 16 and 18 passengers.
Amongst the minor modifications which have been effected on Albion products, the 32 lip. engine has been revised, and for the future those 3-4-ton chassis to which this new engine is to be fitted will be known as Mark II. There is no change as regards the frame and transmission, but the bonnets and radiator have been given more shapely outlines. The Albion Motor Par Co., Ltd., Scetstotin, Glasgow.
Five Allehin Models of Steam Wagons.
ALLCHIN steam wagons are made in five sizes, for net loads of 3, 4, 5, 6 and 12 to 14 tons, the last-named being a six-wheeler tractor-trailer combination. The same general specification, applies to all the models, the popular overtype construct-ion being the basis. Each is fitted with a compound steam engine, spur gear transmission and final drive by miller chain. The 3, 4 and 5-ton models have two speeds, the 6-ton and the 6-wheeler three speeds. The braking equipment of all these wagons embodies a foot brake,, acting on drums an the rear wheels, both of which are detachable, and a hand brake, which takes effect on a steel drum on the rear axle.
A feature of all Allchin models is the patent coupling, which eliminates much of the risk which ordinarily attaches to the process of connecting "a trailer to the wagon. In the ease of the Afichin the coupling is automatically effected when -pressure is applied to this device by the drawbar as -the tractor approaches the trailer.
William Alichin, Ltd., Globe Works, Northampton.
Arnittrong-Whitworth Series of Road Rollers.
SIR W. Or. ARMSTRONG-WHITWORTH AND CO., LTD., are developing their roadmaking machinery department pretty considerably, and have recently added a new road roller to their programme, which is described as the Quick Reverse Light Road Roller, and is specially designed for asphalt and bituminous carpeting. The rollers are arranged in tandem, with short wheelbase, and are equally loaded. The firm's complete programme embodies this new machine, as well as the 8, 10 and 12-ton rollers, one of which was shown at the Royal Agricultural Show this year, and also a comprehensive range of mixing and drying plant for various classes of roadmaking material. The new tandem roller and various examples of this roadmaking machinery will be exhibited at the Public Works, Road and Transport Exhibition at the Agricultural Hall. Sir W. G. Arnistrong-leVhitworth and Co., Ltd., Elswick Works, New castle-on-Tyn e.
"Austin Seven" as a Traveller's Car.
MHE schedule of commercial motor Vehicles manufactured
by the Austin Motor Co., Ltd., embraces three different types of chassis. There is the 7 -h.p., which has been found to be admirably suited for use as a commercial traveller's car, in which guise it is equipped with space at the back for the carriage of samples. This chassis is quite a remarkable little production, having many interesting and almost unique features; its engine is a neat little monalloct of four cylinders, 56 mm. and 76 mm. bore and stroke. Engine, clutch and gearbox are unit mounted, the clutch being a single dry disc and the gearbox providing three speeds forward and reverse. The chtngespeed and hand-brake levers are centrally located, the final drive is by spiral bevel, and the brakes take effect on all four wheels, all parts of these brakes being interchangeable. Next in line comes the 12 h.p. chassis, which is very similar to that of the well-known Austin touring car of the same power and embodies a four-cylinder monobloe engine of 72 mm. and 102 mm. bore and stroke. The clutch is of the single dry disc type and the gearbox provides four speeds and reverse, with centrally located change-speed lever. Final drive is by spiral bevel gears to a rear axle of the semifloating type. The design of the 20 h.p. Austin, which is suitable for use either as a, van or ambulance chassis, follows closely that of the 12 h.p. just described, except as to its dimensions. Its engine has a bore and stroke of 95 mm. and 127 mm. and its tyre equipment is 820 mm. by 120 mm. cords. The general specification follows almost. exactly that of the 12 h.p. The Twenty will be exhibited at Olympia as an ambulance and as a light van. The Twelve also appears as a van, while the Seven is hOwn as a traveller's car, asai, 2i-cwt. vary, and as a single passenger taxi. The Austin Motor Co., Ltd., Longbridge, near Birmingham.
Barford and Perkins Road Rollers.
MHOSE products of Barford and Perkins, Ltd., -which are of direct interest, to readers of this paper, include the company's several types of internal-combustion engine road rollers and the accessories and equipment for these machines. Selected examples of these rollers will be exhibited at the Public Works, Road and Transport Exhibition at the Agricultural Hall. There will be a three-wheeled water-ballast motor road roller, equipped with scarifier. This machine has a. 30 h.p. to 35 h.p. four-cylinder engine which consumes paraffin. Its nominal weigbtf empty is 12 tons, which can be increased by means of the water ballast to 14i tons. Another exhibit will be a tandem roller of 8-9i tons. This is a 20 h.p, four-cylinder engine and also consumes paraffin.
Another exiiIhit is a road roller specially designed maintenance of • footpaths—the three-wheeled machine 36 cwt. and equipped with a 10 h.p. engine.
Barford and Perkins, Ltd., Peterborough.
Atkinson Incorporates a 2-speed Gear.
THE .chief item in the 1924 programme of Atkinson and Co., Frenchwood Works, Preston, will undoubtedly be their latest type of. steam wagon, which embodies-a change-. speed gear so as the better to fit it for operation in hilly country. The embodiment of a gearbox in a steam wagon of the und.ertAe, if not altogether an innovation, is at least sufficiently out of the ordinary to justify comment. It may be remembered that this -wagon was fully described a few weeks ago in this journal. Formerly it has been the custom of the makers of • this wa.gou to vary the final drive ratio in accordance with the area into which the wagon was being sold and in which it would presumably, therefore, be most..corrunonly used. On this new Atkinson an epieyelic gear is mounted on the engine crankshaft, which gives a low gear 2.8 times that of the normal or high gear. The wagon may now, therefore, be designed for easy conditions, the driver making Use of this speed gear when he desires to negotiate a hill. Besides this model the Atkinson programme includes a full range of steam wagons for loads of from 2i tons to 8 tons inclusive. Their products are too well known to need more than the briefest mention ; it need rally be stated that they embody vertical water-tube boilers, undertype engines and final transmission by chain. A feature of the engine is its arrangement of steam distribution. Each cylinder is equipped with steam valves only, the exhaust making its way out through ports in the cylinder walls, which are uncovered by the piston at the end of its stroke. Other points of interest are the Ackerman-type steering gear, the method of firing the boiler through a chide at the foot of the driver.
Atkinson and Co., Frenchwood Works, Preston.
• Beardmore's Add a Van to Their Range.
BEARDMORE MOTORS, LTD., are now making a 25-cwt. lorry, as well as a taxicab. Examples of both still be shown at Olympia. The former is, of course, a novelty for this firm. The chassis was shown tentatively at the Glasgow Show at the beginning of this year, but since then it has been rigorously tested, and, as it appears at Olympia, embodies many modifications and improvements which those tests discovered to be necessary. It is equipped with the same engine and gearbeex as the taxicab, the former having four cylinders, with a bore and stroke of 31 ins. and 41 ins. respectively. The clutch is a Ferodo fabric-lined cone, and the gearbox affords four speeds forward and a reverse. The rear axle is of the full floating type, with D.S. worm drive. The brakes take effect, one on a drum on the cardan shaft, the others on drums in the Tear wheels. The tyre equipment is pneumatic, and the chassis adapted for gross loads of 30 cwt., including the body, or to accommodate light motor coaches with •seating capacity for 14 passengers.
Beardmore Motors', Ltd., 112, Great Portland Street, London, W.1.
Bernet Employ Four-wheel Brakes.
THE Berliet ptogramme of commercial motor vehicle chassis includes a 15-ce t. chassis, a 30-cwt., a 2i-tonner and a 6-tonner. Of these the largest is a worm-driven chassis, the others having final drive by bevel gear. The 21-tonner is particularly well adapted for use as a motor coach chassis, and for that purpose is equipped with four-wheel brakes. The engine ancLgearbox of this model are mounted as one unit, the gearbox having central control, the brake lever being at the right-hand side. The engine is a neat mcmobloc, with overhead valves, and the valve gear is of an ingenious design. _ At Olympia a model of each chassis will be shown, as well as a saloon omnibus and a single-deck omnibus on the 30-cwt. chassis, and an ambulance and a box delivery van on the 15-cwt. chassis.
Automobiles M. Berliet, 40, Sackville Street, Piccadilly, London, W.1.
Blackstone Locomotives and Agrimotors.
THOSE Blackstone productione of direct interest to commercial readers are the agricultural tractor and the paraffin-engined locomotive. In both of these machines it is the engine which affords the interest, as it is almost unique. It starts from cold on paraffin alone, the fuel being sprayed into the combustion chamber at the end of the compression stroke. Some of it is directed towards an electric-spark gap, where it is ignited. Compressed air for spraying is supplied by a. compressor driven by the engine, and a reservoir or container charged by this compressor enables the engine to be started from cold by merely operating the hand lever as in the case of a steam engine. A three-cylinder engine of this type is embodied in the tractor, which. is of the sell-laying track type, and also in the locomotive. The manufacturers are Blackstone and Ltd., Stamford, who will be showing at the Agricultural Co..all, a.rd not
at Olympia'2
Bonallack Market the GOtfredson.
BONALLACK and Sons have secured the sole concession in Europe for the Gotfredson chassis. The 30-cwt. chassis has a four-cylinder engine, with a bore and stroke of 3?, ins. and 51 ins, respectively, a single-plate fabric-lined clutch transmits to a. three-speed gearbox and thence the drive is by propeller shaft to an overhead worm and wheel. The brakes are what is known as Timken Duplex, i.e., embody four shoes in each drum—two for the hand brake and two for the foot brake—all in line. This chassis, although described as a 30-cwt., is made in two capacities, each with standard and long wheelbase. One is capable of carrying a net load of 25 cwt., and has a wheelbase of 10 ft. 11 ins, standard or 12 ft. "bag." The 30-cwt. Is of the same dimensions, but sightly altered in strength and gear ratios, so as to fit it for the increased load. The 40-cwt. chassis has an engine of 4 ins, bore and. 54r ins.
stroke; transmission is through a multiple-disc elutch to a four-speed gearbox. In other respects it follows the general. specification set out above for the smaller model.
Bonallack and Sons, St. Geerge Works, Cable Street, London, E.1.
Clayton Wagons Offer Three Types-of Vehicle.
THE output of Clayton Wagons, Ltd., for 1924 will be mainly along three lines the electric chassis being one of. them and the alternative types of steam wagons the other. As to the first, Clayton electric road vehicles are made in two main sizes, the first having a capacity ranging from 2 tons to 3& tons and the second from 4 tons to 6 tons. The general specification of the chassis embodies a single motor unit, mounted in a supporting casting which embodies the bearings of the countershaft. The final drive is by two roller chains to the rear wheels. —Both the under and over-type steam wagons are made by this firm, in capacities ranging from 4 tons to 12 tons in:elusive. The under-type embodies, as a special feature of Clayton construction, steam distribution valves of the piston slide type, operated. in conjunction with a very interesting and ingenious control gear. The over-type Clayton wagon, which will be exhibited at the Show, will have the traction-engine type of steering, although the makers also produce over-type chassis with Ackerman-type steering also. It is. to be en end-tipper, the tipping gear being operated by a small rotary steam engine, which drives the tipping screws through suitable gearing. Clayton Wagons, Ltd., Stamp End Works, Lincoln.
Crossley Market Two Commercial Chassis.
THE new Crossley subsidy chassis will, of course, be the main feature of the 1924 programme of Crossley Motors, Ltd,. in addition. to the-.old 25-30 h.p. The former chassis has a 30 h.p. engine with four cylinders, 4 5-16 ins, bore and 51 ins, stroke; it transmits through a cone clutch to a four-speed-and-reverse gearbox, and the final drive is by bevel gear. The standard equipment in.
eludes pneumatic tyres—singles on the front and twins On '
the rear.
The 25-30 h.p. chassis has 'a four-ea-Endei. engine of 4 ins. bore encl..% ins. stroke ; it also has the four-speed gearbox.
At the Show the 25-30 h.p. model Will appear as art-ambulance; the subsidy model will be shown as a chassis and as a complete tender.
Crossley Motors, Ltd., Gorton, Manchester.
Further Uses for the Daimler 2-3-ton Chassis.
TBE variation of the Daimler programme will mainly take the form of modifications in the length and equipmentof their 2-3-ton standard commercial motor chassis in order to lit it for numerous duties in connection with either load or passenger conveyance. This programme is exemplified to a considerable extent by the Exhibition models which are• being prepared. They include a char-à-barns, a double-deck omnibus, and a tipping wagon, all mounted on the same model chassis, which is modified in each case so as to make it more efficiently sera viceable•in eonnection with the particular duty.
For example, this chassis, which has a four-cylinder engine of 95 mm. bare and 140 mm. stroke, a four-speed gearbox and final drive by overhead worm and wheel, is equipped, for char-g-bancs purposes, with pneumatic tyres of 955 mm. by 155 mm. section—singles on the front, twins on the rear.
• It has a power-driven inflation pump, and is equipped with C.A.V. lighting. On the other hand, as an omnibus, it has Dunlop pneumatic tyres at the front, 36 ins. by 8 ins., but solid tyres of special section by the same maker at the rear ; while the tipping wagon is equipped with solid band tyres of 100 mm. sections for rims of 771 rem. diameter.
Daimler Co., Ltd., Daimler Works, Coventry.
Durham-Churchill Make No Changes.
T-II.TRHANI, CHURCHILL, and Co. are making no altera
tion to their standard 3-4-ton chassis, which still remains as when we last described it. It is the sole model pic,duced by this company, and embodies a four-cylinder engine, 5 ins, bore and 6 ins. stroke and four-speed gearbox, with final drive by chain. It is suitable either for loads of 3-3,-k tons or for 28-30-seater motor coach work.
Durham, Churchill and Co., ilallamshire Motor and Engine Works, Grimesthorpe, Sheffield.
Dyson's All Steel Trailers and Attachments.
TTIFIE Dyson programme' of trailer production is, as is well
known, fairly comprehensive, and it ms,y, be said, therefore, that these exhibits at. Olympia really exemplify selections rathet than the whole range. Those exhibits will include a Dyson fifth-wheel all-steel trailer attachment, to carry loads Of 10 tons. There will also be an all-steel 4-ton trailer, this being of the Dyson special design with steel angle frame, arranged to carry a container, also of steel, 13 ft. 5 ins, long and 6 ft. 41ins. wide. This trailer is equipped with cast-steel wheels runnisrg on ball bearings, and is shod with solid rubber band tyre. The fore-carriage is so equipped that in case of ,need horse draught can be used as an alternative
,A 3-ton trailer will also be shown at Olympia. R.. A. Dyson and .Co., Ltd., 76-80, Grafton Street, Liverpool.
De Dion-Boutori to Make Eight Models.
THE De Dion-Bouton programme of commercial inoOr chassis embodies -in all eight models, out of which six are de-signed for goods-carrying purposes and the other two for motor coach work.
Concerning ourselves with standard equipment, these eight may conveniently be divided into two classes—those which are designed to operate shod with pneumatic tyres and those Nvilich are intended to be equipped with solid band tyres. . Those on pneumatic tyrea are for loads of from 10 cwt. to 40 cwt. inclusive, and their general specification embodies four-cylinder engines, with side-by-side valves, therino-siphon • cooling, with ignition lay h.-t. magneto, multi-disc clutches, four-speed gearboXes, and final drive by bevel pinion and • crown wheel.. Of the other four, the two which are designed for goods transport have capacities of 4 tons and 5 tons respectively.. Their general specification follows that already outlined, there being, of course, essential differences in the dimensions of the various models, in order to provide for the conveyance of the differing loads. The two passenger vehicles are for 20-seat and 32-seat motor coaches respectively.. The smaller oaf appears,to be in a class by itself as regards De Dien commercial vehicle design, since it has an ,overhead-valve engine with water-pump cooling. Its transmission, however,-follows the lines usual with this company, while the 32-passenger machine has an ordinary side-byside-valve engine with thermo-siphon cooling.
At Olympia there will be quite a: representative range of these machines on view, provision having been made'to show no fewer than four, namely, the 20-30-cwt. chassis, 30-40-ewt,, the 4-tonner, and the 20-passenger coach. De Dion-Bouton, Ltd., Woodside Works, North Finchley, London, N.12.
Eagle Introduce a Fordson Trailer.
-MHE EAGLE ENGINEERING CO.'S programme is del_ signed to enable them to meet. any possible demand for a tipping body to fib any chassis, or for a tipping trailer.
Amongst, the former category we must, make special reference to such unusual designs as that exemplified by the Warwick patent cesspit emptier. This is suitable for-use in connection with 4-4-ton chassis, and has a capacity of 750 gallons.
The trailer programme contains as its chief item of interest the two-wheel trailer, which is adaptable for use with a Fordson or any similar type of agricultural tractor. It can be obtained designed for leads of from-4-5 tons, and is equipped with hand operating tipping gear. One of its particularly
good points is that the brake operating 'handle is at the front of the tractor body, so that the brake can be controlled by the driver, without the necessity for him to move. In certain of its forms this trailer has a castor wheel, and may be drawn by horses, provision being made for that purpose in the form of shafts fitted to the rear of the trailer.
Then there is the Eagle-Ackerman all-steel chass,is trailer, made in various sizes for loads of from 2-6 tons inclusive, equipped with internal-expanding' brakes on the rear wheels, and solid-hand tyres.
The Eagle turntable trailer derives its name from the construction of its steering:gear. Amongst these trailers there is the end-tipper, the either-side tipper, the three-way tipper, and any other sort of tipper that can be ment:oned, or is likely to be demanded. At Olympia there will be exhibited five selected examples of this company's products, including an end tipper on a Daimler, a cesspit emptier, a Fordson trailer, an Eagle-Ackerman trailer, and an all-steel chassis equipped with turntable steering.
The Eagle Engineering Co., Ltd., Eagle Works, Warwick. B21
A Forward Dash Type Fiat.
TFiat programme includes, besides a taxi, chassis for 1 loads of 10-cwt., 15-cwt., 1-ton, 30-cwt. and 31-tons. The 10-cwt. chassis is an entirely new model, and will, therefore, possess the-greatest interest.. It has a four-cylinder 65 mm. and 110 mm. bore and stroke, which transmits to a four-speed gearbox through a multiple-disc clutch, the engine, clutch and gearbox comprising one unit. The final drive is by spiral-bevel gears, and the equipment includes steel wheels and pneumatic tyres. The 30-cwt. model is the 15-ter chassis redesigned and modernized. The general specification is the same AS that
quoted above, but, the engine is a four-cylinder, 100 mm. and 140 mm. bore and stroke.
Fiat commercial vehicles can be obtained with the usual complete range of bodywork, including public service vehicles and motor coaches. In this connection the 16-seater pay-as. you-enter bus, on a 15-ter chassis, is of particular interest. Fiat Motors, Ltd., 43-44, Albemarle Street, London, W. 1.
'A New Six-ton Foden.
THE Foden steam wagons, for 3, 4, 5 and 6-ton loads, will constitute the 1924 production scheme at. Sandhach. The general details of these wagons are, we believe, so well known that there is hardly any need for us to enumerate them, and if we do so it is for the benefit of readers who may require this information.
The outstanding feature of their programme is, of course, their new 6-ton model, which has now been on the roads nearly a year, and may, therefore, be said to have settled down definitely as regards both general outline and the detaila of this specification.
The features of the 6-tonner are its specially large firebox and ample heating surface, necessary in order to afford the increased weight of steam needed for the 4k-in. and 7-in. by 7-in, compound engine, at the working pressure of 220 lb. per square inch. Three speeds are provided, and the front axle IS of the' Ackermantype. The foot brake takes effect on the rims of the rear wheels, and the hand brake on a drum mounted on the rear axle.
At Olympia there will be two of these 6-tonnes's shown, both with long platform bodies, and also a 5-ton wagon, equipped with three-way tipping body, which is particularly' suitable for use in connection with municipal work and road making.
Foden, Ltd., Elworth Works, Sandbach.
Efficient Lubrication System on Foster. TIET-n-J.TAm FOSTER AND CO., LTD., are continuing V V during 1924 to make the well-known Foster lines of steam tractors and wagons. The 5-ton steam wagon, of which one example will he shown at Olympia., is perhaps the most interesting Foster machine so far as the bulk of our readers are concerned. It is an overtype chassis, with spur type of gearbox and final drive by roller chain. In the ordinary way it is equipped with two changes of gear, but a third can be supplied as an extra if required. The brakes take effect on drums in the rear wheels and are adequately compensated.
An interesting feature of this wagon is the special type of oil pump, which is fitted to all Foster steam engines ; its outstanding point is that the delivery stroke of the pi mp 'plunger is made at high speed, thus eliminating leakage, which occurs. so. frequently in the case of an ordinary pump where the speed of the delivery stroke is made so very slow. William Foster and Co.. Ltd., Wellington Foundry, Lincoln. B22
Road-making Machinery by Fowler's.
T1OWLER'S will be making, in 1924, their usual complete line of steam road vehicles, including the -a-ell-kriowe Tiger tractor. The firm's programme also comprises a comprehensive list of road-snaking machinery, as well as a complete line of power-farming implements and machinery of all kinds.
The Tiger tractor is designed to come within the limits of weight set by the Motor Car Act. It is fitted with an arrangement whereby the compound engine may be instantly converted to a high-pressure double-cylinder engine, with independent exhaust for each cylinder.
This firm will be exhibiting examples of its products at the Public Works and Road Transport Exhibitian, including two types of steam road roller, a scarifier, a compound and convertible steam tractor and road roller.
John Fowler and Co. (Leeds), Ltd., Leeds.
The Garner Bus-van Improved.
J'ENRY GARNER, LTD., is still sticking to the onemodel programme which has been typical of that firm now for some years. That model, described as No. 15, has a gross load capacity of 47 cwt. It is aequipped with fourcylinder engine of 32 in. by 5 in. bore and stroke. A multi. plate dry-disc clutch and three-speed-andlreverse gearbox, transmitting to a double-reduction-type 'rear axle, of which the final-reduction gear is embodied in drums on the rear wheels, comprises the transmission mechanism of this chassis. The suspension embodies semi-elliptic springs, both front and rear, and the brakes both take effect on drums in the rear wheels. This particular chassis, besides being suitable for loads of the weight already enumerated, is also particularly adaptable for use as a bus, and, as a matter of fact, the Garner Busvan, which is a special type of vehicle easily converted for use either as a passenger vehicle or for goods van, or, in case of need; for both services at one and the same time, is a prominent feature in connection with this chassis.
Henry Garner, Ltd., Moseley Motor Works, Birmingham.
Guy Petrol Chassis.
THE principal Guy commercial motor models will be exhibited at Olympia, and the exhibits at this company's stand will be typical of their products. The complete programme embodies : -A 15-20-csvt. chassis, which has a 4-cylinder 85-mm. by 110-mm. engine; a 25-cwt. chassis, which la's° has a 4-eylinder 'engine, . 88 mm. by 120 mm. ; a 30-ewt-, with engine the same size as that of the
25 cwt. ; a 2-tonner and also a 24-=tonner, both with h.p. engines of 4-cylinders, 4-in, by bore and stroke. There is also a 3-tonner and a special passenger chassis, both of which embody the same 25 h.p. engine. At Olympia these will be exhibited as follows :—
The 15-20-cwt. chassis with a box' van; the 25-cwt. 'as a 150-250-gallon turbine motor fire-engine; the 30-cwt., as an 18-seater saloon coach; the %-tonner equipped with a 25setter onesman-operating bus body, with' one door at the front. There will be an example of the special passenger chassis' which will be equipped with a 20-seater motor Coach body, luxuriously fitted out, and designed, as regards its appearance, as nearly like a touring car as may be, and having an exceptionally low loading platform.
The Guy electric chassis, although still an important feature of the company's programme, will not, so far as present intentions go, be shown at Olympia.. Guy Motors, Ltd., Fallings Park, .Wolverhampton.
A Self-tracking Garrett Trailer,
G.ARRETP AND SONS, LTD., have a programme embodying electiic chassis as well as both outstanding types of steam wapitis. They also make self-tracking trailers. At Olympia will be ssen models of the under-type wagon and of trailers.
• The general specification of Garrett wagons is widely known. Brief reference, therefore, need only be made to the undertype, as representing the new model so far as this firm is con
cerned. It is made for 4-6-ton loads, and its principal features are the use of roller bearings throughout the chassis; provision for easy access to the boiler tubes, so that they can be readily cleaned arid, if necessary, withdrawn without having to take out any internal part of the boiler. The transmission embodies a two-speed gear, and the final drive is by
a pair of roller chains. '
The self-tracking trailer is also mounted on roller bearings throughout, and being of light but strong construction requires a minimum of power to haul it. It has the additional feature of presenting a low loading line, and is adapted to he hauled in either direction.
The range of electric vehicles manufactured by this firm has an inclusive capacity of from 30 cwt. to 6 tons. The 2-1-, 4 and 5-tonners are each made in two chassis lengths, the shorter of the twe in each case being 'adaptable for use as a 'tipping wagon.
R. Garrett and Sons, Ltd., Leislon Works, Leiston.
'Additions to the Hanford Programme.
THE 'Hanford programme includes a 35-cwt, chassis with 25 h.p. engine of 100 min. and 140 mm. bore and stroke, with three speeds and 'reverse gearbox; a four-tonner with 32 h.p. engine of 110 lam. and 140 mm. bore and stroke, equipped with a four-speed-and-reverse gearbox; a five-tonner with 40 h.p. engine of 120 mm. and 140 mm. bore and stroke respectiVely, equipped with tt four-speed-and-reverse gearbox; and a 10-ton six-wheeled—tractor-trailer combination vehicle with the same engineand gearbox as that fitted to the fit-etonner. The last-named model is equipped with Westinghouse General Vehicles in Considerable Variety.
THE General. Vehicle Co.'s programme of production of the well-known electric vehicle chassis is such as to cover practically all sizes from one to five tons inclusive. That was its programme for last year. This is now supplemented by the addition of .six-wheeled vehicles of the tractor-trailer combination type, and of which there are three models..available—a 4-tonner, 7-tanner and 10-tontier. As regards the 4-tanner this is particularly adaptable for house and trade refuse removal, the loading heightbeing only 4 ft. approximately. A third line is the manufacture of industrial trucks -and tract-qrs.
All of the six-wheelers are equipped with Westinghouse air brakes. The turntable on the tractor portion of the combination is what is known as the Martin Rocking Fifth Wheel, which has a quick-release mechanism, which is con_trolled from the driver's cab, so that he can withdraw the tractor from its trailer without leaving his seat.
They also make industrial trucks of 2-3-tons capacity, as well as an industrial tractor of 10-tons tractive capacity, 'designed to be used either on rails or on roads, and in connection with shunting of railway wagons.
General Vehicle Co., Ltd., 43, Shoe Lane. Holborn Circus, Lontrion, E.C.4. Halley, Another Forward-dash Tyne. THE special features in Halley's 1924 programme, whict embodies chassis of a load capacity ranging from 30 cwt. to 6 tons, are the 25 lisp. overtype model, the 35 h.pe 6-cylinder chassis, and the 79-95 h.p. 6-cylinder fire-engine chassis, Of these the first-named may be had in two models, either as a tapping wagon, with 9-ft. wheelbase, making it particularly suitable for use in confined spaces, or for passenger work, in 'which case its wheelbase is 11 ft. 11 ins. In this guise it is admirable for use as a single-deck bus, with capacity for 20 passengers, having a loading capacity of 2-2.L tons. The engine is a 4-cylinder, 4-in. and 57's-in. bore
and stroke, and the transmission embodies a single-plate clutch, 4-speed gearbox and worm-driven rear axle. The 6-cylinder commercial vehicle has an engine of 3 ins, and 6 ins, bore and stroke, the transmission arrangement. being the same as in the 25 h.p. The fire-engine has a capacity of 500-600 gallons, and its pump equipment is of the turbine type. This engine is 5 ins. and ins, and is capable of developing 95 h.p. At Olympia there will be shown one complete 750-gallon fire-engine, a gully and cesspit emptier, on a 55 h.p. 6cylinder chassis, an overtype refuse tipping wagon on a short wheelbase 25 h.p. model, and a 20-seater -coach on a 25 h.p. long wheelbase model. Halley's Industrial Motors, Ltd., Yorker, Glasgow
• Jowett. A Neat Low-priced Van.
THE Jewett light van chassis embodies a 2-cylinder engine of 7 h.p The cylinders are horizontally opposed and water-cooled, having a bore and stroke 75.4 mm. and 101.5 mm. respectively. The transmission is by cone clutch, which is lined with asbestos. cord. The gearbox has three forward speeds. and a reverse, and the transmission thence to the spiral-driven rear axle is by propeller shaft., with universal joints of reinforced fabric-type at each end. The foot brake takes effect on a drum on the extension of the gearbox main shaft ; the box itself forms a housing for the forward universal joint. The hand-brake operates on drums mounted on the hubs of the rear wheels. Both hand and foot brakes are of the external-contracting type, and are lined -with Fen:id° fabric. This chassis is suitable for use as a light van or as a commercial traveller's vehicle.
Jowett Cars, Ltd., Bradford Road, Idle, Bradford, Yorks.
New Karrier Chassis, KARRIER MOTORS, LTD., alsvayS had along list of INi.models of Karrier commercial vehicles. The number on that list was increa,sed by one quite recently, as most, of our readers will remember, the addition being a chassis with a capacity for a net load of 20 cwt. to 25 cwt. This will be the novel feature of this concern's 1924 programme, which otherWise remains pretty much the same as last year. The new chassis, known as the Z type, has a 4-cylinder, monobloc engine unit mounted in conjunction with the multiplate clutch and 4-speed gearbox and suspended at three points in the frame, there being a swivel-pin anchorage at the front of the engine and a twin support at the 'rear by means of two arms, which are bolted direct to the frame. The• engine has a bore and stroke of 3iins. and 5 ins, respectively, a detachable head and side-by-side valves. A Tong tubular propeller shaft transmits the power from the gearbox to the rear axle, and the final transmission gear is overhead worm and wheel.
The remainder of the Karrier programme includes a 2-tonner, a new subeidy-type vehicle for gross loads of 2i tons, a 3L-tonner and one for 5 to 6 tons.
Karrier Motors, Ltd., Karrier Works, Huddersfield.
Street Cleansing Machinery by Laf fly.
THE Laffly programme of construction. for 1924 embodies a comprehensive list of road-sweeping and motor machines, refuse collecting and gully-emptying machines, road rollers, fire pumps, vacuum cleaning apparatus, and so on.
This concern is showing at the. Public Works and Road Transport Exhibition at the Agricultural Hall one or two selected examples of this long echeshale.
The road-sweepi-ng machine embodies a gear pump, which supplies water in the form of a finely supported spray to be " distributed on the road surface in advance of the broth; the pressure between the latter and the road is adjusted.
The gully-emptying machine, which is another exhibit, is claimed to be capable of dealing with 55 cubic ft. of refuse per minute; it has receiving and delivering tanks, and can also be used as a street-watering machine. A particularly interesting exhibit will be the Daftly portable motor fire-pump, which has a capacity of 7,700 gallons per hour, its rotary pump and internal-combustion engine being mounted on a 2-wheel trailer.
The Lay-Schneider 3-ton chassis has a 4-cylinder engine, Nsith bore and stroke of 95 mm. and 150 mm., with overhead valves, and embodies a 4-speed gearbox and live axle.
Laffly (England) Co., Ltd., 20-26, Lonsdale Road, London, N.W.6.
Some Fine Motor Coach Bodies on Lancia Chassis.
MHE Lancia programme is a "single-chassis" one. KROWN as the Tetraiota, its specification embodies a 35 h.p. 4-cylinder engine of 110 men. and 130 mm. ; the -clutch is a dry disc and the gearbox affords four spe.eds and a reverse, with central control. The final drive is by bevel gear. • At Olympia this will be shown as a chassis equipped with various types of passenger-carrying bodywork, for which par
ticular purpose this chassis appears to be suitable. These bodies may briefly be enumerated as (1) a 20-iseater open touring motor coach by James Bartle and Co., Ltd. ; (2)-a 20seater Riviera-type semi-enclosed coach by the same maker (in this vehicle the back three rows of seats are enclosed, the front two TOWS open). The third exhibit is to be a 20-seater front-entrance service omnibus body, made by Metcalfe's of Romford, and the fourth an all-weather saloon body, made by the Northern Counties Motor and Engineering Co. ad. Curtis Automobile Co., Ltd., 18, Berkeley Street, London, W.1.
824
Leyland Lorries and Trojan Vans.
JEYLAND chassis are now catalogued in groups, whick A enables us to present that company's 1924 programme completely ewithin such space as is available.
The groups may be enumerated as the 2-ton, 3-ton, 4-ton, 5-ton and 6-teln. The 2-ton embodies four cylinders, 41-in. by
5-in.-engine and worm-driven rear axle. It is made in five types
—standard, tippee and three passenger models. The differences between the first and second of these relates to the overall length of the chassis, and in the others in the wheelbase. similar grouping is included under the heading of 3-tonner, and of the five models included three have the same engine as that quoted for the 2-ton. A fourth one, of the passenger type, has a 4i-in. by 5-in, engine, while a fifth, designed for overseas use, has a 41-in. by 6-.m, engine and a bevel drive. Included in the 4-ton group is an R.A.F. subsidy rebuilt chassis. The 5-6-tonners are sold as " standard " and "tipper" The passenger models of the various groups are reclassified aitiording to seating capacity, and, as motor coaches, afford conveyance for from 18 to 33 passengers, and as single-deck busee from 20 to 40 passengers. In additiou to the machines already enumerated there are, of course, the Leyland fire-engines, made in three sizes, hay ing capacities of 300-400 ,gallons, 500-700 gallons and 7001,000 gallons. Finally' there are the steam wagons, made in 5, 6 and 8.ton sizes. Mention must also be made of that un-Leyland-like vehicle the Troja-n, which is a light van of 5-7-cwt. capacity, with a 4-cylinder 2-stroke engine and epicyclic ehange-speed. gear.
The design of both engine and transmission of this vehicle is very ingenious and embodies many unorthodox features. Leyland Motors, Ltd., Leyland, Lanes.
Longframe Six-wheeler Construction.
MHE ingenious and novel type of six-wheeler, "which is known as the Longframe, is being introduced into this country by the Longframe Six-Wheeler Construction Co., of Copenhagen; Denmark, and an example will be shown at Olympia. The details of this machine may be briefly described. as follows :—The frame of the chassis is continued aS one piece rearwarclly to the full length which is required for the completed vehicle. The rear main axle is a duplicate of the front axle, complete with steering gear, which is connected up to the tractor, so that both front and rear axle are all steered. A simple framework -couples this rearmost axle to the main frame at a point somewhere about the rear end of the springs of the middle axle, the connection there being a pivotal one. Further support for the main frame is afforded about halfway along this subsidiary chassis. An advantage of the design is, of course, that the complete vehicle may be manoeuvred travelling either forward or reverse, owing to the fact that the steering gear is designed for operation in either direction, •
Longframe Six-Wheeler Construction Co., Bredgade 58, Copenhagen, Denmark.
A Light Van on a Morris Touring Car Chassis.
,rpHE Morris-Cowley 8-cwt. light van is built upon the .,L same chassis as the two-seater touring car of that name. It has a four-cylinder engine, 69.5 mm. and 102 nun. bore and stroke, three-speed gearbox, and worm-drive rear 'axle. The same chassis is also used as the basis for a useful type of traveller's van, with two seats in front and a box in the rear, designed to carry approximately 6 cwt. of samples or other goods.
Morris Motors, Ltd., Cowley, Oxon. A New Model Mann.
ivrANN'S PATENT STEAM CART and WAGON CO., _a_LLTD., make steam wagons for 3, 4, 5 and 6-ton loads. In general design these wagons are closely related to the familiar overtype, but are, nevertheless, in a class by them.. selves on account of their ingenious arrangement whereby the driver sits by the side of the boiler, and can hinise.f stoke aud drive with convenience.
As one outcome of the arrangement of the driver's cab,
all the transmission gearing is disposed within the frames of the chassis. It is designed to afford three changes of gear. The final transmission is, as usual, by a substantial single roller chain to a differential on the rear axle. Two independent mechanical brakes are fitted, one—the foot brake— taking effect an a drum on the intermediate layshaft, while the hand brake operates on drums in the two rear wheels. Both the road wheels are quickly detachable for purposes of tyre replacement. At. Olympia the Mann wagon will be represented by a gully-emptying machine and a 6-ton wagon with platformtype body.
Mann's Patent Steam Cart and Wagon Co., Ltd., Pepper Read Works, Hunslet, Leeds.
A Maudslay Subsidy Chassis.
THE Maudslay programme for 1924 comprises seven chassis designed for conveyance of goods and two for passengers. The goods vehicles have capacities of 13 cwt., 2 tons, 3-4 tons, 4-5 tons, 5-6 tons and 7 tons. There is, in addition, a special 3-4-tonner on short wheelbase. The 13-cwt., 2-ton and 3-4-ton models are worm driven. The special 3-4-tonner and the larger sizes have all double-reduction rear axles. All models have four-speed gearboxes and cone clutches, with the exception of the 13-cwt. and 2-ton chassis, which embody single plate clutches, The passenger models are alike, except as to engine size, the small one having a 32 h.p. engine of four cylinders with a bore and stroke of 41 ins. and 5 ins.; the other a 46 h.p. engine of four-cylinders, with a bore and stroke of 5 ins. The 3-4-ton special model and 7-lousier are both of the evertype, i.e., they are both arranged with the driver's seat at the side of the engine. The outstanding features of the Maudslay chassis are, of course, its robust double-banjo forged rear axle and its special engine with overhead valves. The 30-cwt. machine, we are informed, complies in all respects with the War Office specification, and is equipped, as standrd, with pneumatic tyres on disc wheels.
The Maudslay Motor Co., Ltd., Park Side, Coventry.
Newton-Derby Electrics for Passengers and Loads.
THE Newton-Derby programme remains unaltered as from last, year, and still embodies two sizes of electric chassis, which are designed to be used either for loads or passengers. The smaller of the two, which has a gross capacity of 3 tons 5 cwt., and, assuming that the body weighs 15 cwt., affords a net capacity of 2 tons. This vehicle has -'a battery of 250 amp.-hours mid affords a platform space behind the cab. of 11 ft. by 6 ft. 6 ins. The larger model has a gross capacity of 4 dons 7 cwt., net 3 tons, or 35 passengers. Its battery has a capacity of 296 amp.-hours, and its platform space behind the driver's cab is 12 ft. 6 ins. by 6 ft. 9 ins.
Newton Bros. (Derby), Ltd., Derby. A Minerva Six-wheeler.
MHE same 20 h.p. four-cylinder engine of 90 mm. and 140 min. bore and stroke respectively is used in all three Minerva models, which are designed to have a capacity of 2, 31 to 4, and 6 to 7 tons, the last-named machine being a tractor-trailer combination with six wheels. The same outline specification does for the whole range and embodies multiple dry-disc clutch, four-speed. gearbox, and a tear axle of the dual type, with separate load-carrying and driving members, the final reduction being by internal spur gears mounted in the rear wheel. Both the brakes take effect on drums on the driving wheels, one set being of the internal-exparidng and the other of the external-contracting type. In the case of the tractor-trailer combination a powerful set: of expanding brakes are fitted to the trailer wheels, and are designed to be operated either...from the tractor or from the trailer.
Minerva Motors, Ltd., Cheeses Street, Londen, W.C.1.
Marshall Steam Rollers.
MAR,SHALL, SONS and CO., LTD., maksteam engines, road tractors, and rollers and allied products. Of these the chief item of interest is the design of the boiler which is embodied in all models. It includes a reinforced boiler front plate and a corrugated smoke-box tube plate, bridges and stay bolts over. the fire-box crown and longi tudinal stays between the fire-box tube plate and the front plate are eliminated.
At. the Public Works Roads and Transport Exhibition it is intended to exhibit a tar macadam steam roller and also a Millars-Marshall 8-ton spur-geared steam road roller.
Marshall, Sons and Co., Ltd., Gainsborough.
The McLaren Machines for Road S and Fields. vreLAILEN'S .principal line'are four in niimber—steam .111,.traction engines for road transport, including steam tractors designed to come within the limits of weight set by the Motor Car Acts, steam ploughs and their implements, motor windlass ploughing, and cultivating tackle, and steam road rollers and searifiers. It is intended that all these various products should be continued during 1924 with practically no alteration. This company is not showing at either of the two exhibitions to be held during this month. J. and H. McLaren, Ltd., Midland Engine Works, Leeds.
• The Palladium and its Springing.
pALLADITINI AUTOCARS, LTD., are going on as before with the production of their 3-4-ton lorries, the general specification of which embodies four-cylinder engine of 44 ins. by 5ins, bore and stroke, multiple-disc clutch, and formspeed-and-reverse gearbox. The rear axle is of thef allfloating type, with overhead worm. drive, Ind is equipped throughout with Timken roller bearings.. • The foot brake operates on drums behind the gearbox, and the hand brake in the rear Wheels. For passenger work this chassis is usually equipped with the well-known Palladium double-cantilever type of springing, which is claimed to enable the vehicle, on solid tyres,. to ride as comfortably and smoothly as a high-class touring car on pneumatics. Double-cantilever springs are used, one above and one below the axle on each. side, and the particular advantage of this method of suspension is that it relieves the rear axle of 4 cwt. dead load.
Palladium Autocars, Ltd., Felsham Road, Put.ney, London, S.W.15.
A Speedy American Unit—the Reo.
THE Rea speed wagon is made in one model only, with a net capacity of 26 cwt. or for 14 passengers. It has a four-cylinder ermine of 41-in. by 40n. bore and stroke, multiple-disc clutch, three-speed gearbox, and e bevel drivers semi-floating rear axle. Radiator; engine, clutch, starter and gearbox are all mounted on a sub-frame. At Olympia the Reo will be shown as a chassis, as a 14seater motor coach, and as a box van with double-folding doors at the rear and a sliding partition at the front.
Harris and Hasell, Ltd., 141, Victoria Street, Bristol.
Boiler Construction a Feature of Robey Steamers.
ITIHE Robey programme of steam wagon production is ex1. tended for 1924 by the addition of a. new model with a capacity of six tons. The specification does not greatly differ from the 5-tonner with which we are by now well acquainted, and embodiea an over-type engine, three speeds (the 5-tomier has only two), and final drive by roller chain. It is equipped with solid rubber tyres, and we are informed that the design is such that the legal speed is 12 miles an hour. We would remind our readers that, in addition to these two steam wagons and a six-wheeled tractor-trailer combination for a load of 10 tons, the company also makes road rollers, and has just, put upon the market a new machine of this type with tandem rollers and quick-reverse mechanism.
Robey and Co., Ltd., Lincoln.
, A Wide Range from Renaults. T"programme of Beneath, Ltd., for 1924 embodies a complete and comprehensive range of commercial vehicle -Chassis with capacities ranging from 5 cwt. to 10 tons. They may he briefly enumerated as follow :—The 5-ewt. has a fourcylinder 6 h.p. engine, 50 mm. and 9a mm. bore and stroke; the 10-cart, and 15-cwt. chassis both have the Same engine, a 13.9 h.p. feur-cylinder, 75 mm. and 120 mm, bore and stroke, and the 35-cwt. and 55-cwt. haire 17.9 h.p. engines of bore and stroke 85 mm. and 140 mm. respectively. The larger of the two is fitted with front-wheel brakes. The largest size of engine, 24.8with four cylinders of. 100 mm. and 160 mm. bore and stroke, serves for the 3-teriner, 31-tonner, 5-tanner and the 10-tonner, the latter being a sixwheeled tractor4trailer combination. The 3-tonner is an over
D2G
type model; that is to say, it is the type in which the driver sits by the side of the engine. All models are equipped, as standard, with pneumatic tyres, with the exception of the 5-tonner and the tractor-trailer.combination. Renault, Ltd., Se,a,grave Road, West Brompton, London,
Stevens Petrol-electric Models MHE petrol-electric chassiswhich are made by Stevens
Petrol-Flectric, Vehicles, Ltd., are made in two sizes, the smaller having a capacity of 24 tons and equipped with a four-cylinder 105 mm. and 150 mm. engine, which embodies in its construction centrifugal pump water circulation and forced lubrication; the other, with a capacity of 3-4 tons, has also a four-cylinder engine, but of 115 ram. and 150 mm. The general specification of these two models is alike and embodies, of course, the infinitely variable transmiesion, which is available by use of the electric motor and dynamo for that purpose. This transmission actually consists of a special electric generator direct-driven by the petrol engine. An electric motor, direct coupled to the carclan shaft and deriving its current from the aforesaid generator, and a reversing and speed regulating controller which is -bolted to the chassis frame, comprise the essential chassis components. The rear axle is of the full-floating type and embodies Dennis worm and wheel gear, which is designed so that the whole of the worm and wheel and differential gear can be removed in company with the top cover of the case. The font brake takes effect on the drum behind the motor, the hand brake on the drums in the rear wheels ; the electrical transmission acts automatically as a epra.g, so as to prevent the chassis running back except at low speed. The general specification of both models is alike,
Stevens Petrol-Electric Vehicles, Ltd., 68, Victoria Street, London, S.W.l.
The Scammell—the Tractor Lorry Pioneer. rilHE Scammell programme may be summed up in one word —" six-wheelers.''
Features of this pioneer English machine are the double springing of the rear axle on the tractor and the employment of heavy i/oiler chains for the final drive; also the simple method of working the brake, embodying a bell-crank lever attached to the tractor turntable and operated by means of a pin which passes through the axis of the turntable, and
bears directly on to a smaller bell-crank lever mounted an the trailer.
The power unit is a, four-cylinder overhead-valve engine of 5-in. by 50n. bore and stroke. The most recent improvement is the new design of turntable, pressed in one piece from a sheet of steel, this one single pressing replacing no fewer than 200 separate parts used in the former design. Scammell Lorries, Ltd,, Fashion Street, Lenden, E. 1.
Air-cooled 4-cwt, Rover Van.
THE Rover 8 h.p. chassis, which has done so well in the hands of the public as a touring car, is now adapted for use as a light van with a capacity of 4 cwt. or 42 cubic ft. It is also being sold as a commercial traveller's van, with two seats and a box at the back. This chassis has an 8 h.p. two-cylinder air!cooled engine of 85 rem, and 100 mm. bore and stroke, three speed gearbox and worm-driven rear axle.
The Rover Co., Ltd., Coventry.
A New One-ton Star Van.
STAR. commercial vehicles for 1924 are to be made in three sIzes, of which the smalkst, with a capacity of 20-25 cwt., is a new model. The others, of 30-40 cwt. -and 50-60 cwt., remain unaltered except as to minor details from last year. The general specification is the same for all models, embodying four-cylinder engines, fabric-faced cone •clutches, and four-speed-arid-reverse gearboxes. The rear axles are fully floating, the final drive gear in every case being overhead worm and wheel. The brakes take effect, one on drums behind the gearbox and the other on drums in the hubs of tbe rear wheels.
The engine sizes of these three models are BO men. and 120 mm. bore an stroke for the smallest, and 90 nun. and 150 mm. bore and stroke for the others. The 20-25-cwt. machine is equipped with pneumatic tyres; the others have solids.
At Olympia there will be shown three chassis, one of each size, and also a tipping wagon of a 30-40-cwt. capacity.
The Star Engineering Co., Ltd., Frederick Street, Wolverhampton.
The One-model Shefflex. The One-model Shefflex.
THIS is another example of a one-model programme, the 25 h.p. lorry being designed for net loads of 30 cwt., or for the conveyance of 16 to 20 passengers. Its engine is a. four-cylinder of 100 mm. and 120 mm. bore and stroke, and this transmits its 24.8 h.p. through a leather-lined cone clutch to a three-speed-and-reverse gearbox, whence the transmission is by open propeller shaft to an overhead worm-driven full-floating rear axle. The brake arrangements include a foot brake taking effect through locomotive-type shoes on is drum behind the geaebox, and a hand brake, fully compensated, which Operates internal-expanding shoes in hub drums on the rear wheels.
The Sheffield Simplex Co., of Canbury Park Road, Kingstonon-Thames, will not be exhibiting at Olympia.
Saurers Now Make Four Models.
SA.URER chassis are now made in four models for net loads of 2, 3, 4 and 5 tons respectively. All of them are the same general specification and -embody the same special features. The engines, which are four-celinder units, embody monobloc-cast oylinders, designed so as to be easily -removable by one man. Each is equipped with mechanism whereby the engine i4 capable of being used as an effective brake. Engine, clutch and gearbox are to all intents and purposes one unit, and the gearbox provides four speeds forward and a.reverse. The final drive is by -propeller shaft to a bevel gear rear axle. Amongst the interesting features may be mentioned the "engine Inbricatien by a Owlet system involving two pumps. The ignition is automatically retarded when the starting handle is engaged. The camshaft is balanced, the crankshaft runs onball bearings, and the carburetter is heated by exhaust gas, the _amount of heat transmitted being constantly under the control of the driver. All the brakes' are adjustable, while the chassis is running, by means of easily ae-cesaible hand wheels. 'The formation of the rear axle is such that the rear wheels slope away from the chassis: so that the twin tyres make better contact with a cambered road surface.
At Olympia it is anticipated that, in' addition to a polished chassis, there will be a 5-ton model equipped with patent three-way tipping body, a 3-tonner on which will be mounted special sanitary dust-cart body, and the actual 5-ten vehicle which was submitted to a test by the R.A.C., from which it emerged so successfully.
,,The Sauter Commercial Vehicle Co., Ltd., .21, Augustus Street, Albany Street, London, N.W.I,
Straker-Squire A.-type Chassis.
TELA-type Straker-Squire chassis actually designed for passenger work, but equally suitable for goods conveyance, with a capacity of three to five tons according to detailed modifications, still remains tbe chief item in the programme of Straker-Squire, Ltd. Its chief features are its four-cylinder engine, of 4.1. ins. and 6L• ins, bore arid, stroke, In which the four cylinders are cast en bloc with the top half of the crankcase, and are fitted with a detachable head. The crankshaft is mounted in two 7-in, roller bearings and is of unusually massive dimensions. A siegle-disc clutch transmits to a four-apeed-and-reverse gearbox, whence a camshaft conveys the power to a rear axle of the overhead worm and wheel type. The engine and gearbox of this chassis are mounted on a short stiff sub-frame, which is supported from the main frame at three points. The underslung rear springs take both the driving and torque reaction, and are supplemented, for shock-absorbing purposes, by two taper coil springs, one at each side, fitted in pressed steel brackets bolted to the frame. Both brakes take effect on 22-in, drums on the rear wheels.
Straker-Squire, Ltd., 60, Haymarket, London, S.W.1.
Every Sentinel Model is New.
THE Sentinel Waggon Works (1920), Ltd., make steam wagons for loads of from 3 tons to 13 tons, a six-wheeler with a. capacity of from 1.0 tons to 12 tons and a steam tractor of unusual design. This comprises their programme for 1924.
. The outstanding features axe the super-Sentinel models, which are to be exhibited at Olympia. All these vehicles are fitted with a new type of engine, which embodies, among • otherno...el improvements, a differential incorporated not only in the crankcase but in the crankshaft. A special feature of this gear is that it is prevented from functioning until there is a difference of 10 per cent. to 15 per cent, as between the tension in one driving chain and that in the other, Another interesting feature is the design of the which is equipped with three banks of spirally arranged straight water tubes, inclined at a steep angle so as to improve the circulation.
Sentinel Waggon Works (1920), Ltd., Shrewsbury.
A Complete Pagefield Programme.
rpHE Pagelield programme of commercial motor chassis 1_ for 1924 embodies chassis for useful loads of 3, 4 and 5 tons net, a special passenger model suitable for a 30-seater coach body or its equivalent, and two special short wheelbase models particulady adapted for municipal work. Any of the goods chassis can be modified to accommodate the firm's patent tipping gear, the short wheelbase machines lending themselves particularly to such, use. The general specification of these chassis embodies a fourcylinder engine, cone clutch, four-speed getirliox and doublereduction live axle. The passenger model (also used as a 3-tonner) and the 31-ton municipal type have worm and wheel. transmission. Solid tyres are standardized, but pneumatica can be supplied.
This firm specializes in a patented method of collecting refuse, wing for the purpose low-loading, horse-drawn wagons, which are transported on a specially designed chassis. Walker Bros. (Wigan), Ltd., Pagefield Ironworks, Wigan. B27..
THE Tastier range of steam, wagons, which used to comprise two teipes of steam tractor, ono of which was chain driveu and the other gear, and a five-ton steam wagon, is now being extended in several threctiohs. The new additions of special interest to our readers are: a six-ton steam wagon, a six--wheeled tractor-trailer combination, and a tandem steam roller, chain driven like one of the tractors and weighing six tons. It is specially designed for rolling asphalte and similar carpetings, has two rollers which are equally loaded, and is designed to be 'capable of being quickly reversed, W. Tasker and Sons, Ltd., Waterloo Iron Works, Andover., Hants.
The Four-wheel Braked Unic.
PUnic range of commercial motor vehicles grows each year . Starting in 1906 with its famous cab chagsis, it has been acicid to from time to time, and now comprises, in addition to-the cab, eomrnercial chassis for loads of 15 cwt., 20 cwt., and 30ewt. The lakenained is also very popular as a 14-seater coach. The general-specification of all these models is very similar one to another'. • They all include a four-cylinder engine, disc clutch, four-speed gearbox and spiral-bevel axle. The brakes in all cakes are'disuesecl—one on a transmission drum, the other on drums in •the rear wheels. All of them have pneumatic tyres. The 15-cwt. model is equipped with front
wheel brakes. .
Unic Motors, Ltd., Brewer Street, Beiekinghain Palace Road, London, S.1/V.
Petrol-Eieetries by Tilling-Stevens.
THE Tilling-Stevens programme is a double-barrelled one, comprising petrol-electric 'chassis as well as petrol vehicles with ordinary mechanical transmission. The range in both cases is from two -to five tons. A typical specification is that of type TS6, which is designed to carry five tons or an equivalent weight of passengers en a bus or motor-coach body: It embodies a 40 h.p. four-cylinder engine of 41 ins. and 4 ins, bore and stroke. The transmission is to a dynamo generating. current which is used by a motor. The rear axle is of the worm-and-wheel type, and the chassis is provided with two sets of brakes, both in the rear wheels. The firm's productions include fire-engines and escapes, for the purposes of which the electric current available on the chassis is of service, and a small, portable, petrol-engined firefighting apparatus mounted on a two-wheeled trailer.
Tilling-Stevens Motors, Ltd., Maidstone. B28 Two Types of Yorkshire Steam Wagon.
MHE Yorkshire Patent Steam Wagon Co.'s plans for pro duction during 1924 remains unaltered, so that the steam ` wagons made by this firm will present the same well-known features as has been the 'case during the past year. The programme embodies three models—a 3-tonner, a 6-tonner-both being chain-driven—and a 6-7-tonner with live ails drive and totally enclosed transmission. The outstanding Yorkshire features are, of course, the transverse fire-tube boiler, which has the advantage that its water level is not appreciable altered by the circumstances that the wagon may be ascending or descending a steep hill, and its engine. The latter is a vertical high-speed, totally enclosed unit, and is mounted behind thd driver's seat. In the ordinary chain-driven models, as well as in the new live axle maehine, three speeds are .provided. The final drive im the case of the Elie axle chassis is by double reduction, bevel and spur gears, mounted in the centre of the 'fully floating rear-axle case. • At Olympia this • concern will be showing -one of the 7-tc.nners, upon vihich 'will be mounted a mechanically operated end-tipping body.. They will also, stage a 3-ton wagon designed forthe collection of house refuse, this also being equipped with a .mechanically end-tipping body, but having the bottom and sides -of the body lined with sheet steel. In the case of this machine attention'lie drawn to the low loading level, which is Only 4 ft.. 8 ins. Yorkshire Patent St-earn Wagon Co., Pepper Road, }511.11slet, Leeds.
Thornycroft Produce a New 50 h.p. Engine.
THE Thornycroft programme for output el heavy motor vehicles comprises chassis of capacities ranging from two to six tons inclusive, as. well as six-wheelers, with . capacities from 4 tons up to 12 tons, It is adequately_ exenipiled by this coneern.'s exhibits at Olympia, which include 6-tonner, 1,200-gallon tank wagon, and a 4-tonner, as well as a single-deck omnibus. a double-deck London-type bus, and a luxuriously equipped motor coach. Particular interest attaches to the 6-former and to the double-deck omnibus, since these are both fitted with the new 50 h.p. Thernycroit engine, which will then be shown to the public for the first time, All Thornyeroft chassis but the 2-toriner have four-speed gearboxes and final drive by overhead worm and evIeel. ' The six-wheelers embody either the 30, 40 or 50 h.p. engine and corresponding chassis units according to the load
Papa city. • •
The machine of this type which is exhibited at Olympia has-, been specially designed for service overseas, in districts where axle weights are necessarily restricted. Those with capacities of 4 tons—both tractor and trailer—are equipped with pneumatic tyres. The motor coach on the 30 h.p. chassis has accommodation sec 18 passengers, with room for an extra couple of folding seats. The example which is to be shown at Olympia is styled the Patrician. It is equipped with pneumatic tyres and extra long springs, whil0 the body fittings include spring foot rests and rug rails. An extra wide platform 'space may be used.to accommodate passengers' luggage.
John I. Thornyeroft. and Co., Ltd., Thornyeroft House,
Smith Square, London, S.W.I. .
Traffic Chassis Redesigned.
THE Traffic 2-tonner for 1924 embodies quite a number of improvements in its details. It is equipped with right-hand steering; its wheelbase has. been increased by 9 ins., a new pattern radiator is now fitted, and a new type of bonnet of the more orthodox hinged construction is now, standardized. The alteration to the steering has, necessitated bringing the hand-brake lever over to the right-hand side, but the gear control is still centrally located.
The general specification remains as before, embodying a four-cylinder by 5-in, engine, multiple-disc clutch,
three-speed gearbox, arid a two-niece propeller shaft transmit ting to an internal-geeosar axle.
North-Western -Motors, Ltd, Norton Street, Liverpool.
Unconventional Electric's by Walker.
WALKER VEHICLES, -LTD., make electric chassis of unique design. The motor is mounted in the rear-axle casing, and the transmission thence is to epicyclic gears in the road wheels, giving what is called a balanced drive. There are four standard models, with toad capacities of 1 ton, 2 tons, 3-1 tons; and 5 tons, all closely resembling each other in general design. There is also a 10-cwt. light delivery electric, details of the design of which are not yet available, and the Railodok electric industrial truck.
It is interesting to point out that the vehicles are DOW being built in this country at Slough, the manufacturing rights having been acquired from the Walker. Vehicle Co.; of Chicago.
Walker Vehicles, Ltd., Caxton House, Westminster, London, S.W. 1.
Ingenious Features in Wallis-Steevens Roller.
THE old-established concern, Wallis and Steevens, Ltd., make a complete range of steam tractors, steam road locomotives and road rollers. The most interesting item in its programme is the new Advance steam road roller, the essen Hal feature of which is an arrangement of removable pins which, when in place, couple the front roller fork to the steering pivot and prevent oscillation of the front roller in a vertical plane. When the pins are removed, that oscillation is. permitted. The rear-wheel mounting, too, embodies an ingenious provision to the same end.
Wallis and Steevens, Ltd., Basingstoke.
THE Citroin taxi is the principal item in the programme of this concern. It is designed to comnly with Scotland Yard regulations, and has a four-cylinder en bloc engine, with side-by.side valves and detachable head. The ignition is by R.B. magneto and .Solex carburetter. The clutch is a single disc, lined with Ferodo fabric on both sides, and it transmits -to a three-speed-and-reverse gearbox, at the rear end of which is mounted the ribbed drum, in the interior of which the foot brake shoes expand. The hand brake operates in drums in the rear wheels.
The cardan shaft is of the open type, with fabric-disc type universal joint, and the _rear axle embedics a spiral bevel fmal driven gear and is semi-floating. Steel disc wheels are fitted, and the suspension is in quarter-elliptics at the front and double quarter:ellipties at the rear.
Besides the taxi chassis, the firm makes the CitroiMKegresse chassis, which runs on an endless band instead of on wheels.
Gaston, Ltd., Lardon Road, Acton Vale, London, W.3 (for tractors and goods ,vehicles); Maxwell -Monson, Ltd., 2, Halkin Place, Belgrave Square, London S.W.1 (for the taxicab).
Vulcan Advances in Body Construction. Vulcan Advances in Body Construction.
TEM Vulcan commercial vehicle programme for 1924 embodies three models, having capacities of 20-25 cwt., 30 cwt., and 40 cwt. respectively In general specification these three models are closely allied—in fact, it may be said that the main difference is in respect of tyre equipment, -the smaller model now being as a general rule shod with pneumatics, whilst the others are equipped with solid band tvres, but may have pneumatics on demand. This general specification covers a four-cylinder engine, having side-by-side valves,
pump water circulation, and trough lubrication. The clutch is a cone faced with Ferodo fabric, and it transmits through a four-speed-and-reverse kgearbox, behind which comes an open propeller shalt and worm-driven-rear axle.
The suspension of this chassis embodies semi-elliptic springs, both at front and Tear.' " The brakes are so arranged that the foot brake takes effect on a, druin behind the gearbox, and the, hand brake operates on the rear wheels.
The body equipment, which is available in connection with these chassis, is most comprehensive, both as regards goods
and passengers. A typical example of the latter is a 14seater omnibus on the 90-25-c,wt. chassis; admirably designed for the Conveyance of hotel guests .to and from the station, ok for similar•purposes. The 30-cwt. chassis conveniently accommodates a 20-seater bus. A 26-passenger bus can be fitted with ease upon the 2-ton chassis.
At Olympia there will be shown examples of both motor coach and bus bodies, as wefi as the three-way tipping wagon, and a special vehicle emstrueted to carry timber. The Vulcan Motor Engineering Co., Ltd., Cross-ens, Southport.
The Baico`Supertonna.
BAIC0 PATENTS, LTD., are marketing the Supertenna chassis, which is an attachment to convent a Ford tonner into a 30-cwt. vehicle. The outstanding features of this attachment are its springing—a pair, of semi-elliptic springs, 3 ft. 8 ins, long, replace the 16-in, quarter-elliptics, which are standard equipment on a Ford tomer. The axle of the existing chassis is strengthened by trusses, and the length of the chassis frame, which is extended so that it affords ample capacity for. the 30-cwt. bodywork, to which it gives adequate support at a low-loading level.
Balm Patents, Ltd., 115, Fulham Road, London, S.W. 3 822
A New Dennis Light Model. .
MITE Dennis commercial vehicles and munie4eal appliances 1 which will be maeleuted for 1924 form a most comprehensive list and include a new 20-257ewt. chassis on solid tyres, which is being built at is competitive price, as a reply to the influx of foreign vehicles. The other chassis designed for goods carrying are the 2-2e-tonner with a 30 h.p. engine, the 3&-4-tera model, and the 5-6-ton model, the last two both embodying the 40 h.p, power unit.
So far as passenger vehicles are concerned, five models are being built—a 20 hp. light type suitable for carrying from 14 to 16 people, a 50 h4). model for 20eseater coaches, and a 50-seater coach chassis. with a 40 h.p. power unit. On the larger, side are a 40 h.p. single-deck omnibus to seat 36 passengers, and finally .a 40 h.p. double-lock bus with 22 seats inside and 26 out.
On the municipal side there are a 500-600-galion turbine fire-engine embodying the anecial Dennis pump, and a hand or trailer-drawn pump of 200-250-gallon capacity. Particularly useful municipal vehicles are the 750 and 1,000-gallon self-con tamed eesspool-emptying machines interchangeable with threeWay hydeanlicalliy operated tipping bodies for 4--ton and 5--6-ton loads respectively, In addition, there are two watering .wagons of 900-gallon and 1;200-gallon capacity also convertible to three-way tippers or. to carry standard hinged-sided lorry bodies.
Dennis Bros., Ltd., Guildford, Surrey.
The Carrimore Tractor Attachments and Trailers.
CARROSSERIE-LATYMER will ecntinue to manufacture inei a wider• range of Carrimore trailers and, six-wheelers during the ensuing year. The four-wheel traiTers are avail. able in capacities ranging from la cwt. to 6 tons, and embody a. special form of -undercarriage giving hall lock, a neat drawbar design, and. brakes which can be operated from the Leading vehicle.
We understand that, in addition to making drawings of a pix-wbeel tractor-trailer passenger bus, Carresserie-Latymer have actually under construction a bus of this type, which will be shown at the forthcoming exhibition at Olympia. The destgn of this vehicle will be fully described at an early date, end it embodies a great many interesting features. The use of such a vehicle is not at present permissible, but, by being first in the (British). field, the Carrosserie-Latymer will be ready to produce these buses as soon as the necessary sanction is ohtairteit Carrosserie-Latymer, Ltd., Panther Street Works, Notting Hill, London, W.10:
Gray Light-load Vehicles.
THE Ancona Motor Co., Ltd., offer under the above title a new line of commercial vehicle chassis embodying, so far, two capacities—one of 10 ewt., the other of I ton. The power unit in each case is the same, being a four-cylinder engine of 3 ins, end 4 ins. bore • and stroke, and unit mounted with a. disc clutch and three-speed-and-reverse gearbox. A feature Of this unit is the lubricating arrangement, whereby engine, 'clutch and gearbox are all lubricated from one point on the engine. The rear axle is semi-floating, with bevel drive. Suspension is on quartenellipties at the front and semeelliptics at the rear. )lreking includes one set on a drum behind the gearbox and the other on drums in the rear echeels.
The Ancona Motor Co., LW., 78, Brompton Road, London, S.W.3.
B30
Municipal Appliances from Lacres. EIEW makes of commereial vehicles have achieved so great
success in the municipal side of the• industry as has the Lame. Their three-wheeled road sweeper is a particular example, the features of this being small capital outlay, low operatinr cost and great width of sweep. Another useful machine which will be marketed in 1924 is the Laere 0 type chassis, with gravity tip body, to carry 2-2e tone. This can be fitted with water tank and spraying gear if required. Gully cleansing will be catered for by the same type chassis with a tank and vacuum equipment. Other municipal appliances include tower wagons, police patrol cars, police vans, cable-laying plant, equipments for erecting telegraph poles and others for laying water mains. The capacities of the goods vehicles will range from 3035 cwt. to 5 tons, sad on the passenger side chassis are bieit suitable for from 24 to 32 passengers.
Lacre Motor Car Co., Ltd., Letchworth, Herts.
Four-wheel-driven Fire-engine.
FOR certain classes of work, F.W.D. vehicles have proved of the greatest. utility, end their principle of manufacture is such that they can he setisfactorily adapted to meet many requirements.
Apart from standard 3-4-ton chassis suitable for hauling 5ton trailers, the company will. build rail locomotives and passenger railcars fitted with booster gears if required, and cap, able of operating at equal speeds in either direction.
A particularly interesting machine is the 250-300-gallon fire-engine fitted with the Dennis-Tarnini, turbine pump and shod with pneumatic tyres.
Four-Wheel Drive Lorry Co., Ltd., 45,. Charing Cross. London, S•.W.1.
A 15-ton G.M.C. Tractor.
miff] G-.M.C. programme is a fairly lengthy one, comprisingchassis of capacity ranging .between 10 cwt. and 15 toes, The smallest is the 10-cwt. Chevrolet, which h,as a fourcylinder en bloc engine, 311-16 ins. and 4 ins., a. cone clutch, three-speed gearbox, and bevel-drive rear axle. Its two brakes take effect on the rear-wheel drums. Tho 15-cert., chassis is the Buick, which has an overhead-valveeengine, 3i ins. and 4.1 ins., a multiple dry-disc clutch, three-speed gearbox, and spiral-bevel rear axle. It has brakes en all wheels. The one-teenier is a Cheerolet, and has the same engine as the 10-cut. machine, cone clutch and three-speed box, rearaxle drive by bevel, and brake on road-wheel drum. The 30-cwt. model is a G.M.C. with 34-ln. and 50n. four-cylinder engine, multiple-disc clutch and three-speed box. The rear axle is bevel driven, and both brakes are in drums on the rear wheels. The special passenger chassis is the same, with longer wheelbase. The 2e-3-tonner is also G.M.C., and has 4-in. and 5e-in. engine, with a transmission which affords eight speeds forward and two in reverse.
The 15-tanner is really a tractor. It has a four-cylinder 41-in. and 6-in, engine, a multiple-disc clutch and an eight...peed transmission, with provision for power take off.
General Motors, Ltd., The Hyde, London, N.W. 9.
Caledon Range of Shaft and Chain-driven Models.
TEECaleclen programme for 1924 includes vehicles of 3-ton, 4-ton, 5-ton and 6-ton capacity, the firet two having live axle drive by overhead worm gearing, whilst the latter two are both driven bychains from a separate jackshaft.
Caledon Motor Co., Ltd., 98, Duke Street, Glasgow.
Tags
People
:
Clayton Wagons
,
M. Berliet
,
W. G. Arnistrong
,
Guy Petrol
,
Garrett Trailer
,
Stevens Petrol-Flectric
,
Robey Steamers
,
Clayton Wa
,
Marshall Steam
,
Shefflex
,
Derby Electrics
,
Will
,
Petrol Chassis