One Hears—
13th November 1913
Page 3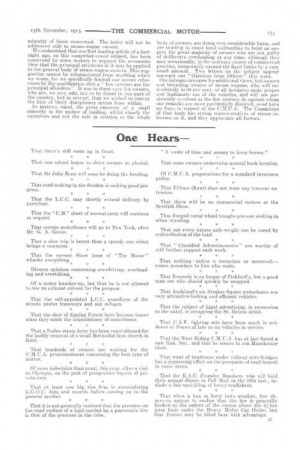 Page 3, 13th November 1913 —
One Hears—
Close
That there's still room up in front, That one school hopes to drive owners to alcohol.
That Sir John Benn will soon be doing the bending.
That road-making in the Soudan is making good progress.
That the L.C.C. may shortly extend delivery by parcelear.
That the " C.M." sheet of normal costs will continue in request.
That certain motorbuses will go to New York, after Mr. G. A. Green.
That a slow trip is better than a speedy one which brings a summons.
That the current Show issue of "The Motor" whacks everything.
Diverse opinions concerning overdriving, overloading and overtaking.
Of a motor knocker-up, but that he is not allowed to use an exhaust cut-out for the purpose.
That the self-appointed L.C.C. guardians of the streets prefer tramways and not refuges.
That the deer of Epping Forest have become tamer since they made the acquaintance of motorbuses.
That a. Foden steam lorry has been requisitioned for the bodily removal of a Mall Methodist iron church in Kent.
That hundreds of owners are waiting for the C.M. [LA. pronouncement concerning the best type of mirror.
Of more indecision than usual, this year, after a visit to Olympia, on the part. of prospective buyers of private ears.
That at least one big tire firm is accumulating L.G.O.C. data and records before_ coming on to the general market.
That it is not generally realized that the pressure on the road surface of a load carried by a pneumatic tire is that of the pressure in the tube. "A waste of time and money to keep horses." That some owners undervalue normal book-keeping.
Of C.M.I.T.A. preparations for a standard insurance policy.
That Elthant (Kent) does not want any tramcar extension.
That there will be no commercial motors at the Scottish Show.
That flanged metal wheel-troughs prevent sinking-in when standing: That not every excess axle-weight can be cured by redistribution of the load.
That " Classified Advertisements " are worthy of still further support each week.
That nothing—unless a motorbus or motorcab — comes nowadays to him who waits.
That Kenneth, is no longer of Pickford's, but a good man out who should quickly be snapped.
That Auckland's six Straker-Squire motorbuses are very attractive-looking and efficient vehicles.
That the subject of Ligal advertising, in succession to the natal, is occupying the St. Helens artist.
That C. A.V. lighting sets have been much in evidence at Shows of late as on vehicles in service.
That the West Riding C.M.U. A. has at last found a; new Hon. Sec., and that he means to run Manchester close.
That want of headroom under railway over-bridges has a depressing effect on the prospects of road transit in some areas.
That the R.A.C. Founder Members, who will hold their annual dinner in Pall Mall on the 18th inst., inelude a fair -sprinkling of heavy-traffickers.
That when a bus or lorry tows -another, few observers appear to realize that the law is =enerally broken to the extent of the excess above toe 61_.-ton joint limit under the Heavy Motor Car Order, but that Justice may be blind here with advantage.