Canals as Motor Roads.
13th November 1913
Page 2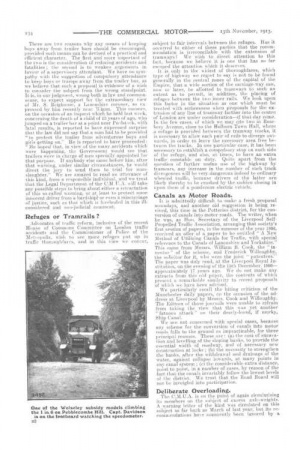 Page 2, 13th November 1913 —
Canals as Motor Roads.
Close
It is admittedly difficult to make a fresh proposal nowadays, and another old suggestion is being revived, this time in the Potteries district, for the conversion of canals into motor roads. The writer, when he was, as Hon. Secretary of the Liverpool SelfPropelled Traffic Association, arranging that society's first session of papers, in the summer of the year 1898, received an offer of a paper to be entitled " A New Method of Utilizing Canals for Traffic, with special reference to the Canals of Lancashire and Yorkshire," This came from Messrs. William B. Cook, the " inventor " of the scheme, and Frederick Willoughby, the solicitor for it, who were the joint " patentees," The paper was duly read, at the Liverpool Royal Institution, on the evening of the 15th December. 1896— approximately 17 years ago. We do not make any extracts from this old paper, the contents of which present a remarkable similarity to recent proposals of which we have been advised.
We. particularly recall the biting criticism of the Manchester daily papers, on the occasion of the address at Liverpool by Messrs. Cook and Willoughby. The Editors of those journals were unable to refrain from taking the view that this was yet another "fatuous attack" on their dearly-loved, if murky, Ship Canal. We are not concerned with special case.s, because any scheme for the conversion of canals into motor roads falls to the ground as impracticable, for three principal reasons. These are : (a) the cost of excavation and levelling of the sloping banks, to provide the essential width of roadway, and of necessary new construction at locks ; (b) the necessity to strengthen the banks, after the withdrawal and drainage of the water, against collapse inwards, at many points in any canal system ; (c) the considerable extra distance, point to point, in a number of cases, by reason of the fact that the canals invariably follow the lowest levels of the district. We trust that the Road Board will not be inveigled into participation.