Land Cultivation.
13th November 1913
Page 1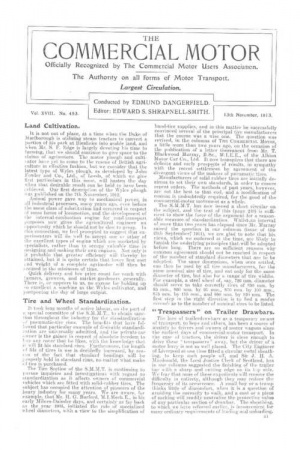 Page 1, 13th November 1913 —
Land Cultivation.
Close
It is not out of place, at a time when the Duke of Marlborough is utilizing steam tractors to convert a portion of his park at Blenheim into arable land, and when Mr. S. F. Edge is largely devoting his time to farming, that we should continue to give space to the claims of agrimotors. The motor plough and cultivator have yet to come to the rescue of British agriculture in effective fashion, but we consider that the latest type of Wyles plough, as developed by John Fowler and Co., Ltd., of Leeds, of which we give that particulars in this issue, will hasten the day when that desirable result can be held to have been achieved. Our first description of the Wyles plough was published on the 7th November, 10t2.
Animal power gave way to mechanical power, in all industrial processes, many years ago, even before the same class of substitution had occurred in respect of sonic forms of locomotion, and the development of the internal-combustion engine for road-transport purposes now gives the agricultural engineer an opportunity which he should not be slow to grasp. Til
his connection, we feel prompted to suggest that experimenters will do well to accept. one Or other of the excellent types of engine which are marketed by specialists, rather than to occupy valuable time in designing and making their own engines. Not only is it probable that greater efficiency will thereby be attained, but. it is quite certain that lower first cost and weight of a. complete agrimotor will then be secured in the minimum of time.
Quick delivery and low price count for much with farmers, growers, and market gardeners generally. There is, or appears to us, no excuse for holding up so excellent a machine as the -Wyles cultivator, and postponing the day of large output.