" Trespassers gr on Trailer Drawbars.
13th November 1913
Page 1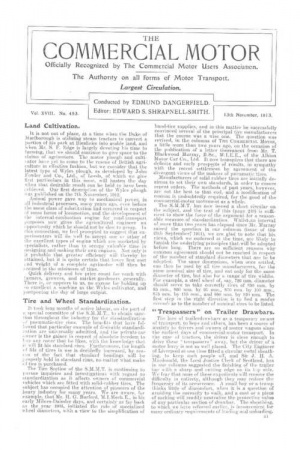 Page 2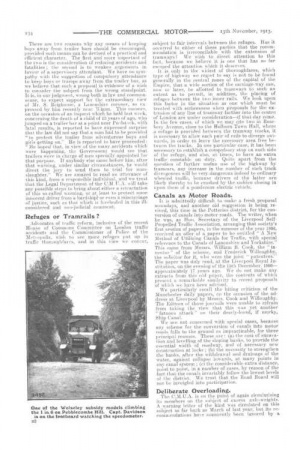 Page 1, 13th November 1913 —
" Trespassers gr on Trailer Drawbars.
Close
The lure of trailerdrawbars as a temporary means of transport., to boys and others, has been a source of anxiety to drivers and owners of motor wagons since the earliest days of commercial-motor transport. In. the case of tractors, the driver is close enough to drive these "trespassers " away, but the driver of a motor lorry is not so well placed. The City Engineer of Liverpool at one time fitted a circular metal sheathing, to keep such people off, and Sir J. IL A. Macdonald, the Lord Justice Clerk of Scotland, has in our columns suggested the finishing of the trailer bar with a. sharp and cutting edge on its tap side. We fear that none -of these expedients will remove the difficulty in entirety, although they may reduce the frequency of its occurrence. A small boy or a tramp thinks little of discomfort, when it is a question of avoiding the necessity to walk, and a coat or a piece of sacking will readily neutralize the protective value of any particular section of drawbar. The sheathing, to which we have referred earlier, is inconvenient for many ordinary requirements of leadieg and unloading.
There are two reasons why any means of keeping boys. away from trailer bars should be encouraged, provided such means can be devised of a practical and efficient character. The first and more important of the two is the consideration of reducing accidents and fatalities ; the second is to weaken arguments in favour of a supervisory .attendant. We have no sympathy with the suggestion of compulsory attendance to keep boys or tramps away from the trailer bar, as we believe that such a proposal is evidence of a wish to consider the subject from the wrong standpoint. It is, in our judgment., wrong both in law and commonsense, to expect support for the extraordiary view of Mr. S. Brighouse, a Lancashire coroner, as ex. pressed by him recently near Wigan, This .emoner, on the occasion of an inquest which he held last week, concerning the death of a child of 13 years of ago, who jumped on a trailer bar at a point near Poolstoek, with fatal results, is reported to have expressed surprise that the law did not say that a man had to be provided "to protect the trailer from adventurous boys and girls getting on." He is reported to have proceeded : " He hoped that, in view of the ninny accidents which were happening, the Government would see that trailers were in charge of men specially appointed for that purpose. If anybody else came before him, after that warning, under similar circumstances, he would direct the jury to send them to trial for manslaughter." We are amazed to read an utterance of this kind, from a responsible individual, and we trust that the. Legal Department of the C.M.U.A. will take any possible steps to bring about either a retractation of this so-called warning, or at least to protect seine innocent driver from a hardshipi or even a miscarriage of justice, such as that which is foreboded in this illconsidered and non-judicial commTI (mt.