Despatches (36):--contd
13th May 1915
Page 9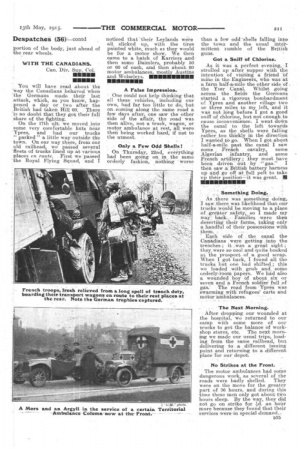 Page 9, 13th May 1915 —
Despatches (36):--contd
Close
portion of the body, just ahead of the rear wheels.
wini THE CANADIANS.
Can, Div. Sup, Col.
• You will have read about the 'WaY the Canadians behaved when -the Germans made their last attack, which, as yOu knoW, happened a day or two after the British had taken Hill 60. . There is no doubt that they got their full share of the fighting. " On the 17th ult. we moved into some very comfortable huts near 'Ypres, and had our trucks " parked " a little way outside the town. On our way there, from our old railhead, we passed several 'fleets of trucks: lined up at various places en rouse. First we pa6sed the Royal Flying Squad, ' and I noticed that theirLeylavids were all slicked up, with the tires painted white, much as they would be for a motor show. We then came to a batch of Karriers and then some Daimlers, probably 50 or BO of each, and then about BO motor ambulances, mostly Austins and Wolseleys. NE=1101E1111 11•1111111111•1111 • A False Impression.
One could not help thinking that all these vehicles, including our own, had far too little to do, but on corning along the same road a few days after, one saw the other side Of the affair, the road was then alive, not a truck, wagon, or motor ambulance at rest, all_were then being worked hard, if not to the utmost.
• Only a Few Odd Shells: On Thursday, 22nd, everything had been going on in the same orderly fashion, nothing worse
than a few odcl-shelis falling into the town and the usual intermittent rumble of the British guns.
Got a Sniff of Chlorine.
As it was a perfect evening, .I strolled up after supper with the intention of visiting a friend 'hi mine in the EngineerS, who was •at a farm half-a-mile the other side of the leer Canal. Whilst going across the fields the Germans started a vigorous bombardment of Ypres and another village two or three miles to my left, and it was not long before I got a good sniff of chlorine, but not onough _to cause inconvenience. I went down the canal to the left towards Ypres, as the shells were falling rather too thickly in the direction I wanted to go. When I got about half-&-mile past the canal I saw some French cavalry, some Algerian infantry, and-. French artillery ; they mus have been driven out by -" gas." I theni saw a Bizitish battery harness up and go Offat "full pelt to take up their positiotiit was great. III
1111•11111111111101111 •
Something Doing.
As there was something doing, I saw there waS likelihood that our • trucks WOuld be moving to a place of greater' safety, so I made /iv way j bapk.. Families were then deserting: their farms, taking only a handful of their possessions with them..
Each side of the canal the Canadians were getting into the trenches.; it was a great sight ; they, Were so cool and (pie bucked at the prospect of a good scrap. When I got back, I found all the trucks but one had shifted; this we loaded with grub anti, some• orderly-room papers. We had also a wounded boy of about six pr seven and a French soldier full of gas. The road froml(-preg was swarming with refugees' carts and
motor ainbulances.
The Next Morning.
After dropping our wounded at the hospital, we returned to our camp with some more of our trucks to get the balance of workshop stores, etc. The next morning we made our usual trips, loading from the same railhead, but delivering to a different issuing point and returning to a different plane Tor our depot.
No Strikes at the Front.
The motor ambulances had some dangerous work, as several of the roads were badly shelled. They were on the move for the greater part of 36 hours, and during this time these men only got about two hours sleep. By the way, they did not go on strike for id. an hoUr more because they found that their services were in special demand,: