Campaign Comforts Fund—con.
13th May 1915
Page 16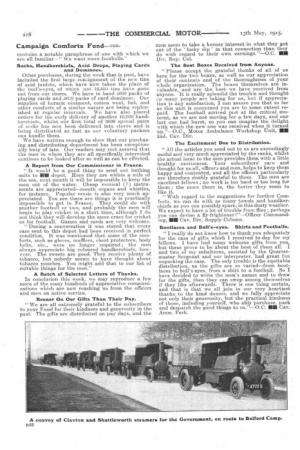 Page 16, 13th May 1915 —
Campaign Comforts Fund—con.
Close
contains a notable paraphrase of one with which we are all familiar—" We want more footballs."
Socks, Handkerchiefs, Acid Drops, Playing Cards and Dominoes.
Other purchases' during the week that is past, have included the first large consignment of the new tins of acid tablets, which have now taken the place of the bull's-eyes, of which last 16,500 tins have gone out from our stores. We have in hand 4000 packs of playing cards and 5000 packs of card dominoes. Our supplies of boracic ointment, cotton wool, lint, and other comforts of a similar nature are being replenished at regular intervals. We have also placed orders for the •early delivery of another 10,000 handkerchiefs, whilst our first total of 6000 special pairs of seeks has now been delivered into stores and is being distributed as fast as our voluntary packers can handle them.
We have written enough to show that our purchasing and distributing department has been exceptionally busy of late. Our readers may rest assured that the men in whom they are all specifically interested continue to be looked after as well as can be effected.
A Report from Our Commissioner in France.
"It would be a good thing to send out bathing suits to 11111 depot. Here they are within a mile of the sea., next month it will be impossible to keep the men out of the water. Cheap musical CO instruments are appreciated—mouth organs and whistles, for instance. Popular music is also very much appreciated. You see these are things it is practically impossible to get in France. They could do with another football or two, and probably the men will begin to play cricket in a short time, although I do not think they will develop the same craze for cricket as for football. Games and cards are very welcome.
"During a conversation it waa stated that every case sent to this depot had been received in perfect condition. It was mentioned that some of the comforts, such as gloves, mufflers-, chest protectors, body belts, etc., were no longer required ; the men always appreciate big coloured handkerchiefs, however. The sweets are good. They receive plenty of tobacco, but nobody seems to have thought about tobacco pouches. You might add that to our list of suitable things for the men."
A Batch of Selected Letters of Thanks.
In conclusion this week, we may reproduce a few more of the many hundreds of appreciative corrununications which are now reaching us from the officers and men on active service.
Keener On Our Gifts Than Their Pay.
"We are all extremely grateful to the subscribers to your Fund for their kindness and generosity in the past. The gifts are distributed on pay days, and the
men seem to take a keener interest:in what they get out Of the 'lucky dip ' in that connection than they do with regard to their own earnings."—O.C. 1111111 Div. Sup. Col.
The Best Boxes Received from Anyone.
"Please accept the grateful thanks of all of us here for the two boxes, as well as our appreciation of their contents and of the thoroughness of your whole organization. The boxes themselves are invaluable, and are the bestwe have received from• anyone. It is really splendid the trouble and thought co many people are taking for us, but if appreciation is any satisfaction, I can assure you that so far as this unit is concerned you are to some extent repaid. The football arrived just at the critical moment, as we are not moving for a few days, and our last one had burst, so you can imagine the delight with which the new one was received when it turned up!'—O.C. , Motor Ambulance Workshop Unit, NM
Cav.
The Excitement Due to Distribution.
"All the articles you send out to us are exceedingly. useful and very much appreciated by the ranks, whilst the actual issue to the men provides them with a little healthy excitement. Your subscribers' care and thought for us all, officers and men, helps to keep them happy and contented, and all the officers particularly are therefore doubly grateful to them. The men are excellent fellows ; no work is too hard or too long for them ; the more there is, the better they seem to like it.
"With regard to the suggestions for further Comforts, we can do with as many towels and handkerchiefs as you can possibly spare, in this dusty weather. We expect to. have a lot of trouble from flies ; perhaps you can devise a fly-frightener !"—Officer Commanding, IIII Cav. Div, Supply Column.
Bootlaces and Bull's-eyes. Shirts and Footballs.
"I really do not know how to thank you adequately for the case of gifts which I received to-day for my fellows. I have had many welconie gifts from you, but these prove to be about the beat of them all. I and two of my subalterns, assisted by the Quartermaster Sergeant and our interpreter, had great fun unpacking the case. The only trouble is the equitable distribution, as the gifts are so varied—from bootlaces to bull's-eyes, from a shirt to a football. So I have decided to write the men's names and to draw. for the gifts, then they can swop among themselves if they like afterwards. There is one thing certain, and that is that we all join in our very heartiest thanks to the kind donors, and we fully appreciate not only their generosity, but the practical kindness of those, including yourself, who ably purchase, pack and despatch the good things to us.' --1D.C. Mil Cav. Amm. Park.