Our £5000 "Campaign Comforts" Fund.
13th May 1915
Page 15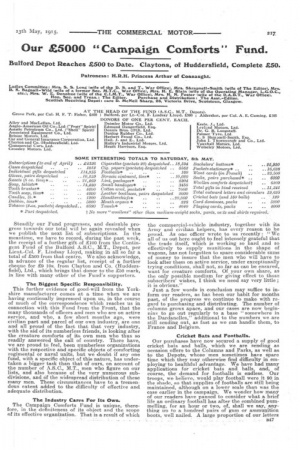 Page 15, 13th May 1915 —
Our £5000 "Campaign Comforts" Fund.
Close
Bulford Depot Reaches £500 to Date. Claytons, of Huddersfield, Complete £50.
Patroness: H.R.H. Princess Arthur of Connaught.
Steadily our Fund progressea, and desirable progress towards our total will be again revealed when we publish the next list of subscriptions. In the meantime, we have to record, during the past week, the receipt of a further gift of £100 from the Contingent Fund of the Bulford A.S.C., 3/1.T., Depot, per Lieut.-Col. F. Lindsay Lloyd, making in all BO far a total of £500 from that centre. We also acknowledge, in advance of the regular list, receipt of a further cheque for £9 10s. from Clayton and Co. (Huddersfield), Ltd., which brings that donor to the £50 mark, in line with many other of the Fund's supporters.
_ The Biggest Specific Responsibility.
This further evidence of good-will from the Yorkshire manufacturer comes at a time when we are having continually impressed upon us, in the course of much of the correspondence which reaches us in connection with this Fund from the Front, that the many thousands of officers and men who are on active service, and who, a few short months ago, were civilian part and parcel of our own industry, are one and all proud of the fact that that very industry, with the aid of its numberless friends, is looking after the creature comforts of its own men who thus so readily answered the call of country. There have, we are proud to feel, been numberless organizations with the respective and specific objects of comforting regimental or naval units, but we doubt if any one fund, with a specific object of this nature, has undertaken a bigger task than that of ours, on account of the number of A.S.C., M.T., men who figure on our lists, and also because of the very numerous subdivisions, and Of the widespread distribution of these many men. These circumstances have to a, tremendous extent added to the difficulty of effective and adequate distribution.
The Industry Cares For Its Own.
The Campaign Comforts Fund is unique, therefore, in the definiteness of its object and the scope of its effective organization. That is a result of which the commercial-vehicle industry, together with it Army and civilian helpers, has every reason to be proud. As one officer wrote to us recently : "We all of us out here ought to feel intensely grateful that the trade itself, which is working so hard and so effectively to supply munitions in the shape of wagons, has not forgotten to spare considerable sums of money to insure that the men who will have to look after them on active service, under exceptionally trying conditions, shall not, so far as can be ensured, want for creature comforts. Of your own share as the only possible medium for giving effect to those subscribers' wishes, I think we need say very little ; it is obvious."
Just a few words, in conclusion may suffice to inform our readers, as has been our habit for months past, of the progress we continue to make with regard to purchasing and distributing. The number of columns grows apace, and our cases are now beginninv to go out regularly to a base "somewhere in the Dardanelles," additional to the numbers we are still sending out, as fast as we can handle them, to France and Belgium.
Cricket Bats and Footballs.
Our purchases have now secured a supply of good cricket bats and bails, which we are sending as occasion offers to the Columns and Parks, as well as to the Depots, whose men sometimes have spare time which they may otherwise find difficulty in employing to healthful advantage. We have had many applications for cricket bats and balls, and, of course, the• demand for footballs is eridIess. Our troops, we believe, would play football were it 90 in the shade so that supplies of footballs are still being maintained, although on a lower scale than was the case earlier in the campaign. We wonder how many of our read-era have paused to consider what a brief life an ordinary football has after the combined pummelling, for an hour or two, of, shall we say, anything on to a hundred pairs of gum or ammunition boots, well nailed. A large proportion of our letters