Lay off drivers • holidays, firm told
13th March 1982
Page 9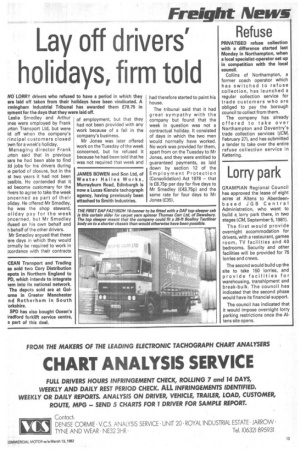 Page 9, 13th March 1982 —
Lay off drivers • holidays, firm told
Close
NO LORRY drivers who refused to have a period in which they ere laid off taken from their holidays have been vindicated. A irmingham Industrial Tribunal has awarded them £78.75 in iyment for the days that they were laid off.
Leslie Smedley and Arthur ones were employed by Frank urton Transport Ltd, but were Id off when the company's rincipal customers closed own for a week's holiday.
Managing director Frank urton said that in previous aars he had been able to find Jcl jobs for his drivers during le period of closure, but in the St two years it had not been ossible. He contended that it ad become customary for the rivers to agree to take the week oncerned as part of their oliday. He offered Mr Smedley, ,ho was the shop steward, oliday pay for the week concerned, but Mr Smedley 'fused on his own behalf and n behalf of the other drivers.
Mr Smedley argued that these 'ere days in which they would ormally be required to work in ccordance with their contracts of employment, but that they had not been provided with any work because of a fall in the company's business.
Mr Jones was later offered work on the Tuesday of the week concerned, but he refused it because he had been told that he was not required that week and had therefore started to paint his house.
The tribunal said that it had great sympathy with the company but found that the week in question was not a contractual holiday. It consisted of days in which the two men would normally have worked. No work was provided for them, apart from on the Tuesday to Mr Jones, and they were entitled to guaranteed payments, as laid down by section 12 of the Employment Protection (Consolidation) Act 1978 — that is £8.75p per day for five days to Mr Smedley (£43.75p) and the same rate for four days to Mr Jones (£35).