Moving up the charts
13th March 1982
Page 25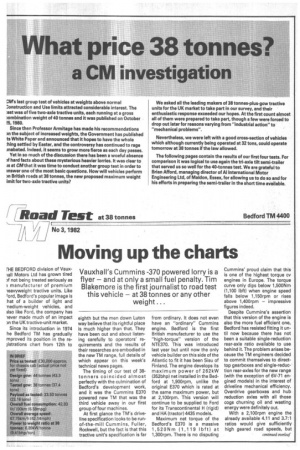 Page 26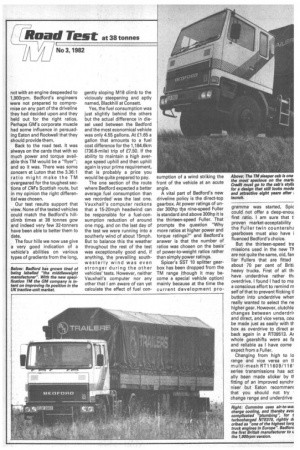 Page 27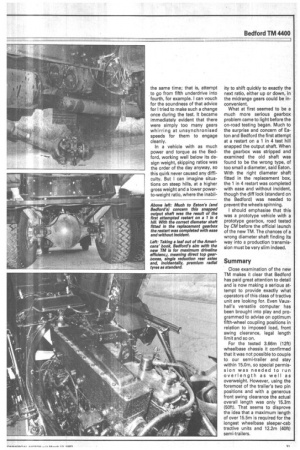 Page 25, 13th March 1982 —
Moving up the charts
Close
Keywords :
Land Transport
,
Mechanical Engineering
,
Transport
,
Trucks
,
Kinematics
,
Machines
,
Mechanisms
,
Transmission
,
Overdrive
,
Semi-trailer Truck
,
Bedford Tm
,
Diesel Locomotive
Vauxhall's Cummins -370 powered lorry is a flyer — and at only a small fuel penalty. Tim Blakemore is the first journalist to road test this vehicle — at 38 tonnes or any other weight
HE BEDFORD division of Vauxiall Motors Ltd has grown tired xf not being treated seriously as manufacturer of premium leavyweight tractive units. Like :ord, Bedford's popular image is hat of a builder of light and redium-weight vehicles, and llso like Ford, the company has lever made much of an impact )n the UK tractive-unit market. Since its introduction in 1974 he Bedford TM has gradually mproved its position in the rejistrations chart from 12th to eighth but the men down Luton way believe that its rightful place is much higher than that. They have been out and about listening carefully to operators' requirements and the results of their researches are embodied in the new TM range, full details of which appear on this week's technical news pages.
The timing of our test of 38tanners coincided almost perfectly with the culmination of Bedford's development work, and it was the Cummins E370 powered new TM that was the third vehicle away in our first group of four machines.
At first glance the TM's driveline specification looks to be runof-the-mill Cummins, Fuller, Rockwell, but the fact is that this tractive unit's specification is far from ordinary. It does not even have an "ordinary" Cummins engine. Bedford is the first British manufacturer to use the "high-torque" version of the NTE370. This was introduced last year but until now the only vehicle builder on this side of the Atlantic to fit it has been Sisu of Finland. The engine develops its maximum power of 262kW (352bhp) net installed in the Bedford at 1,900rpm, unlike the original E370 which is rated at the. same maximum power, but at 2,100rpm. This version will continue to be supplied to Ford for its Transcontinental H (rigid) and HA (tractor) 4435 models.
Maximum net torque of the Bedford's E370 is a massive 1,5 2 ONm (1,1 1 9 lbft) at 1,300rpm. There is no disputing Cummins' proud claim that this is one of the highest torque cv engines in Europe. The torque curve only dips below 1,500Nm (1,100 lbft) when engine speed falls below 1,150rpm or rises above 1,400rpm — impressive figures indeed.
Despite Cummins's assertion that this version of the engine is also the more fuel efficient one, Bedford has resisted fitting it until now because there has not been a suitable single-reduction rear-axle ratio available to use behind it. The problem arises because the TM engineers decided to commit themselves to directtop gearboxes and single-reduction rear-axles for the new range (with the exception of 6V-71 engined models) in the interest of driveline mechanical efficiency. Overdrive gearboxes and hub reduction axles with all those cogs churning oil and wasting energy were definitely out.
With a 2,100rpm engine the already available 4.11 and 3.7:1 ratios would give sufficiently high geared road speeds, but not with an engine despeeded to 1,900rpm. Bedford's engineers were not prepared to compromise on any part of the driveline they had decided upon and they held out for the right ratios. Perhaps GM's corporate muscle had some influence in persuading Eaton and Rockwell that they should provide them.
Back to the road test. It was always on the cards that with so much power and torque available this TM would be a "flyer"; and so it was. There was some concern at Luton that the 3.36:1 ratio might make the TM overgeared for the toughest sections of CM's Scottish route, but in my opinion the right differential was chosen.
Our test results support that view. None of the tested vehicles could match the Bedford's hillclimb times at 38 tonnes gcw and indeed very few 32-tanners have been able to better them to date.
The four hills we now use give a very good indication of a vehicle's abilities on various types of gradients from the long, gently sloping M18 climb to the viciously steepening and aptly named, Blackhill at Consett.
Yes, the fuel consumption was just slightly behind the others but the actual difference in diesel used between the Bedford and the most economical vehicle was only 4.55 gallons. At £1.65 a gallon that amounts to a fuel cost difference for the 1,184.6km (736.8-mile) trip of 0.50. If the ability to maintain a high average speed uphill and then uphill again is your prime requirement, that is probably a price you would be quite prepared to pay.
The one section of the route where Bedford expected a better average fuel consumption than we recorded was the last one. Vauxhall's computer reckons that a 15-20mph headwind can be responsible for a fuel-consumption reduction of around one mpg, and on the last day of the test we were running into a southerly wind of about 15mph. But to balance this the weather throughout the rest of the test was exceptionally good and, if anything, the prevailing southwesterly wind was even stronger during the other vehicles' tests. However, neither Vauxhall's computer nor any other that I am aware of can yet calculate the effect of fuel con
sumption of a wind striking the front of the vehicle at an acute angle.
A vital part of Bedford's new driveline policy is the direct-top gearbox. At power ratings of under 300hp the nine-speed Fuller is standard and above 300hp it is the thirteen-speed Fuller. That prompts the question "Why more ratios at higher power and torque ratings?" and Bedford's answer is that the number of ratios was chosen on the basis' of power-to-weight ratios rather than simply power ratings.
Spicer's SST 10 splitter gearbox has been dropped from the TM range (though it may become a special vehicle option) mainly because at the time the current development pro gramme was started, Spic could not offer a deep-enoui first ratio. I am sure that ti proven market-acceptability the Fuller twin countershe gearboxes must also have i fluenced Bedford's choice.
But the thirteen-speed tra missions used in the new TIN are not quite the same, old, fan liar Fullers that are fitted about 70 per cent of Briti: heavy trucks. First of all thi have underdrive rather thi overdrive. I found I had to ma a conscious effort to remind m self of that to prevent flicking tl button into underdrive when really wanted to select the ne higher gear. However, clutchle changes between underdrh and direct, and vice versa, cou be made just as easily with th box as overdrive to direct ar back again in a RT09513. AT whole gearshifts were as fa and reliable as I have come expect from a Fuller.
Changing from high to io range and vice versa on ft multi-mesh RT11609/116' series transmissions has act ally been made slicker by ti fitting of an improved synchr niser but Eaton recommen( that you should not try change range and underdrive the same time; that is, attempt to go from fifth underdrive into fourth, for example. I can vouch for the soundness of that advice for I tried to make such a change once during the test. It became immediately evident that there were simply too many gears whirring at unsynchronised speeds for them to engage cleanly.
In a vehicle with as much power and torque as the Bedford, working well below its design weight, skipping ratios was the order of the day anyway, so this quirk never caused any difficulty. But I can imagine situations on steep hills, at a higher gross weight and a lower powerto-weight ratio, where the inabil ity to shift quickly to exactly the next ratio, either up or down, in the midrange gears could be inconvenient.
What at first seemed to be a much more serious gearbox problem came to light before the on-road testing began. Much to the surprise and concern of Eaton and Bedford the first attempt at a restart on a 1 in 4 test hill snapped the output shaft. When the gearbox was stripped and examined the old shaft was found to be the wrong type, of too small a diameter, said Eaton. With the right diameter shaft fitted in the replacement box, the 1 in 4 restart was completed with ease and without incident, though the diff lock (standard on the Bedford) was needed to prevent the wheels spinning.
I should emphasise that this was a prototype vehicle with a prototype gearbox, road tested by CM before the official launch of the new TM. The chances of a wrong diameter shaft finding its way into a production transmission must be very slim indeed.
Summary
Close examination of the new TM makes it clear that Bedford has paid great attention to detail and is now making a serious attempt to provide exactly what operators of this class of tractive unit are looking for. Even Vauxhall's versatile computer has been brought into play and programmed to advise on optimum fifth-wheel coupling positions in relation to imposed load, front swing clearance, legal length limit and so on.
For the tested 3.66m (12ft) wheelbase chassis it confirmed that it was not possible to couple to our semi-trailer and stay within 15.0m, so special permission was needed to run overlength as well as overweight. However, using the foremost of the trailer's two pin positions and with a generous front swing clearance the actual overall length was only 15.3m (50ft). That seems to disprove the idea that a maximum length of over 15.5m is required for the longest wheelbase sleeper-cab tractive units and 12.2m (40ft) semi-trailers.