Region bus fares go different ways
13th March 1982
Page 12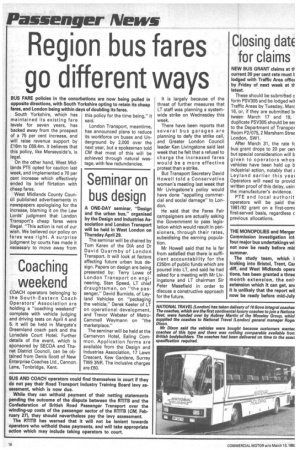 Page 12, 13th March 1982 —
Region bus fares go different ways
Close
BUS FARE policies in the conurbations are now being pulled in opposite directions, with South Yorkshire opting to retain its cheap fares, and London being within days of doubling its fares.
South Yorkshire, which has maintained its existing fare levels for seven years, has backed away from the prospect of a 75 per cent increase, and will raise revenue support by £16m to £69.4m. It believes that this policy, like Merseyside's, is legal.
On the other hand, West Midlands PTE opted for caution last week, and implemented a 70 per cent increase which effectively ended its brief flirtation with cheap fares.
West Midlands County Council published advertisements in newspapers apologising for the increase, blaming it on the Law Lords' judgment that London Transport's cheap fares were illegal. "This action is not of our wish. We believed our policy on fares was right. A surprise judgment by courts has made it necessary to move away from this policy for the time being," it said.
London Transport, meantime, has announced plans to reduce its workforce on buses and Underground by 2,000 over the next year, but a spokesman told CM that most of this will be achieved through natural wastage, with few redundancies. It is largely because of the threat of further measures that LT staff was planning a systemwide strike on Wednesday this week.
There have been reports that several bus garages are planning to defy the strike call, and Greater London Council leader Ken Livingstone said last week that he felt that a refusal to charge the increased fares would be a more effective protest than a strike.
But Transport Secretary David Howell told a Conservative women's meeting last week that Mr Livingstone's policy would have done "appalling commercial and social damage" to London.
He said that the Fares Fair campaigners are actually asking the Government to pass legislation which would result in pensioners, through their rates, subsidising the earning population.
Mr Howell said that he is far from satisfied that there is sufficient accountability for the £250m of public funds which are poured into LT, and said he had asked for a meeting with Mr Livingstone and LT chairman Sir Peter Masefield in order to discuss a constructive approach for the future.