Trashing the bans
13th March 1982
Page 10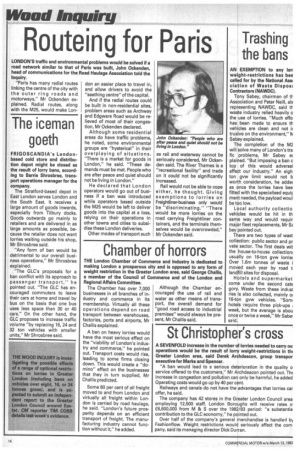 Page 10, 13th March 1982 —
Trashing the bans
Close
AN EXEMPTION to any Ion weight-restrictions has bee called for by the National Assl ciation of Waste Dispom Contractors (NAWDC).
Tony Sabey, chairman of ft Association and Peter Neill, als representing NAWDC, said th waste industry relied heavily o the use of lorries. "Much effo has been made to ensure th vehicles are clean and not ir trusive on the environment," N Sabey explained.
The completion of the M2 will solve many of London's tra fic problems, Mr Sabey m plained. "But imposing a ban c top of this would adversel affect our industry." An eigh ton gvw limit would not b worth consideration, he addec as once the lorries have bee fitted with the specialised equii ment needed, the payload woul be too low.
Local authority collectio vehicles would be hit in th same way and would requir major fleet replacements, Mr Sz bey pointed out.
There are two types of wast collection: public sector and pr vete sector. The first deals wit the house-to-house collection: usually on 16-ton gvw lorrier Over 1.6m tonnes of waste i moved each year by road t landfill sites for disposal.
Hotels and supermarket come under the second cats gory. Waste from these indos1 ries is also collected, mainly oi 16-ton gvw vehicles. "Somi hotels require three pick-ups week, but the average is abou once or twice a week," Mr Sabel said.