Q What is a sleeve-valve engine, what is
13th March 1970
Page 61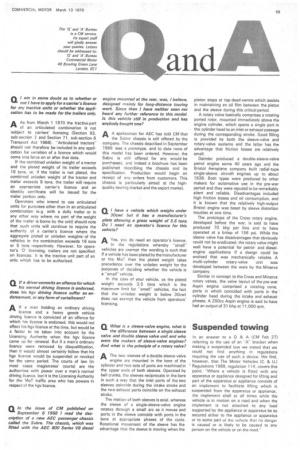 Page 61, 13th March 1970 —
Q What is a sleeve-valve engine, what is
Close
the difference between a single sleeve valve and double sleeve valve unit and who were the makers of sleeve-valve engines? And what is the principle of a rotary valve?
AThe two sleeves of a double-sleeve-valve
engine are mounted in the bore of the cylinder and two sets of ports are machined in the upper ends of both sleeves. Operated by bell cranks, the sleeves reciprocate in the bore in such a way that the inlet ports of the two sleeves coincide during the intake stroke and the two exhaust ports coincide on the exhaust stroke.
The motion of both sleeves is axial, whereas the sleeve of a single-sleeve-valve engine rotates through a small arc as it moves and ports in the sleeve coincide with ports in the bore at appropriate phases of the cycle. Rotational movement of the sleeve has the advantage that the sleeve is moving when the piston stops at top-dead-centre which assists in maintaining an oil film between the piston and the sleeve during this critical period.
A rotary valve basically comprises a rotating ported rotor, mounted immediately above the engine cylinder, which opens a single port in the cylinder head to an inlet or exhaust passage during the corresponding stroke. Good filling is provided by both the sleeve-valve and rotary-valve systems and the latter has the advantage that friction losses are relatively small.
Daimler produced a double-sleeve-valve petrol engine some 40 years ago and the Bristol Aeroplane company built radial-type single-sleeve aircraft engines up to about 1938. Both types were produced by other makers for automotive use in the pre-war period and they were reputed to be remarkably silent and reliable. Disadvantages included high friction losses and oil consumption, and it is known that the relatively high-output Bristol engine was beset by sleeve distortion troubles at one time.
The prototype of the Cross rotary engine, developed before the war, is said to have produced 70 bhp per litre and to have operated at a bmep of 156 psi. While the sleeve valve has disadvantages that obviously could not be eradicated, the rotary valve might well have a potential for petroland dieselengine applications if a design could be evolved that was mechanically reliable. A multi-cylinder rotary-valve unit was developed between the wars by the Minerva company.
Similar in concept to the Cross and Minerva rotary valves, the valve layout of the pre-war Aspin engine comprised .a rotating cone, ports in which coincided with ports in the ' cylinder head during the intake and exhaust phases. A 250cc Aspin engine is said to have had an output of 31 bhp at 11.000 rpm.