a If a driver commits an offence for which his normal
13th March 1970
Page 61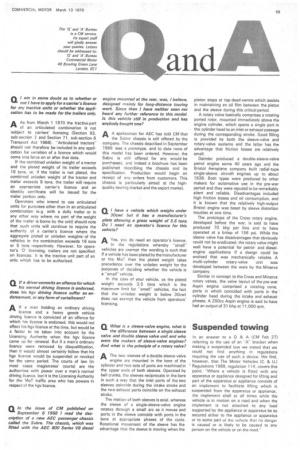 Page 61, 13th March 1970 —
a If a driver commits an offence for which his normal
Close
driving licence is endorsed, does his hgv driving licence suffer an endorsement, or any form of curtailment?
AIf a man holding an ordinary driving
licence and a heavy goods vehicle driving licence is convicted of an offence for which his licence is endorsed, this would not affect his hgv licence at the time, but would be a factor to be taken into account by the Licensing Authority when the hgv licence came up for renewal. But if a man's ordinary licence were removed by disqualification, then it would almost certainly follow that his hgv licence would be suspended or revoked for the same period. The courts of law (in most cases magistrates' courts) are the authorities with power over a man's normal driving licence, but it is the Licensing Authority for the MoT traffic area who has powers in respect of the hgv licence.