a I am in some doubt as to whether or not
13th March 1970
Page 61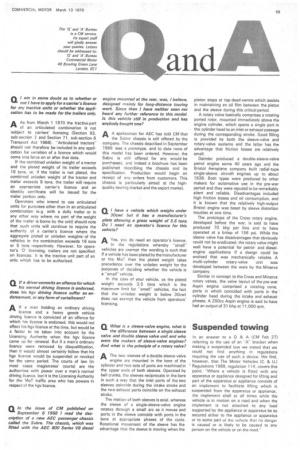 Page 61, 13th March 1970 —
a I am in some doubt as to whether or not
Close
I have to apply for a carrier's licence for my tractive units or whether the application has to be made for the trailers only.
AAs from March 1 1970 the tractive part of an articulated combination is not subject to carriers' licensing (Section 93, sub-section 2 and Section 71, sub-section 6 Transport Act 1968). "Articulated tractors" should not therefore be included in any application for variation of a licence which would come into force on or after that date.
If the combined unladen weight of a tractor and the plated weight of its trailer exceeds 16 tons, or, if the trailer is not plated, the combined unladen weight of the tractor and trailer exceeds 5 tons, the trailer will require an appropriate carrier's licence and an identity certificate will be issued for the trailer portion only.
Operators who intend to use articulated units for purposes other than in an articulated combination (e.g. with a dolly trailer or in any other way where no part of the weight of the trailer is borne by the unit) should note that such units will continue to require the authority of a carrier's licence where the aggregate plated or unladen weightsof the vehicles in the combination exceeds 16 tons or 5 tons respectively. However, for operator's '0' licensing, trailers are not specified on licences. It is the tractive unit part of an artic which has to be authorized.