insurance
13th March 1970
Page 57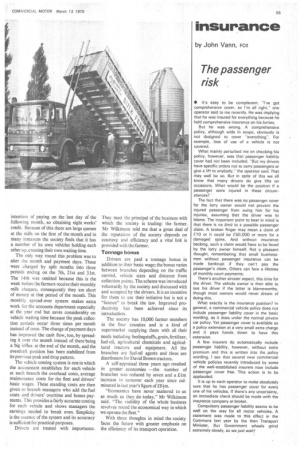 Page 57, 13th March 1970 —
insurance
Close
by John Vann, FCII
The passenger risk
• It's easy to be complacent. "I've got comprehensive cover, so I'm all right," one operator said to me recently. He was implying that he was insured for everything because he held comprehensive insurance on his lorries.
But he was wrong. A comprehensive policy, although wide in scope, obviously is not designed to cover "everything". For example, loss of use of a vehicle is not covered.
What mainly perturbed me on checking his policy, however, was that passenger liability cover had not been included. "But my drivers have specific orders not to carry passengers or give a lift to anybody," the operator said. That may well be so. But in spite of this we all know that .many drivers do give lifts on occasions. What would be the position if a passenger were injured in these circumstances?
The fact that there was no passenger cover for the lorry owner would not prevent the injured passenger from suing him for his injuries, assuming that the driver was to blame. The important point to bear in mind is that there is no limit to a possible passenger claim. A broken finger may mean a claim of £10 or it could be £50,000 or more for a damaged spine. And without insurance backing, such a claim would have to be faced by the lorry owner himself. Not a pleasant thought, remembering that small "businessmen without passenger insurance can be made bankrupt if they can't pay the passenger's claim. Others can face a lifetime of monthly court payments.
There's another sinister aspect, this time for the driver. The vehicle owner is then able to sue his driver if the latter is blameworthy, though most owners would never dream of doing:this.
What exactly is the insurance position? In general, a commercial vehicle policy does not include passenger liability cover in the basic wording, as it does under the normal private car policy. Yet passenger cover is available as a policy extension at a very small extra charge and it pays hands, down to have this extension.
A few insurers do automatically include passenger liability, however, without extra premium and this is written into the policy wording. I see that several new commercial vehicle policies recently introduced by some of the well-established insurers now include passenger cover free. This action is to be applauded.
It is up to each operator to make absolutely sure that he, has passenger cover for every one of his vehicles, If there's any uncertainty, an immediate check should be made with the insurance company or broker.
Compulsory passenger liability seems to be well on the way for all motor vehicles. A statement was made to this effect in the Commons last year by the then Transport Minister. But Government wheels grind extremely slowly, so we just wait!