bird's eye view
13th March 1970
Page 46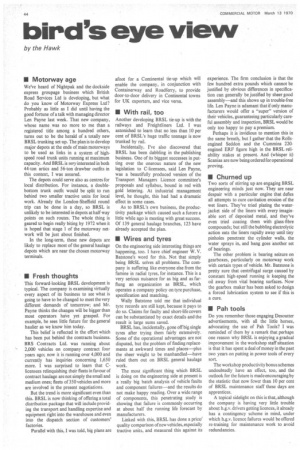 Page 46, 13th March 1970 —
bird's eye view
Close
by the Hawk • Motorway age
We've heard of Nightpak and the dockside express groupage business which British Road Services Ltd is developing, but what do you know of Motorway Express Ltd? Probably as little as I did until having the good fortune of a talk with managing director Len Payne last week. That new company, whose name was no more to me than a registered title among a hundred others, turns out to be the herald of a totally new BRSL trunking set-up. The plan is to develop major depots at the ends of main motorways to be used as links in a system of highspeed road trunk units running at maximum capacity. And BRSL is very interested in both 44-ton artics and 56-ton drawbar outfits in this context. I was assured.
The depots could serve also as centres for local distribution. For instance, a doublebottom trunk outfit would be split to run behind two smaller tractive units for local work. Already the London-Sheffield round trip can be done in a day, so BRSL is unlikely to be interested in depots at half-way points on such routes. The whole thing is geared to begin really biting by 1972 when it is hoped that stage 1 of the motorway network will be just about finished.
In the long-term, these new depots are likely to replace most of the general haulage depots which are near the chosen motorway terminals.
• Fresh thoughts
This forward-looking BRSL development is typical. The company is examining virtually every aspect of its business to see what is going to have to be changed to meet the very different demands of tomorrow; and Mr. Payne thinks the changes will be bigger than most operators have yet grasped. For example, he sees little future for the general haulier as we know him today.
This belief is reflected in the effort which has been put behind the contracts business. BRS Contracts Ltd. was running about 2,000 vehicles on company contract four years ago; now it is running over 4,000 and currently has inquiries concerning 1,650 more. I was surprised to learn that Clicensees relinquishing their fleets in favour of contract haulage are not simply the small and medium ones; fleets of 350 vehicles and more are involved in the present negotiations.
But the trend is more significant even than this. BRSL is now thinking of offering a total distribution package that will include providing the transport and handling expertise and equipment right into the warehouse and even into the dispatch section of customers' factories.
Parallel with this, I was told, big plans are afoot for a Continental tie-up which will enable the company, in conjunction with Containerway and Roadferry, to provide door-to-door delivery in Continental towns for UK exporters, and vice versa.
III With rail, too
Another developing BRSL tie-up is with the railways and Freightliners Ltd. I was astonished to learn that no less than 10 per cent of BRSL's huge traffic tonnage is now trunked by rail.
Incidentally, I've also discovered that BRSL has been dabbling in the publishing business. One of its biggest successes in putting over the onerous nature of the new legislation to C-licensees, said Len Payne, was a beautifully produced version of the Transport Managers Licence committee's proposals and syllabus, bound in red with gold lettering. At industrial management level, he thought, this had had a dramatic effect in some cases.
As to BRSL's own business, the productivity package which caused such a furore a little while ago is meeting with great success. Of 139 general haulage branches, 123 have already accepted the plan.
• Wires and tyres
On the engineering side interesting things are happening, too. I have chief engineer W. V. Batstone's word for this. Not that simply being BRSL solves all problems. The company is suffering like everyone else from the famine in radial tyres, for instance. This is a very serious nuisance for as big and as farflung an organization as BRSL, which operates a company policy on tyre purchase, specification and matching.
Wally Batstone told me that individual tyre records are still kept, because it pays to do so. Claims for faulty and short-life covers can be substantiated by exact details and the result is large sums saved.
BRSL has, incidentally, gone off big single tyres after trying them fairly extensively. Some or the operational advantages are not disputed, but the problem of finding replacements at awkward times and places—plus the sheer weight to be manhandled—have ruled them out on BRSL general haulage work.
The most significant thing which BRSL is doing on the engineering side at present is a really big batch analysis of vehicle faults and component failures—and the results do not make happy reading. Over a wide range of components, this penetrating study is showing that failure is commonly occurring at about half the running life forecast by manufacturers.
Linked with this, BRSL has done a price/ quality comparison of new vehicles, especially tractive units, and measured this against its experience. The firm conclusion is that the few hundred extra pounds which cannot be justified by obvious differences in specification can generally be justified by sheer good assembly—and this shows up in trouble-free life. Len Payne is adamant that if only manufacturers would offer a "super" version of their vehicles, guaranteeing particularly careful assembly and inspection, BRSL would be only too happy to pay a premium.
Perhaps it is invidious to mention this in the same breath, but I gather that the Rollsengined Seddon and the Cummins 220engined ERF figure high in the BRSL reliability stakes at present. And (whisper it) Scanias are now being ordered for operational proving.
• Churned up
Two sorts of stirring up are engaging BRSL engineering minds just now. They are near despair with a particular engine that defies all attempts to cure cavitation erosion of the wet liners. They've tried plating the waterjacket side of the liners with every imaginable sort of deposited metal, and they've even tried coating them with glass-fibre compounds; but still the bubbling electrolytic action eats the liners rapidly away until tiny pinholes penetrate the cylinder walls, the water sprays in, and bang goes another set of bearings.
The other problem is bearing seizure on gearboxes, particularly on motorway work with certain types of vehicle. Mr. Batstone is pretty sure that centrifugal surge caused by constant high-speed running is keeping the oil away from vital bearing surfaces. Now the gearbox maker has been asked to design a forced lubrication system to see if this is a cure.
• Pah tools
Do you remember those engaging Desoutter advertisements, with all the little horses, advocating the use of Pah Tools? I was reminded of them by a remark that perhaps one reason why BRSL is enjoying a gradual improvement in the workshop staff situation is that it has spent a deal of money in the past two years on putting in power tools of every sort.
The workshop productivitybonus schemes undoubtedly have an effect, too, and the outlook for the future is made encouraging by the statistic that now fewer than 10 per cent of BRSL maintenance staff these days are apprentices.
A topical sidelight on this is that, although the company is having very little trouble about h.g.v. drivers getting licences, it already has a contingency scheme in mind, under which h.g.v. licence failures would be offered re-training for maintenance work to avoid redundancies.