meet
13th March 1970
Page 44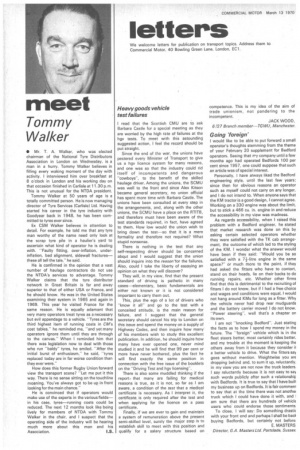 Page 44, 13th March 1970 —
meet
Close
Tommy Walker
• Mr. T. A. Walker. who was elected chairman of the National Tyre Distributors Association in London on Wednesday, is a man in a hurry. Tommy Walker believes in filling every waking moment of the day with activity. I interviewed him over breakfast at 8 o'clock in London and his working day on that occasion finished in Carlisle at 11.30 p.m. This is not unusual for the NTDA president.
Tommy Walker at 50 years of age is a totally committed person. He is now managing director of Tyre Services (Carlisle) Ltd. Having started his career in the tyre industry with Goodyear back in 1948, he has been committed to tyres ever since.
Ex CSM Walker believes in attention to detail. For example, he told me that any tyre man worthy of the name need only look at the scrap tyre pile in a haulier's yard to ascertain what kind of operator he is dealing with. "Faulty fitting, over-inflation, underinflation, bad alignment, sidewall fractures— these all tell the tale," he said.
He is confirmed in the opinion that a vast number of haulage contractors do not use the NTDA's services to advantage. Tommy Walker claims that the tyre distributor network in Great Britain is far and away superior to that of either USA or France, and he should know. He was in the United States examining their system in 1965 and again in 1969. This year he visited France for the same reason. He is equally adamant that very many operators treat tyres as a necessary but evil appendage to a vehicle. "Tyres are the third highest item of running costs in CM's cost tables," he reminded me, "and yet many operators ignore them until they are through to the canvas." When I reminded him that there was legislation now to deal with those who run "baldy" tyres, he smiled. "After the initial burst of enthusiasm," he said, "tyres replaced today are in far worse condition than they ever were."
How does this former Rugby Union forward view the transport scene? "Let me put it this way. There is no sense sitting on the touchline moaning. You've always got to be up in front looking for the main chance."
He is convinced that if operators would make use of the experts in the various fields— in his case, tyres—running costs could be reduced. The next 12 months look like being lively for members of NTDA with Tommy Walker in the chair, and I suspect that the operating side of the industry will be hearing much more about this man and his Association. I.S.