Tilt cabs for Aussie Atkinsons
13th March 1970
Page 43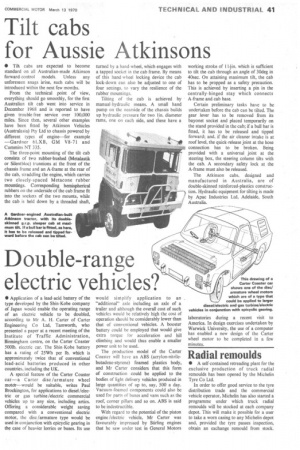 Page 43, 13th March 1970 —
Tilt cabs for Aussie Atkinsons
Close
• Tilt cabs are expected to become standard on all Australian-made Atkinson forward-control models. Unless any unforeseen snags arise, such cabs will be introduced within the next few months.
From the technical point of view, everything should go smoothly, for the first Australian tilt cab went into service in December 1968 and is reported to have given trouble-free service over 100,000 Miles. Since then, several other examples have been fitted by Atkinson Vehicles (Australasia) Pty Ltd to chassis powered by different types of engine—for example —Gardner 6LXB, GM V8-71 and Cummins NT 335.
The three-point mounting of the tilt cab consists of two rubber-bushed (Metalastik or Silentbloc) trunnions at the front of the chassis frame and an A-frame at the rear of the cab, straddling the engine, which carries two closely-spaced Metacone rubber mountings. Corresponding hemispherical rubbers on the underside of the cab frame fit into the sockets of the two mounts, while the cab is held down by a threaded shaft, turned by a band-wheel, which engages with a tapped socket in the cab frame. By means of this hand-wheel locking device the cab lock-down can also be adjusted to one of four settings. to vary the resilience of the rubber mountings.
Tilting of the cab is achieved by manual-hydraulic means. A small hand pump on the nearside of the chassis builds up hydraulic pressure for two tin, diameter rams, one on each side, and these have a
working stroke of 111in. which is sufficient to tilt the cab through an angle of 30deg in 40sec. On attaining maximum tilt, the cab has to be propped as a safety precaution. This is achieved by inserting a pin in the centrally-hinged stay which connects A-frame and cab base.
Certain preliminary tasks have to be undertaken before the cab can be tilted. The gear lever has to be removed from its bayonet socket and placed temporarily on the stand provided in the cab; if a bull bar is fitted, it has to be released and tipped forward; and, if the air cleaner intake is at roof level, the quick-release joint at the hose connection has to be broken. Being provided with a universal joint at the steering box, the steering column tilts with the cab. A secondary safety lock at the A-frame must also be released.
The Atkinson cabs, designed and manufactured in Australia, are of double-skinned reinforced-plastics construction. Hydraulic equipment for tilting is made by Apac Industries Ltd, Adelaide, South Australia.