Double-range electric vehicles?
13th March 1970
Page 43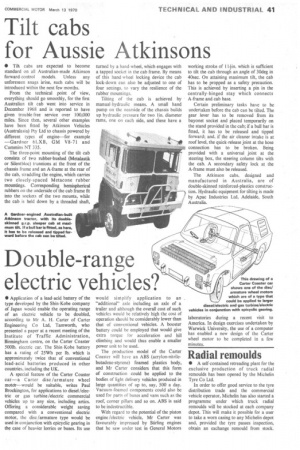 Page 43, 13th March 1970 —
Double-range electric vehicles?
Close
• Application of a lead-acid battery of the type developed by the Shin-Kobe company of Japan would enable the operating range of an electric vehicle to be doubled, according to Mr A. H. Carter of Carter Engineering Co Ltd, Tamworth, who presented a paper at a recent meeting of the Institute of Traffic Administration, Birmingham centre, on the Carter Coaster 5001b. electric car. The Shin-Kobe battery has a rating of 25Wh per lb. which is approximately twice that of conventional lead-acid batteries produced in other countries, including the UK.
A special feature of the Carter Coaster car—a Carter disc/armature wheel motdr—would be suitable, writes Paul Brockington, for applications to (Hegel /electric or gas turbine /electric commercial vehicles up to any size, including attics. Offering a considerable weight saving compared with a conventional electric motor, the disc/armature type would be used in conjunction with epicyclic gearing in the case of heavier lorries or buses. Its use
would siniplify application to an "additional" axle including an axle of a trailer and although the overall cost of such vehicles would be relatively high the cost of operation should be considerably lower than that of conventional vehicles. A booster battery could be employed that would give extra torque tor acceleration and hill climbing and would thus enable a smaller power unit to be used.
The production model of the Carter Coaster will have an ABS (acrylon-nitrilebutadene-styrene) foamed plastics body, and Mr Carter considers that this form of construction could be applied to the bodies of light delivery vehicles produced in large quantities of up to, say, 500 a day. Vacuum-foamed components could also be used for parts of buses and vans such as the roof, corner pillars and so on. ABS is said to be indestructible.
With regard to the potential of the piston engine /electric vehicle, Mr Carter was favourably impressed by Stirling engines that he saw under test in General Motors laboratories during a recent visit to America. In design exercises undertaken by Warwick University, the use of a computer has enabled a new design of the Carter wheel motor to be completed in a few minutes.
Radial remoulds
• A self-contained retreading plant for the exclusive production of truck radial remoulds has been opened by the Michelin Tyre Co Ltd.
In order to offer good service to the tyre distribution trade and the commercial vehicle operator, Michelin has also started a programme under which truck radial remoulds will be stocked at each company depot. This will make it possible for a user to take a worn casing to any Michelin depot and, provided the tyre passes inspection, obtain an exchange remould from stock.