Free seminar on computer scheduling
13th March 1970
Page 42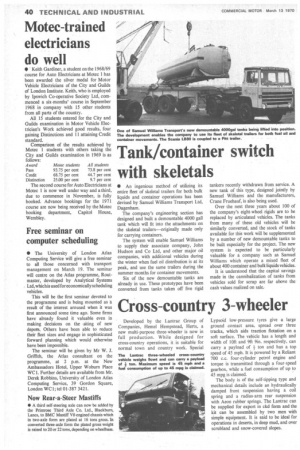 Page 42, 13th March 1970 —
Free seminar on computer scheduling
Close
• The University of London Atlas Computing Service will give a free seminar to all those concerned with transport management on March 19. The seminar will centre on the Atlas programme, Routmaster, developed by Analytical Systems Ltd, which is used for economically scheduling vehicles.
This will be the first seminar devoted to the programme and is being mounted as 'a result of the interest aroused when it was first announced some time ago. Some firms have already found it valuable even in making decisions on the siting of new depots. Others have been able to reduce their fleet sizes and engage in sophisticated forward planning which would otherwise have been impossible.
The seminar will be given by Mr W. J. Griffith, the Atlas consultant on the programme, at 2 p.m. at the New Ambassadors Hotel, Upper Woburn Place WC1. Further details are available from Mr. Derek Robbins, University of London Atlas Computing Service, 39 Gordon Square, London WC1; tel 01-387 3421.
Now Rear-a-Steer Mastiffs
• A third self-steering axle can now be added by the Primrose Third Axle Co. Ltd., Blackburn, Lanes, to BMC Mastiff V8-engined chassis which in two-axle tbrm are plated at 16 tons gross. In converted three-axle form the plated gross weight is raised to 20 or 22 tons, depending on wheelbase.