No tours for Anglesey
13th March 1970
Page 41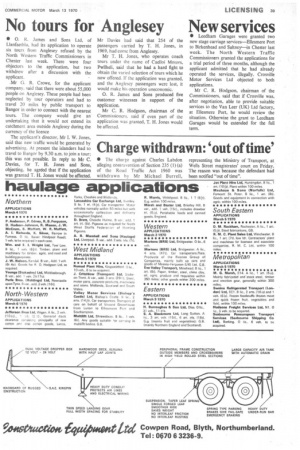 Page 41, 13th March 1970 —
No tours for Anglesey
Close
• 0. R. James and Sons Ltd, of Llanfaethlu, had its application to operate six tours from Anglesey refused by the North Western Traffic Commissioners in Chester last week. There were four objectors to the application, but two withdrew after a discussion with the applicant.
.Mr G. R. Crowe, for the applicant company. said that there were about 55,000 people on Anglesey. These people had been neglected by tour operators and had to travel 20 miles by public transport to Bangor in order to connect With the nearest tours. The company would give an undertaking that it would not extend its catchment area outside Anglesey during the currency of the licence The applicant's director, Mr I. W. Jones, said that new traffic would be generated by advertising. At present the islanders had to travel to Bangor by 9.30 a.m. to join a tour; this was not possible. In reply to Mr C. Davies, for T. H. Jones and Sons, objecting, he agrded that if the application was granted T. H. Jones would be affected. Mr Davies had said that 254 of the passengers carried by T. H. Jones, in 1969, had come from Anglesey.
Mr T. H. Jones, who operates coach tours under the name of Caelloi Motors. Pwllheli, said that he had a hard fight to obtain the varied selection of tours which he now offered. If the application was granted, and the Anglesey passengers were lost, it would make his operation uneconomic.
0. R. James and Sons produced five customer witnesses in support of the application.
Mr C. R. Hodgson, chairman of the Commissioners, said if even part of the application was granted, T. H. Jones would be affected.