Backward children
13th March 1970
Page 40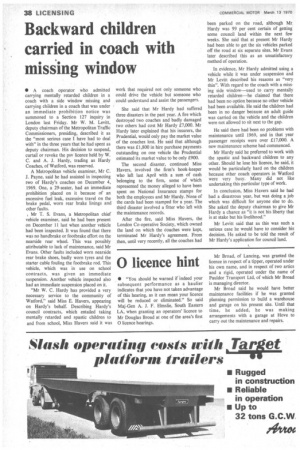 Page 40, 13th March 1970 —
Backward children
Close
carried in coach with missing window
• A coach operator who admitted carrying mentally retarded children in a coach with a side window missing and carrying children in a coach that was under an immediate prohibition notice was summoned to a Section 127 inquiry in London last Friday. Mr W. M. Levitt, deputy chairman of the Metropolitan Traffic Commissioners, presiding, described it as the "most serious case I have had to deal with" in the three years that he had spent as deputy chairman. His decision to suspend, curtail or revoke the psv licence held by W. C. and A. J. Hardy, trading as Hardy Coaches, of Watford, was reserved.
A Metropolitan vehicle examiner, Mr C. J. Payne, said he had assisted in inspecting two of Hardy's coaches on December 4, 1969. One, a 29-seater, had an immediate prohibition placed on it because of an excessive fuel leak, excessive travel on the brake pedal, worn rear brake linings and other faults.
, Mr T. S. Evans, a Metropolitan chief vehicle examiner, said he had been present on December 11 last when another vehicle had been inspected. It was found that there was no handbrake or footbrake effort on the nearside rear wheel. This was possibly attributable to lack of maintenance, said Mr Evans. Other faults included worn nearside rear brake shoes, badly worn tyres and the starter cable fouling the footbrake rod. This vehicle, which was in use on school contracts, was given an immediate suspension. Another vehicle inspected also had an immediate suspension placed on it.
"Mr W. C. Hardy has provided a very necessary service to the community of Watford," said Miss E. Havers, appearing on Hardy's behalf. Describing Hardy's council contracts, which entailed taking mentally retarded and spastic children to and from school, Miss Havers said it was work that required not only someone who could drive the vehicle but someone who could understand and assist the passengers.
She said that Mr Hardy had suffered three disasters in the past year. A fire which destroyed two coaches and badly damaged two others had cost Mr Hardy £7,000. Mr Hardy later explained that his insurers, the Prudential, would only pay the market value of the coaches lost. He said that although there was £1,800 in hire purchase payments outstanding on one vehicle the Prudential estimated its market value to be only £900.
The second disaster, continued Miss Havers, involved the firm's book-keeper who left last April with a sum of cash belonging to the firm, some of which represented the money alleged to have been spent on National Insurance stamps for both the employees and Mr Hardy. None of the cards had been stamped for a year. The third disaster involved a fitter who left with the maintenance records.
After the fire, said Miss Havers, the London Co-operative Society, which owned the land on which the Coaches were kept, terminated Mr Hardy's agreement. From then, until very recently, all the coaches had been parked on the road, although Mr Hardy was 99 per cent certain of getting some council land within the next few weeks. She said that at present Mr Hardy had been able to get the six vehicles parked off the road at six separate sites. Mr Evans later described this as an unsatisfactory method of operation.
In evidence, Mr Hardy admitted using a vehicle while it was under suspension and Mr Levitt described his reasons as "very thin". With regard to the coach with a missing side window—used to carry mentally retarded children—he claimed that there had been no option because no other vehicle had been available. He said the children had been in no danger because an adult guide was carried on the vehicle and the children were not allowed to sit next to the gap.
He said there had been no problems with maintenance until 1969, and in that year passenger receipts were over £17,000. A new maintenance scheme had commenced.
Mr Hardy said he preferred to work with the spastic and backward children to any other. Should he lose his licence, he said, it would be particularly hard on the children because other coach operators in Watford were very busy. Many did not like undertaking this particular type of work.
In conclusion, Miss Havers said he had had a disastrous year, but was doing a job which was difficult for anyone else to do. She asked the deputy chairman to give Mr Hardy a chance as "it is not his liberty that is at stake but his livelihood."
Mr Levitt said that as this was such a serious case he would have to consider his decision. He asked to be told the result of Mr Hardy's application for council land.