Who goes to Dartford?
13th March 1970
Page 39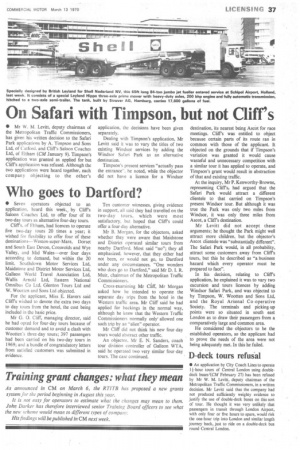 Page 39, 13th March 1970 —
Who goes to Dartford?
Close
• Seven operators objected to an application, heard this week" by Cliff's Saloon Coaches Ltd, to offer four Of its two-day tours as alternative four-day tours.
Cliff's. nf Eltham, had licences to operate five two-day tours 20 times a year; it wished for flexibility to offer four of these destinations—Weston-super-Mare, Dorset and South East Devon, Cotswolds and Wye Valley, and Mid Wales—over four days according to demand, but within the 20 limit Southdown Motor Services Ltd, Maidstone and District Motor Services Ltd, Galleon World Travel Association Ltd, Wallis Arnold Ltd, Eastern National Omnibus Co Ltd. Glenton Tours Ltd and W. Wootten and Sons Ltd objected.
For the applicant, Miss E. Havers said Cliff's wished to devote the extra two days to day tours from the hotel, the cost being included in the basic price.
Mr G. 0. Cliff, managing director, said he had opted for four-day tours because of customer demand and to avoid a clash with Wootten's three-day tours; 397 passengers had been carried on his two-day tours in 1969; and a bundle of congratulatory letters from satisfied customers was submitted in evidence.
Ten customer witnesses, giving evidence in support, all said they had travelled on the two-day tours, which were most satisfactory, but hoped that Cliff's could offer a four-day alternative.
Mr B. Morgan, for the objectors, asked whether they were aware that Maidstone and District operated similar tours from nearby Dartford. Most said "no"; they all emphasized, however, that they either had not been, or would not go, to Dartford under any circumstances. "One wonders who does go to Dartford," said Mr D. I. R. Muir. chairman of the Metropolitan Traffic Commissioners.
Cross-examining Mr Cliff, Mr Morgan asked how he intended to operate the separate day trips from the hotel in the Western traffic area. Mr Cliff said he had applied for backings in the normal way, although he knew that the Western Traffic Commissioners normally only' allowed one such trip by an -alien" operator.
Mr Cliff did not think his new four-day tours would abstract other traffic.
An objector, Mr E. N. Sanders, coach tour division controller of Galleon WTA, said he operated two very similar four-day tours. The case continued.