Resting drivers can reserve seats
13th March 1970
Page 34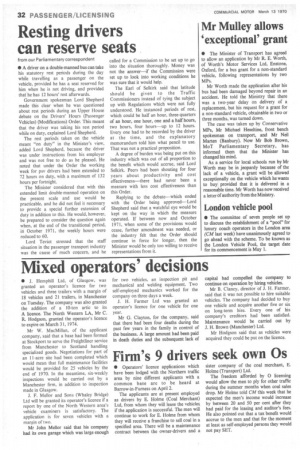 Page 34, 13th March 1970 —
Resting drivers can reserve seats
Close
from our Parliamentary correspondent • A driver on a double-manned bus can take his statutory rest periods during the day while travelling as a passenger on the vehicle, provided he has a seat reserved for him when he is not driving, and provided that he has 12 hours' rest afterwards.
Government spokesman Lord Shepherd made this clear when he was questioned about rest periods during an Upper House debate on the Drivers' Hours (Passenger Vehicles) (Modifications) Order. This meant that the driver was taking his rest period while on duty, explained Lord Shepherd.
The rest periods taken on the vehicle meant "on duty" in the Minister's view, added Lord Shepherd, because the driver was under instructions from his employer and was not free to do as he pleased. He noted that under the Order the working week for psv drivers had been extended to 72 hours on duty, with a maximum of 132 hours per fortnight.
The Minister considered that with this extended limit double-manned operation on the present scale and use would be practicable, and he did not feel it necessary to provide a special further extension of duty in addition to this. He would, however, be prepared to consider the question again when, at the end of the transitional period, in October 1971, the weekly hours were reduced to 60.
Lord Teviot stressed that the staff situation in the passenger transport industry was the cause of much concern, and he called for a Commission to be set up to go into the situation thoroughly. Money was not the answer—if the Commission were set up to look into working conditions he was sure that it would help.
The Earl of Selkirk said that latitude should be given to the Traffic Commissioners instead of tying the subject up with Regulations which were not fully understood. He instanced periods of rest, which could be half an hour, three-quarters of an hour, one hour, one and a half hours, two hours, four hours—up to 12 hours. Every one had to be recorded by the driver at the time, and the explanatory memorandum told him what pencil to use. That was not a practical proposition.
A degree of burden was being put on this industry which was out of all proportion to the benefit which would accrue, said Lord Selkirk. Peers had been shouting for four years about productivity and cost effectiveness—there had never been a measure with less cost effectiveness than this Order.
Replying to the debate—which ended with the Order being approved—Lord Shepherd said that a watchful eye would be kept on the way in which the measure operated. If between now and October 1971, when some of the provisions would cease, further amendment was needed. or the industry felt that the Order should continue in force for longer, then the Minister would be only too willing to receive representations from it.