Mixed operators , decisions
13th March 1970
Page 34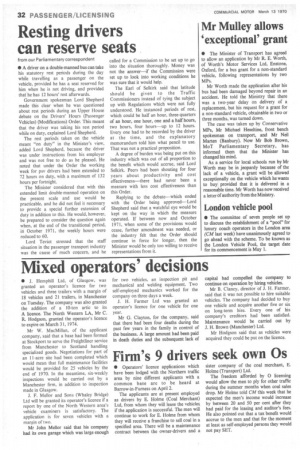 Page 34, 13th March 1970 —
Mixed operators , decisions
Close
• J. Hemphill Ltd, of Glasgow, was granted an operator's licence for two vehicles and three trailers with a margin of 18 vehicles and 21 trafiers, in Manchester on Tuesday. The company was also granted the addition of a 10-ton artic to its A licence. The North Western LA, Mr C. R Hodgson, granted the operator's licence to expire on March 31, 1974.
Mr W. MacMillan, of the applicant company, said that a base had been formed at Stockport to serve the Freightliner service from Manchester to Scotland handling specialized goods. Negotiations for part of an 11-acre site had been completed which would mean that full maintenance facilities would be provided for 25 vehicles by the end of 1970. In the meantime, six-weekly inspections would be carried out by a Manchester firm, in addition to inspection made in Glasgow.
J. F. Mellor and Sons (Whaley Bridge) Ltd will be granted its operator's licence if a report by one of the North Western area's vehicle examiners is satisfactory. The application is for seven vehicles with a margin of two.
Mr John Mellor said that his company had its own garage which was large enough for two vehicles, an inspection pit and mechanical and welding equipment. Two self-employed mechanics worked for the company on three days a week.
J. H. Farmer Ltd was granted an operator's licence for one vehicle for one year.
Mr G. Clayton, for the company, said that there had been four deaths during the past few years in the family in control of the business. A large amount had been paid in death duties and the subsequent lack of capital had compelled the company to continue on operation by hiring vehicles.
Mr B. Clancy, director of J. H. Farmer, said that it was not possible to hire suitable vehicles. The company had decided to buy one vehicle and acquire another five or six on long-term hire. Every one of his company's creditors had been satisfied. Maintenance would be carried out by J. H. Brown (Manchester) Ltd.
Mr Hodgson said that as vehicles were acquired they could be put on the licence.