Firm's 9 drivers seek own is
13th March 1970
Page 34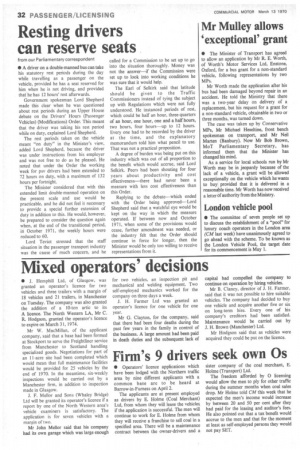 Page 34, 13th March 1970 —
Firm's 9 drivers seek own is
Close
• Operators' licence applications which have been lodged with the Northern traffic area by nine different applicants with a common base are to be heard at Barrow-in-Furness on April 2.
The applicants are at present employed as drivers by E. Holme (Coal Merchant) Ltd, from whom they will lease the vehicles if the application is successful. The men will continue to work for E. Holme from whom they will receive a franchise to sell coal in a specified area. There will be a maintenance contract between the owner-drivers and a sister company of the coal merchant, E. Holme (Transport) Ltd.
The freedom afforded by 0 licensing would allow the men to ply for other traffic during the summer months when coal sales drop. Mr Holme told CM this week that he expected the men's income would increase by between 20 and 50 per cent after they had paid for the leasing and auditor's fees. He also pointed out that a tax benefit would accrue to the men and that for the moment at least as self-employed persons they would not pay SET.