Fair share for London buses?
13th March 1970
Page 32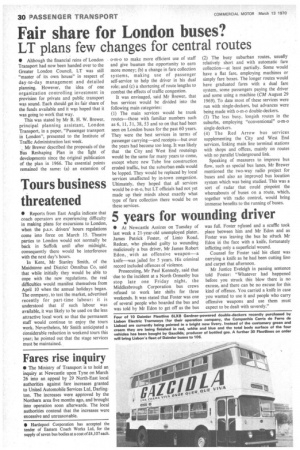 Page 32, 13th March 1970 —
Fair share for London buses?
Close
LT plans few changes for central routes
• Although the financial reins of London Transport had now been handed over to the Greater London Council, LT was still "master of its own house" in respect of day-to-day management and detailed planning. However, the idea of one organization controlling investment in provision for private and public transport was sound. Each should get its fair share of the funds available and it was hoped that it was going to work that way. .
This was stated by Mr R. H. W. Brewer, principal planning assistant, London Transport, in a paper, "Passenger transport in London", presented to the Institute of Traffic Administration last week.
Mr Brewer described the proposals of the Bus Reshaping Plan in the fight of developments since the original publication of the plan in 1966. The essential points remained the same: (a) an extension of o-m-o to make more efficient use of staff and give busmen the opportunity to earn more money; (b) a change in fare collection systems, making use of passenger self-service to help the driver in his dual role; and (c) a shortening of route lengths to combat the effects of traffic congestion.
It was envisaged, said Mr Brewer, that bus services would be divided into the following main categories: (1) The main services would be trunk routes—those with familiar numbers such as 6, 11, 31, 38, 53 and so on that had been seen on London buses for the past 60 years. They were the best services in terms of passenger carrying—and receipts—but over the years had become too long. It was likely that the City and West End routeings would be the same for many years to come, except where new Tube line construction eroded traffic, but the suburban ends would be lopped. They would be replaced by local services unaffected by in-town congestion. Ultimately, they hoped that all services would be o-m-o, but LT officials had not yet made up their minds about exactly what type of fare collection there would be on these services.
(2) The busy suburban routes, usually relatively short and with automatic fare collection—at least partially. Some would have a flat fare, employing machines or simply fare boxes. The longer routes would have graduated fares with a dual fare system, some passengers paying the driver and some using a machine (CM August 29 1969). To date most of these services were run with single-deckers, but advances were being made with o-m-o double-deckers.
(3) The less busy, longish routes in the suburbs, employing "conventional" o-m-o single-deckers.
(4) The Red Arrow bus services supplementing the City and West End services, linking main line terminal stations with shops and offices, mainly on routes with no parallel Underground link.
Speaking of measures to improve bus flow, such as special bus lanes, Mr Brewer mentioned the two-way radio project for buses and also an improved bus location system which was being studied. This was a sort of radar that could pinpoint the whereabouts of buses on a route, which, together with radio control, would bring immense benefits to the running of buses.