People
13th March 1970
Page 31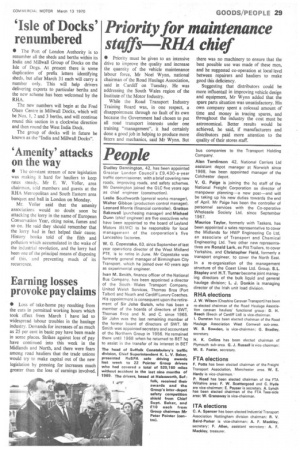 Page 31, 13th March 1970 —
People
Close
Dudley Dennington, 42, has been appointed Greater London Council's f9,430-a-year traffic commissioner, with a brief covering new roads, improving roads, and safety schemes. Mr Dennington joined the GLC five years ago as chief engineer (construction).
Leslie Southworth (general works manager), Walter Gibbon (production control manager), Leonard Morris (financial controller), Gretton Bakewell (purchasing manager) and Michael Dunn (chief engineer) are five executives who have been appointed to the board of Leyland Motors (B [MC) to be responsible for local management of the corporation's five Lancashire factories.
W. G. Copestake, 63, since September of last year operations director of the West Midland PTE. is to retire in June. Mr Copestake was formerly general manager of Birmingham City Transport. which he joined over 40 years ago as experimental engineer.
Ivan M. Smith, finance officer of the National Bus Company, has been appointed a director of the South Wales Transport Company, United Welsh Services, Thomas Bros (Port Talbot) and Neath and Cardiff Luxury Coaches. His appointment is consequent upon the retirement of Sir John Gutch, who has been a member of the boards of directors of SWT, Thomas Bros and N. and C. since 1965. Sir John was the last remaining member of the former board of directors of SWT. Mr Smith was appointed secretary and accountant of the Northern Group in 1956. He remained there until 1968 when he returned to BET hq to assist in the transfer of its interest in BET
bus companies to the Transport Holding
Corn pa ny.
Alan Tomlinson 42, National Carriers Ltd assistant depot manager at Norwich since 1968, has been appointed manager of the Colchester depot.
V. G. Paige is joining the hq staff of the National Freight Corporation as director of manpower planning—a new post—and will be taking up his new duties towards the end of April. Mr Paige has been the controller of personnel services with the Co-operative Wholesale Society Ltd, since September 1967.
Maurice Taylor, formerly with Taskers, has been appointed a sales representative to cover the Midlands for HWP Engineering Co Ltd, an associate of Transport and Chemical Engineering Ltd. Two other new representatives are Ronald Lark, ex Pitt Trailers, to cover Yorkshire, and Christopher Field, formerly a transport engineer, to cover the North East.
In a re-organization of the management structure of the Coast Lines Ltd. Group, S.L. Stapley and H.T. Turner become joint managing directors of the bulk liquid and general haulage division: L. J. Donkin is managing director of the Irish unit load division.
RHA elections
J. W. Wilson (Cheshire Caravan Transport) has been re-elected chairman of the Road Haulage Association caravan hauliers' functional group; D. H. Beech (Beech of Cardiff Ltd} is vice-chairman.
I. Dunstan has been elected chairman of the Road Haulage Association West Cornwall sub-area.
W. B. Bowden, is vice-chairman; G. Bradley, secretary.
H. K. Collins has been elected chairman of Plymouth sub-area. G. J. Russell is vice-chairman; W. E. Foster, secretary.
FTA elections
F. Potts has been elected chairman of the Freight Transport Association, Manchester area. W. E. Hardy is vice-chairman.
P. Noad has been elected chairman of the FTA Wiltshire area; F. W. Scattergood and C. Hyde are vice-chairmen; E. Poyser is secretary. A. Lynch has been elected chairman of the FTA Tees-side area: W. Granaway is vice-chairman.
ITA elections
C. A. Spencer has been elected Industrial Transport Association Nottingham division chairman; R. V. Baird-Parker is vice-chairman: A. F. Mackley, secretary: F. Allen, assistant secretary; A. F. Mackley, treasurer.
Tags
People
:
Leonard Morris
,
L. J. Donkin
,
F. Allen
,
Dudley Dennington
,
Michael Dunn
,
Walter Gibbon
,
Alan Tomlinson
,
E. Poyser
,
W. G. Copestake
,
Maurice Taylor
,
G. Bradley
,
John Gutch
,
Christopher Field
,
Leslie Southworth
,
Gretton Bakewell
,
A. F. Mackley
,
G. Paige
,
Ronald Lark
,
Ivan M. Smith
,
W. E. Foster
,
Yorkshire