Unloading and the police
13th March 1970
Page 30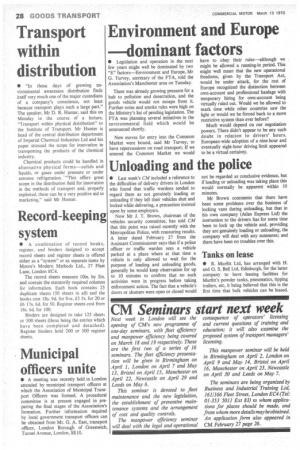 Page 30, 13th March 1970 —
Unloading and the police
Close
• Last week's CM included a reference to the difficulties of delivery drivers in London who found that traffic wardens tended to regard them as not genuinely loading or unloading if they left their vehicles shut and locked while delivering, a precaution insisted upon by some employers.
Now Mr J. T. Brown, chairman of the vehicles security committee, has told CM that. this point was raised recently with the Metropolitan Police, with reassuring results. A letter dated February 27 from the Assistant Commissioner says that if a police officer or traffic warden sees a vehicle parked at a place where at that time a vehicle is only allowed to wait for the purpose of loading and unloading goods, generally he would keep observation for up to 10 minutes to confirm that no such activities were in progress before taking enforcement action. The fact that a vehicle's doors or shutters were open or closed would
not be regarded as conclusive evidence, but if loading or unloading was taking place this would normally be apparent within 10 minutes.
Mr Brown comments that there have been some problems over the business of locking vans during unloading, but that in his own company (Atlas Express Ltd) the instruction to the drivers has for some time been to lock up the vehicle and, providing they are genuinely loading or unloading, the company will deal with any summons; and there have been no troubles over this.
Tanks on lease
• R. Murfitt Ltd, has arranged with H. and G. S. Bell Ltd, Edinburgh, for the latter company to have leasing facilities for Murfitt's powder tanks, pneumatics, tipping trailers, etc, it being believed that this is the first time that bulk vehicles can be leased.