Transport within distribution
13th March 1970
Page 30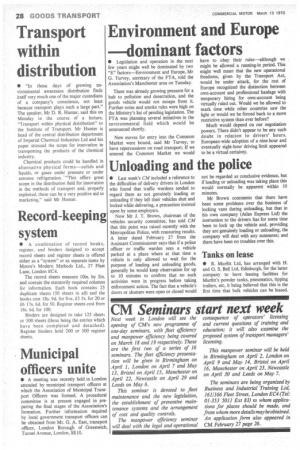 Page 30, 13th March 1970 —
Transport within distribution
Close
Keywords :
Chemical Engineering
,
Logistics
,
Chemistry
,
Food Preservation
,
Heating, Ventilating, And Air Conditioning
,
Refrigeration
,
Chemical Warfare
,
Transport
,
Chemical Substance
,
Science
,
Engineering
,
Environment
• "In these days of growing environmental awareness distribution finds itself very much one of the major custodians of a company's conscience, not least because transport plays such a large part." The speaker, Mr D. R. Hunter, said this on
• Monday in the course of a lecture, -Transport within physical distribution" to the Institute of Transport. Mr Hunter is head of the central distribution department of Imperial Chemical Industries Ltd and his paper stressed the scope for innovation in transporting the products of the chemical industry.
Chemical products could be handled in alternative physical forms—solids and liquids, or gases under pressure or under extreme refrigeration. 'This offers great scope in the distribution field for innovation in the methods of transport and, properly exploited, these can be a very positive aid to marketing." said Mr Hunter.