CM Seminars start next week Next week in London will
13th March 1970
Page 30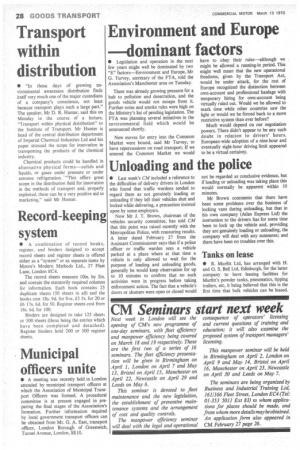 Page 30, 13th March 1970 —
CM Seminars start next week Next week in London will
Close
see the opening of CM's new programme of one-day seminars, with fleet efficiency and manpower efficiency being covered on March 18 and 19 respectively. These are the first two of a series of 16 seminars. The fleet efficiency presentation will be given in Birmingham on April 1, London on April 7 and May 13, Bristol on April 15, Manchester on April 22, Newcastle on April 29 and Leeds on May 6.
This seminar is devoted to fleet maintenance and the new legislation, the establishment of preventive maintenance systems and the arrangement of cost and quality controls.
The manpOwer efficiency seminar will deal with the legal and operational consequence of operators' licensing and current questions of training and education; it will also examine the proposed system of transport managers' licensing.
This manpower seminar will be held in Birmingham on April 2, London on April 9 and May 14, Bristol on April 16, Manchester on April 23, Newcastle on April 30 and Leeds on May 7.
The seminars are• being organized by Business and Industrial Training Ltd, 1611166 Fleet Street, London EC4 (Tel: 01-353 5011 Ext 83) to whom applications for places should be made, and from whom more details may be obtained. An application form also appeared in CM February 27 page 26.