No criminal proceedings against Alan Law
13th March 1970
Page 26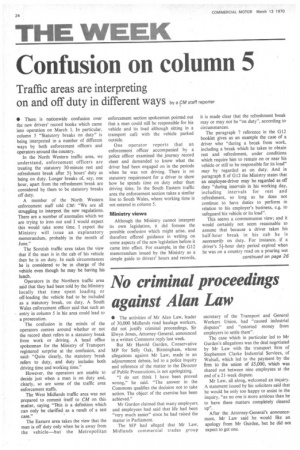 Page 26, 13th March 1970 —
No criminal proceedings against Alan Law
Close
• The activities of Mr Alan Law, leader of 30,000 Midlands road haulage workers, did not justify criminal proceedings, Sir Elwyn Jones, Attorney-General, announced in a written Commons reply last week.
But Mr Harold Gurden, Conservative MP for SeIly Oak, Birmingham, whose allegations against Mr Law, made in an adjournment debate, led to a police inquiry and reference of the matter to the Director of Public Prosecutions, is not apologizing.
"I do not think I have been proved wrong," he said. "The answer in the Commons qualifies the decision not to take action. The object of the exercise has been achieved."
Mr Gurden claimed that many employers. and employees had said that life had been "very much easier" since he had raised the matter in Parliament.
The MP had alleged that Mr Law, Midlands commercial trades group secretary of the Transport and General Workers Union, had "caused industrial disputes" and "extorted money from employers to settle them".
The case which in particular led to Mr Gurden's allegations was the deal negotiated by Mr Law with the transport firm of Stephenson Clarke Industrial Services, of Walsall, which led to the payment by the firm to the union of 0,000, which was shared out between nine employees at the end of a 21-week dispute.
Mr Law, all along, welcomed an inquiry. A statement issued by his solicitors said that he would be only too happy to assist in the inquiry, "as no one is more anxious than he to have these matters completely cleared up"
After the Attorney-General's announcement, Mr Law said he would like an apology from Mr Gurden, but he did not expect to get one.