A Ministry's urgent duty
13th March 1970
Page 25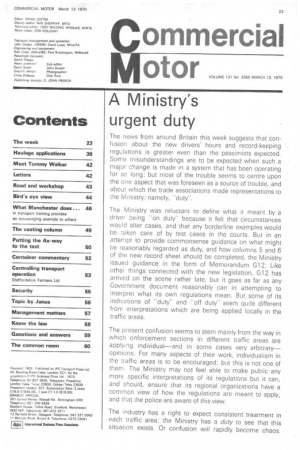 Page 25, 13th March 1970 —
A Ministry's urgent duty
Close
The news from around Britain this week suggests that confusion about the new drivers' hours and record-keeping regulations is greater even than the pessimists expected. Some misunderstandings are to be expected when such a major change is made in a system that has been operating for so long; but most of the trouble seems to centre upon the one aspect that was foreseen as a source of trouble, and about which the trade associations made representations to the Ministry; namely, "duty".
The Ministry was reluctant to define what it meant by a driver being "on duty" because it felt that circumstances would alter cases, and that any borderline examples would be taken care of by test cases in the courts. But in an attempt to provide commonsense guidance on what might be reasonably regarded as duty, and how columns 5 and 6 of the new record sheet should be completed, the Ministry issued guidance in the form of Memorandum G12. Like other things connected with the new legislation, G12 has arrived on the scene rather late, but it goes as far as any Government document reasonably can in attempting to interpret what its own regulations mean. But some of its indications of "dutyand "off dutyseem quite different from interpretations which are being applied locally in the traffic areas.
The present confusion seems to stem mainly from the way in which enforcement sections in different traffic areas are applying individual—and in some cases very arbitrary— opinions. For many aspects of their work, individualism in the traffic areas is to be encouraged; but this is not one of them. The Ministry may not feel able to make public any more specific interpretations of its regulations but it can, and should, ensure that its regional organizations have a common view of how the regulations are meant to apply, and that the police are aware of this view.
The industry has a right to expect consistent treatment in each traffic area; the Ministry has a duty to see that this situation exists. Or confusion will rapidly become chaos.