BIRTHDAY HONOURS FOR THE INDUSTRY.
13th June 1918
Page 9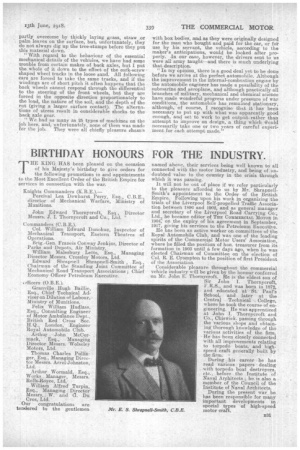 Page 9, 13th June 1918 —
BIRTHDAY HONOURS FOR THE INDUSTRY.
Close
THE KING HAS been pleased on the occasion of his Majesty's birthday to give orders for the following promotions in and appointments to the Most Excellent Order of the British Empire for services in connection with the war.
Knights Commanders (K.B.E.).— Percival Lea Dewhurst Perry, Esq,, C.B.E., director of Mechanical Warfare, Ministry of Munitions. .
John Edward Thornycroft, Esq., Director Messrs. J. I. Thornycroft and Co., Ltd. '
Commanders (C.B.E.). Col. William Edward Donohue, Inspector of Mechanical Transport, Eastern Theatres of Operations.
Brig.-Gen. Francis Conway Jenkins, Director of Parks and Depots, Air Ministry.
William 14Ialesbury Letts, Esq., Managing Director Messrs. Crossley Motors, Ltd. . Edward Shrapoell Shrapnell-Smith , . Esq., Chairman of the Standing Joint Committee of Mechanical Road Transport Associations ; Chief Economy Officer Petroleum Executive.
4 ifficers (0.B.E.).
Granville Hugh Baillie, Esq., Chief Technical Adviser on Dilution of Labour, Ministry of Munitions.
Felix William Hudlass, Esq., Consulting Engineer of Motor Ambulance Dept., British Red •Cross Soc. H.Q., London, Engineer Royal Automobile Club. Arthur • John McCormack, Esq., Managing Director Messrs. Wolseley Motors, Ltd.
Thomas Charles Pullinger,Esq., Managing Director Messrs. Arrol-Johnston, Ltd.
Arthur Wormald, Esq., Works . Manager, Messrs. Rolls-Royce, Ltd.
William AlfredTurpin, Esq., Managing -Director Messrs.. W. and (.1 DU Cros, Ltd. Our congratulations are tendered to the gentlemen named above, their services being well known to all connected with the motor industry, and being of-undoubted value to the country in the crisis through which it was passing.
It will not be out of place if we refer particularly
to the pleasure afforded to us by Mr. ShrapnellSmith's appointment to the Order of the British Empire. Following upon his work in organizing the trials of the Liverpool Self-propelled Traffic Association between 1896 and 1902, and as general manager and secretary of the Liverpool Road Carrying Co.-, Ltd he became editor of THE COMMERCIAL MOTOR in 1904, on the expiry of his agreement in September, 1917, giving his services to the Petroleum Executive.
He has been an active worker on committees of the Royal Automobile Club, and was one of the leading spirits of the Commercial Motor Users' Association, where he filled the position of hon. treasurer from its formation in 1903 until a few days ago, when he was elected Chairman of Committee on the election of Col. R. E. Crompton to the position of first President of the Association.
Considerable pleasure throughout the commercial vehicle industry will be given by the honour conferred on Mr. John E. Thornycroft. He is the eldest son of Sir John • I. Thornycroft,
P.R.S., and was born in 1872, . and educated at St. Paul's School, and later at the Central Technical . College, where he took the course of engineering. He was apprenticed at John I. Thornycroft and Co., Chiswick, passing through the 'various shops and obtaining thorough knowledge of the various activities of the firm.
He ha.s been closely connected with all improvements relating to torpedo boats, and' highspeed craft generallY built by the firm.
Daring his career he has read various papers dealing with torpedo boat destroyers, etc., before the Institute of Naval Arphitects ; he is also a member of the Council of the Institute of Naval Architects.. During the present war he has been responsible for many important developments in_ special types of high-speed motor craft.
Tags
People
:
William Edward Donohue
,
Francis Conway Jenkins
,
Felix William Hudlass
,
John Edward Thornycroft
,
R. E. Crompton
,
Alfred Turpin
,
Percival Lea Dewhurst Perry
,
William Alfred
,
John McCormack
,
Thomas Charles Pullinger
,
Edward Shrapoell Shrapnell-Smith
,
Granville Hugh Baillie
,
Arthur Wormald