AGRIMOTOR NOTES.
13th June 1918
Page 16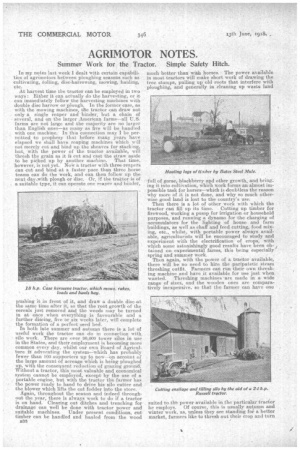 Page 17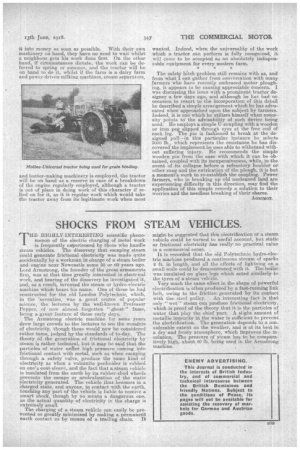 Page 16, 13th June 1918 —
AGRIMOTOR NOTES.
Close
Summer Work for the Tractor. Simple Safety Hitch.
In my notes last week I dealt with certain capabili, ties of agrimotors between ploughing seasons such as cultivating, rolling, dise-harrowing, mowing, ha-uling, etc.
At harvest time the tractor can be employed in two ways : Either it can actually do the harvesting, or it can immediately follow the harvesting machines with double disc harrow. or plough. In the former case, as with the 'mowing machines, the tractor can draw not only a single reaper and binder, but. a chain of several, and on the larger American iarms—all U.S. farms arc not large and the majority are no larger than English ones—as many as five will be handled with one machine. In this connection may I be. permitted to prophesy that before many years have elapsed we shall have reaping machines Which v:11 not merely cut and bind up the sheaves for stacking, hut, With the power of the tractor available, will thresh the grain as it it cut and cast the straw aside to be piked up by another machine. That time, however, is not yet. NOiv a tractor with three reapers Can cut and bind at a faster pace than three horse teams can do the work, and can then follow up the next day.with plough or 'disc. Or, if the tractor is of a suitable type, it can .operate one reaper and binder,
pushing it in front of it, and draw a double disc et, the same time after it, so that the resit growth of the cereals just removed and the weeds may be turned in at once when everything is favourable and a further diming, five or six weeks later, will complete the formation of a perfect seed bed. In both late summer and autumn there is a lot of useful work the tractor can do in connection with silo work. . There are over 90,000 tower silos in use in the States, and their employment is becoming more common every day, whilst our own Board of Agriculture is advocating the System—which has probably fewer than 100 supporters up to now—on account of the large amount of acreage which is being ploughed up, with the consequent reduction of grazing ground. Without a tractor, this most valuable and economical system cannot be employed, except by the use of a portable engine, but with the tractor the farmer has the power ready to hand to drive his silo cutter and the blower which lifts the cut fodder into the store. •
Again., throughout the season and indeed throughout the year, there is always Work to do if a tractor is on hand. Clearing out ditches and trenching for drainage MI well be done with tractor power and suitable machines. Under present conditions, cut timber can be handled and hauled from the wood
B38 much better than with horses.. The power available in most tractors will make short work of drawing the tree stumps, pulling up' old roots that interfere with ploughing, and generally in cleaning up waste land
'full of gorse, blackberry and other growth, and bringing it into cultivation,.whiel work forms an almost m1possible taslc for horses—which is doubtless the reason why more of it is not done, and why so much otherwise good land is lost to the country's use.
Then there is a lot of other work with which the tractor can fill up its time. Cutting up timber for firewood, working a pump for irrigation .or household purposes, and. running a dynamo for the charging of accumulators for the lighting of house and farm buildings, as well as chaff and feed cutting, food mixing, etc., whilst, with portable power always available, agriculturists will be encouraged to study 'and experiment with the electrification of crops, with which some astonishingly -good results have been obtained on experimental farms, this being especially spring and summer. work.
Then again, with the power of a tractor available, there will be no need to hire the .paripatetic steam threshing outfit. Farmers can run their own threshing machine and have it available for use just when wanted. Threshing machines -are made in a wide range of sizes, and the wooden ones are comparatively inexpensive, so that the farmer can have one
it into money as soon as possible. With their own machinery on hand, they have no need to wait whilst a neighbour gets his work done first. On the other hand, if circumstances dictate, the work can be deferred to spring or summer, and the tractor will be on hand to do it, whilst if the farm iii a dairy farm and power-driven milking machines. cream separators, and butter-making machinery is employed, the tractor will he on hand as a reserve in ease of a breakdown of the engine regularly employed, although a tractor is out of place in doing work of this character if relied on for it, as it is regular work which would take the tractor away from its legitimate work when most wanted. Indeed, when the universality of the work which a tractor can perform is fully recognized, it will come to be accepted as an absolutely indispensable equipment for every modern farm.
The safety hitch problem still remains with us, and from what I can gather from conversation with many farmers who have recently embraced motor ploughing, it appears to be causing appreciable eoncern. I was discussing the issue with a prominent tractor designer a few days ago, and although he has had no occasion to resort to the incorporation of this detail he described a simple arrangement which he has advocated when approached upon the subject by farmers. Indeed, it is one which he utilizes himself when necessity points to' the advisability of such device being used. He eniploys a simple II-coupling with a wooden or iron peg_ slipped through eyes at the free end of each leg. The pin is fashioned to break at the designed puIl—in this particular instance he selects :3000 lb., which represents the resistance he has discovered the implement he uses able to withstand without suffering injury. He recommends the simple wooden pin from the ease with which it. can be obtained, coupled with its inexpensiveness, while, in the event of its collapse before a refractory boulder or other snag and the extrication of the plough, it is but a moment's work to re-establish the coupling. Power farmers, who in breaking up old uncleaned land are experiencing difficulty in this direction, may find the application of this simple remedy a solution to their worries and the needless breaking of their shares.