A New Factory for the Dennis Organization.
13th June 1912
Page 5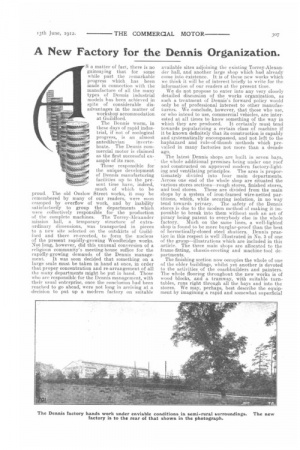 Page 6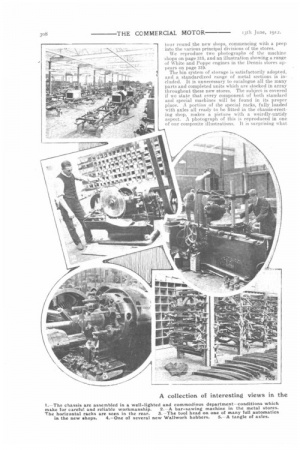 Page 7
Page 8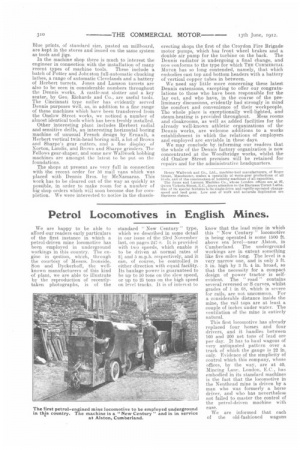 Page 5, 13th June 1912 —
A New Factory for the Dennis Organization.
Close
S a matter of fact, there is no gainsaying that for some while past the remarkable progress which has been made in connection with the manufacture of all the many types of Dennis industrial models has been achieved in spite of considerable disadvantages in the matter of workshop accommodation at Guildford.
The Dennis worm, in these days of rapid industrial, if not of zoological progress, is an almost
antediluvian invertebrate. The Dennis commercial motor is claimed as the first successful example of its race.
Those responsible for the unique development of Dennis manufacturing facilities up to the present time have, indeed, much of which to be proud. The old Onslow Street works, it may be remembered by many of our readers, were soon cramped by overflow of work, and by inability satisfactorily to group the departments which were collectively responsible for the production of the complete machines. The Torrey-Alexander mission hall, a temporary structure of extraordinary dimensions, was transported in pieces to a new site selected on the outskirts of Guildford and there re-erected, to form the nucleus -of the present rapidly-growing Woodbridge works. Not long, however, did this unusual conversion of a religious community's meeting-house suffice for the rapidly-growing demands of the Dennis management. It was soon decided that something on a large scale must be taken in hand at once, in order that proper concentration and re-arrangement of all the many departments might be put in hand. Those who are responsible for the Dennis management, with their usual enterprise, once the conclusion had been reached to go ahead, were not long in arriving at a 'decision to put up a modern factory on suitable available sites adjoining the existing Torrey-Alexander hall, and another large shop which had already come into existence. It is of these new works which we think it will be of interest briefly to write for the information of our readers at the present time.
We do not propose to enter into any very closely detailed discussion of the works organization, as such a treatment of Dennis's forward policy would only be of professional interest to other manufacturers. We conclude, however, that those who use, or who intend to use, commercial vehicles, are interested at all times to know something of the way in which they are produced_ It certainly must tend towards popularizing a certain class of machine if it be known definitely that its construction is capably and systematically encompassed, and not left to the haphazard and rule-of-thumb methods which prevailed in many factories not more than a decade ago.
The latest Dennis shops are built in seven bays, the whole additional premises being under one roof and constructed on approved modern factory-lighting and ventilating principles. The area is proportionately divided into four main departments. Across one end of the whole shop are situated the various stores sections—rough stores, finished stores, and tool stores. These are divided from the main shops by a, system of iron-framed wire-netted partitions, which, while securing isolation, in no way tend towards privacy. The safety of the Dennis stores is due to the modern method of making it impossible to break into them without such an act of piracy being patent to everybody else in the whole factory. Much on the same lines, a well-lighted shop is found to be more burglar-proof than the best of hermetically-closed steel shutters. Dennis practice in this respect is well illustrated in No. 3 of one of the group—illustrations which are included in this article. The three main shops are allocated to the frame-fitting, chassis-erecting and machine-tool departments.
The finishing section now occupies the whole of one of the older buildings, whilst yet another is devoted to the activities of the coachbuilders and painters. The whole flooring throughout the new works is of wood blocks, and a tramway, with suitable turntables, runs right through all the bays and into the stores. We may, perhaps, best describe the equipment by imagining a rapid and somewhat superficial tour round the new shops, commencing with a peep into the various principal divisions of the stores.
We reproduce two photographs of the machine shops on page 315, and an illustration showing a range of White and Poppe engines in the Dennis stores appears on page 319.
The bin system of storage is satisfactorily adopted, and a standardized range of metal sections is included. it is unnecessary to catalogue all the many parts and completed units which are stocked in array throughout these new stores. The subject is covered if we state that every component of both standard and special machines will be found in its proper place. A portion of the special racks, fully loaded with axles all ready to be fitted in the chassis-erecting shop, makes a picture with a weirdly-untidy aspect. A photograph of this is reproduced in one of our composite illustrations. II is surprising what an awkward component a fitted front axle is to handle and to store.
A. portion of the stores is, of course, given up to the accumulation of special components which are required in connection with Dennis's large fire-engine business. Another interesting feature, on the occasion of our visit, was an alley full of worm wheels, and this is also the subject of an illustration.
Wood and metal road wheels of all kinds and sizes are stored in considerable numbers. In the middle stores, bar material is kept on horizontal racks, which afford the greatest facilities for handling, and we noticed that the approved method of colouring the bar ends, according to the type of scheduled_ material, has been adopted systematically. An advance on the ordinary hack saw is the Herbert. bar-cutting circular saw—an American machine, by the way—which is installed near the metal racks. Blue prints, of standard size, pasted on millboard, are kept in the stores and issued on the same system as tools and jigs. In the machine shop there is much to interest the engineer in connection with the installation of many recent types of machine tools. These include a batch of Potter and Johrston full-automatic chucking lathes, a range of automatic Clevelands and a battery of Herbert turrets. Jones and Lamson turrets are also to be seen in considerable numbers throughout the Dennis works. A castle-nut Blotter and a key seater, by Geo. Richards and Co., are useful tools. The Cincinnati type miller has evidently served Dennis purposes well, as, in addition to a fine range of these machines which have been transferred from the Onslow Street works, we noticed a number of almost identical tools which has been freshly installed. Other interesting plant includes Herbert radial and sensitive drills, an interesting horizontal boring machine of unusual French design by Ernault, a Herbert vertical twin-head boring mill, a lot of Brown and Sharpe's gear cutters, and a. fine display of Norton, Landis, and Brown and Sharpe grinders. The Fellows gear-shaper, and some new Wallwork bobbing machines are amongst the latest to be put on the foundations.
The shops at present are very full in connection with the recent order for 50 mail vans which Was placed with Dennis Bros. by McNamaras. This work has to be cleared out of the way as quickly as possible, in order to make room for a number of big shop orders which will soon become due for completion. We were interested to notice in the chassis
erecting shops the first of the Croydon Fire Brigade motor pumps, which has front wheel brakes and a double air pump for the turbine on the back. The Dennis radiator is undergoing a final change, and now conforms to the type for which TEE COMMERCIAL MOTOR has so long contended, namely, that which embodies cast top and bottom headers with a battery of vertical copper tubes in between. We need say little more concerning these latest Dennis extensions, excepting to offer our congratulations to those who have been responsible for the lay out, and who have, in the course of the preliminary discussions, evidently had strongly in mind the comfort and convenience of their workpeople. The whole place is exceptionally well-lighted, and steam-heating is provided throughout. Mess rooms and cloakrooms, as well as added facilities for the already well-known athletic organizations of the Dennis works, are welcome additions to a works establishment in which the relations of employers and employed are enviable in these days. We may conclude by. informing our readers that the whole of the Dennis factory organization is now concentrated at the Woodbridge works, whilst the old Onslow Street premises will be retained for repairs and for the administrative headquarters.
Henry WadIwork and Co., Ltd., machine-tool manufacturers, of Roger Street, Manchester, makes a speciality of worm-gear productions of all kinds, and of the construction of hobbing machines of all capacities. The Jones and Lamson Machine Co., whose London offices are at 97, Queen Victoria Street, E.C., draws attention to the Hartness Turret Lathe. One of its special features is its single-drive and rapidly-operated changespeed and feed gear. Low cost of work and accurate duplication are Hartness claims.