One Hears
13th June 1912
Page 3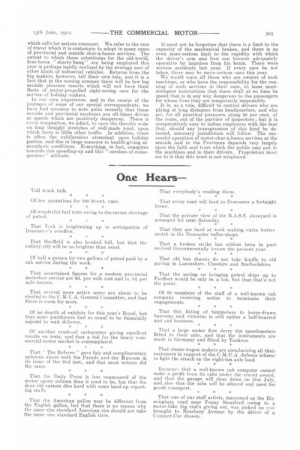 Page 3, 13th June 1912 —
One Hears
Close
Tall truck talk.
Of low quotations for 100 30-cwt. vans.
Of wonderful fuel tests owing to the recent shortage of petrol.
That York is brightening up in anticipation of Doncaster's overflow.
That Sheffield is also booked full, but that the cutlery city will be no brighter than usual.
Of half a guinea for two gallons of petrol paid by a cab service during the week.
That ascertained figures for a modern provincial motorbus service are 9d. per mile cost and Is. id_ per mile income.
That several more active users are about to be elected to the C.M. U.A. General Committee, and that there is room for more.
Of no dearth of exhibits for this year's Royal, but that some purchasers had as usual to be financially cajoled to wait delivery.
Of another crude-oil carburetter giving excellent results on tests, and that a bid for the heavy commercial-motor market is contemplated.
That " The Referee• " gave fair and complimentary opinions about both the Parade and the Museum in its issue of the 2nd inst., and that most writers did the same.
That the Daily Press is less enamoured of the motor agony column than it used to be, but that the dear old custom dies hard with some hard-up reporting staffs.
That the American gallon may be different from the English gallon, but that there is no reason why the same size standard American rim should not take the same size standard English tires. That everybody's reading them.
That every road will lead to Doncaster a fortnight hence.
That the private view of the R.A.S.E. showyard is arranged for next Saturday.
That they are hard at work making extra butterscotch in the Doncaster toffee-shops.
That a broken strike has seldom been in part revived Governmentally before the present year.
That old bus chassis do not take kindly to old paving in Lancashire, Cheshire and Staffordshire.
That the saving on bringing petrol ships up to Purfleet would be only 5s. a ton, but that that's not the point.
Of 60 members of the staff of a well-known cab company receiving notice to terminate their engagements.
That this fitting of taximeters to horse-drawn hansoms and victorias is still rather a half-hearted and sad business.
That a large motor firm decry the speedometers fitted to their cabs, and that the instruments are made in Germany and fitted by Yankees.
That steam-wagon makers are circularizing all their customers in support of the C.M.U.A. defence scheme to fight the attack on the eight-ton axle load.
Rienoun that a well-known cab company cannot make a profit from its cabs under the recent award, and that the garage will close down on 31st July, and also that the cabs will be altered and used for goods transport.
That one of our staff artiSts, marooned on the Birmingham road near Fenny Stratford owing to a motor-bike big end's giving out, was picked up and brought to Rosebery Avenue by the driver of a Commer-Car chassis.