Schweppes' Fleet.
13th June 1912
Page 18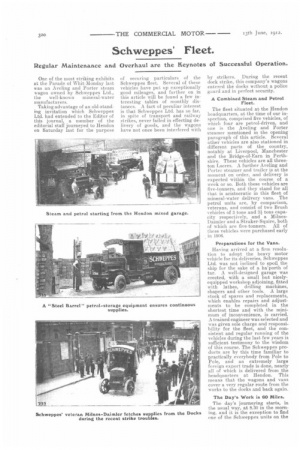 Page 19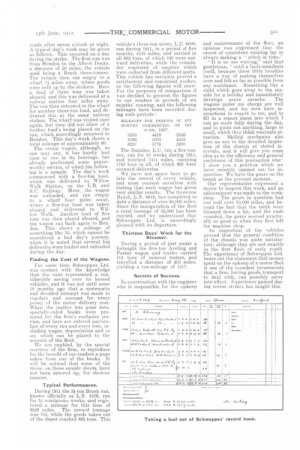 Page 18, 13th June 1912 —
Schweppes' Fleet.
Close
Regular Maintenance and Overhaul are the Keynotes of Successful Operation.
One of the most striking exhibits at the Parade of Whit-Monday last was an Aveling and Porter steam wagon owned by Schweppes Ltd., the well-known mineral-water 'nano lecturers.
Taking advantage of an old-standing invitation which Schweppes Ltd. had extended to the Editor of this journal, a member of the editorial staff journeyed to Hendon on Saturday last for the purpose of securing particulars of the Schweppes fleet. Several of these vehicles have put up exceptionally good mileages, and further on in this article will be found a few interesting tables of monthly distances. A fact of peculiar interest is that Schweppes Ltd. has so far, in spite of transport and railway strikes, never failed in effecting delivery of goods, and the wagons have not once been interfered with by strikers. During the recent dock strike, this company's wagons entered the docks without a police guard and in perfect security.
A Combined Steam and Petrol Fleet.
The fleet situated at the Hendon headquarters, at the time of our inspection, comprised five vehicles, of which four are petrol-driven, and one is the Aveling and Porter steamer mentioned in the opening paragraph of this article. Several other vehicles are also stationed in different parts of the country, notably at Liverpool, Manchester and the Bridge-of-Earn in Perthshire. These vehicles are all threeton Lacres. A further Aveling and Porter steamer and trailer is at the moment on order, and delivery is expected within the course of a week or so. Both these vehicles are five-tanners, and they stand for all that is aristocratic in this fleet of mineral-water delivery vans. The petrol units are, by comparison, veterans, and consist of two Brush vehicles of 3 tons and n tons capacity respectively, and a MilnesDaimler and a Straker-Squire, both of which are five-tonners. All of these vehicles were purchased early in 1906.
Preparations for the Vans,
Having arrived ata firm resolution to adopt the heavy motor vehicle for its deliveries, Schweppes Ltd. was not inclined to spoil the ship for the sake of a ha'porth of tar. A well-designed garage was erected, with a small but nicelyequipped workshop adjoining, fitted with lathes, drilling machines, shapers and other tools. A large stock of spares and replacements, which enables repairs and adjustments to be completed in the shortest time and with the minimum of inconvenience, is carried. A trained engineer was selected and was given sole charge and responsibility for the fleet, and the consistent and regular running of the vehicles during the last few years is sufficient testimony to the wisdom of this course. The Schweppes products are by this time familiar to practically everybody from Pole to Pole, and an extremely large foreign export trade is done, nearly all of which is delivered from the headquarters at Hendon. This means that the wagons and vans cover a very regular route from the works to the docks and back again.
The Day's Work is GO Miles.
The day's journeying starts, in the usual way, at 8.30 in the morning, and it is the exception to find one of the Schweppes units on the roads after seven o'clock at night. A typical day's work may be given as follows, This occurred on a day during the strike. The first run was from Hendon to the Albert Docks, a distance of 20 miles, the vehicle used being a Brush three-tonner. The vehicle then ran empty to a wharf 7,1 miles away, where goods were held up by the strikers. Here a load of three tons was taken aboard, and this was delivered at a railway station four miles away. The van then returned to the wharf for another three-ton load, and delivered this at the same railway station. The wharf was visited once again, but time did not. allow of a further load's being placed on the van, which accordingly returned to Hendon. This day's work shows a total mileage of approximately 60.
The steam wagon, although, as one may say, it has hardly had time to run in its bearings, has already performed some praiseworthy service, of which the following is a. sample. The day's work commenced with a five-ton load, which was delivered to Willow Walk Station, on the LB. and S.C. Railway. Here, the wagon was unloaded, and ran empty to a wharf four miles away, where a five-ton load was taken aboard and delivered to Willow Walk. Another load of five tons was then placed aboard, and the wagon ran back again to Hendon. This shows a mileage of something like 35, which cannot be considered a bad day's journey, when it is noted that several big deliveries were loaded and unloaded during he day.
Finding the Cost of the Wagons.
For some time Schweppes Ltd. was content with the knowledge that the vans represented a considerable saving over its horsed vehicles, and it was not until some 18 months ago that a systematic and detailed attempt was made to regulate and account for every penny of the motor delivery cost. When the matter was gone into, specially-ruled books were procured for the firm's exclusive service, and, here are entered particulars of every run and every cost, including wages, depreciation and so on, which can be placed to the account, of the fleet.
We are enabled, by the special courtesy of the firm, to reproduce for the benefit of our readers a page taken from one of the books. It will be noticed that some of the items, on these sample sheets, have not been entered up, for obvious reasons.
Typical Performances.
During 1911 the 3i-ton Brush van, known officially as L.N. 5109, ran for 34 continuous weeks, and registered a mileage for this time of 9528 miles. The inward tonnage was 705, while the goods taken out of the depot reached 893 tons. This vehicle's three-ton sister, L.C..6000, ran during 1911, in a period of five months, 4418 miles, and carried in all 662 tons, of which 120 were outward deliveries, while the remainder consisted of empties which were collected from different parts. This vehicle has certainly proved a satisfactory and consistent worker, as the following figures will show. For the purposes of comparison it was decided to present the figures to our readers in. periods of six months' running, and the following mileages have been recorded during such periods :
MILEAGES FOR PERIODS OF Six MONTHS COMMENCING ON 1ST JUNE, 1907.
5253 4416 2336 5166 5303 4418 6257 5776 3200 The Daimler, L.C. 143, a five-tonner, ran for 50 weeks during 1911, and notched 7411 miles, carrying 1750 tons in all, of which 983 were outward deliveries.
We have not space here to go into the record of every vehicle, and must content ourselves with stating that each wagon has given very similar results. The three-ton Brush, L.N. 8818, has completed to date a distance of over 50,000 miles. Since the inauguration of the fleet a total tonnage of 32,000 has been carried, and we understand that Schweppes Ltd. is exceedingly pleased with its departure.
Thirteen Days Work for the Steamer.
During a period of just under a fortnight the five-ton Aveling and Porter wagon and trailer carried 115 tons of mineral waters, and travelled a distance of 403 miles, yielding a (on-mileage of 1517.
Secrets of Success.
In conversation with the engineer who is responsible for the upkeep and maintenance of the fleet, an opinion was expressed that the secret of consistent running lay in always making a " stitch in time,"
'It is no use waiting," said that gentleman, " until a fault manifests itself, because these little troubles have a way of making themselves seen and felt as far as possible from any assistance. Something like a child which goes away to the seaside for a holiday and immediately develops acute earache. The wagons under my charge are well inspected, and my men have instructions to report to me, and to fill in a report sheet into which I can go more fully during the day, and to point out anything, large or small, which they think warrants attention. Skilled mechanics also give an eye to the detailed inspection of the chassis at stated intervals, and it will give you some idea as to the efficiency and general usefulness of this precaution whe.I show you a gearbox which we have recently opened out for inspection. We have the gears on the bench at the present moment.
Our representative expressed a desire to inspect this work, and an adjournment was made to the workshop. The gears in question had run well over 70,000 miles, and beyond the fact that the teeth were thinned down a. bit, and the ends rounded, the gears seemed practically as good as when they first left the machine shop. An inspection of the vehicles proved that the general condition of the chassis was quite satisfactory, although they are not exactly in the first flush of early youth. The experience of Schweppes Ltd. bears out the statement that money spent on the upkeep of-a motor fleet is one of the soundest investments that a firm, having goods transport to deal with, can possibly carry into effect. Experience gained during recent strikes has taught this.