Passenger-Vehicle Topics.
13th June 1912
Page 16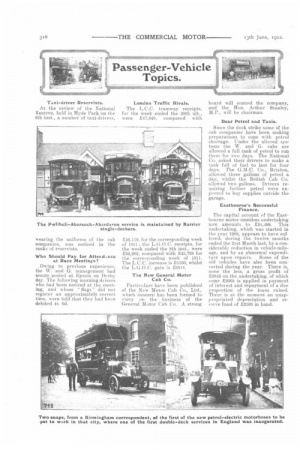 Page 16, 13th June 1912 —
Passenger-Vehicle Topics.
Close
T.sxi-driver Reservists.
At the review of the National Reserve, held in Hyde Park on the 8th inst., a number of taxi-drivers,
wearing the uniforms of the cab companies, was noticed in the ranks of reservists.
Who Should Pay for AtteedAnce at Race Meetings ?
.Owing to previous experience, the W. and G. marlagement had scouts posted at Epsom on Derby day. The following morning drivers who had been noticed at the meeting, and whose " flags " did not register an approximately correct time, were told that they had been debited 4s. 6d.
London Traffic Rivals.
The L.C.C. tramway receipts, for the week ended the 29th ult., were £47,649, compared with
£46,119. for the corresponding week of 1911; the L.G.O.C. receipts, for the week ended the 8th inst., were £52,282, compared with £45,768 for the corresponding week of 1911. The L.C.C. increase is 21530, whilst the L.G.O.C, gain is £6514.
The New General Motor Cab Co.
Particulars have been published of the New Motor Cab Co., Ltd., which concern has been formed to carry on the business of the General Motor Cab Co. A strong
board will control the company, and the Hon. Arthur Stanley, M.P., will be chairman.
Dear Petrol and Taxis.
Since the dock strike some of the cab companies have been making preparations to cope with petrol shortage. tinder the altered systems the W. and G. cabs are allowed a full tank of petrol to run them for two days. The National Co. asked their drivers to make a tank full of fuel to last for four days. The G.M.C. Co., Brixton, allowed three gallons of petrol a day, whilst the British Cab Co. allowed two gallons. Drivers requiring further petrol were expected to buy supplies outside the garage.
Eastbourne's Successful Finance.
The capital account of the Eastbourne motor omnibus undertaking now amounts to £24,499. This undertaking, which was started in the year 1902, appears to have suffered, during the twelve months ended the 31st March last, by a considerable reduction in vehicle-mileage, and by an abnormal expenditure upon repairs. Some of the old vehicles have also been converted during the year. There is, none the less, a gross profit of £2843 on the undertaking, of which some £2065 is applied in payment of interest and repayment of a due proportion of the loans raised. There is at the moment an unappropriated depreciation and reserve fund of £2160 in hand.