Goods Transport
13th June 1912
Page 14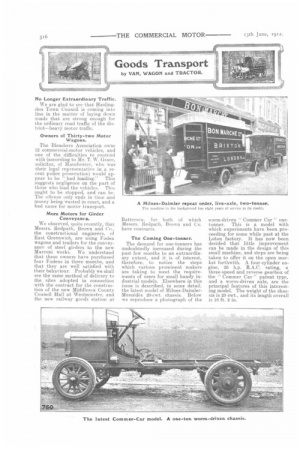 Page 14, 13th June 1912 —
Goods Transport
Close
No Longer Extraordinary Traffic.
We are glad to see that Haslingden Town Council is coming into line in the matter of laying down roads .that are strong enough for the ordinary road traffic of the district—heavy motor traffic.
Owners of Thirty-two Motor Wagons.
The Bleachers Association owns 32 commercial-motor vehicles, and one of the difficulties to contend with (according to Mr. T. W. Grace, solicitor, of Manchester, who was their legal representative in a recent police prosecution) would appear to be " bad loading." This suggests negligence on the part of those who load the vehicles. This ought to be stopped, and can be. The offence only ends in time and money being wasted in court, and a bad name for motor transport.
More Motors for Girder Conveyance,.
We observed, quite recently, that Messrs. Redpath, Brown and Co.. the constructional engineers, of East Greenwich, are using Foden wagons and trailers for the conveyance of steel girders to the new Marconi works. We understand that these owners have purchased four Fodens in three months, and that they are well satisfied with their behaviour. Probably we shall see the same method of delivery to the sites adopted in connection with the contract for the construction of the new Middlesex County Council Hall at Westminster, and the new railway goods station at Battersea, for both of which Messrs. Rednath, Brown and Co. have contracts.
The Coming One-tonner.
The demand for one-tonners has undoubtedly increased during the past few months to an extraordinary extent, and it is of interest, therefore, to notice the steps which various prominent makers are taking to meet the requirements of users for small handy industrial models. Elsewhere in this issue is described, in some detail, the latest, model of Milnes-DaimlerMercedes 20-cwt. chassis. Below we reproduce a photograph of the worm-driven " Commer Car" onetonner. This is a model with which experiments have been proceeding for some while past at the Luton factory. It has now been decided that little improvement can be made in the design of this small machine, and steps are being taken to offer it on the open market forthwith. A four-cylinder engine, 20 h.p. R.A.C. rating, a three-speed and reverse gearbox of the " Commer Car" patent type, and a worm-driven axle, are the principal features of this interesting model. The weight of the chassis is 29 cwt., and its length overall is 16 ft. 2 in.