Answers to Queries.
13th June 1907
Page 19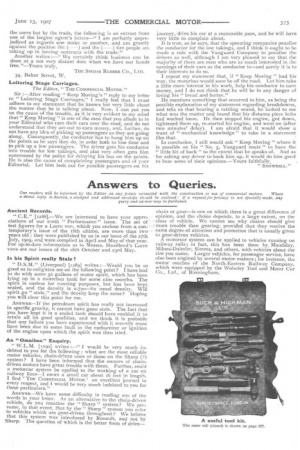 Page 19, 13th June 1907 —
Answers to Queries.
Close
Our readers will be informed by the Editor on any points covtected with the construction or use of commercial motors. Where a direct reply is desired, a stamped and addressed envelope sh9u1c1 be enclosed : if a request for privacy is not specially made, any query and anmer may be published.
Ancient Records.
" C.E." [1288].—We are interested to have your appreciations of our tenth " Performance" issue. The set oftest figures for a Lacre van, which you enclose from a contemporary's issue of the t8th ultimo, are more than two years old : they were published by us in our issue of the 27th July, 1905, and were compiled in April and May of that year. For up-to-date information as to Messrs. Shoolbred's Lacre vans see our issues of the t8th October and 23rd May.
Is his Spirit really Stale ?
" D.S.M." (Liverpool) [1289] writes :—Would yon be so good as to enlighten me on the following point? I have had to do with some so gallons of motor spirit, which has been lying up in a motorbus tank for some nine months. The spirit is useless for running purposes, but has been kept sealed, and the density is 0.720—its usual density. Will spirit go " stale," and the density keep the same? Hoping you will clear this point for me.
ANSWER—If the petroleum spirit has really not increased in specific gravity, it cannot have gone stale. The fact that you have kept it in a sealed tank should have enabled it to retain all its good qualities, and we think it is probable that any failure you have experienced with it recently must have been due to some fault in the carburetter or ignition of the engine upon which the spirit was then tried.
An "Omnibus" Enquiry.
" w.L.M. [1290] writes :—" I would be very much indebted to you for the following: what are the most reliable motor vehicles, chain-driven ones or those on the Sharp (?) system? I have been informed that the owners of chain. driven motors have great trouble with them. Further, could a motorcar system be applied to the working of a car on railway lines—I mean a small car about 16 feet in length. I find 'THE COMMERCIAL MOTOR' an excellent journal in every respect, and I would be very much indebted to you for these particulars."
ANSWER—We have some difficulty in reading one of the words in your letter. As an alternative to the chain-driven vehicle, do you mention the " Sharp " system? We prosome, in that event, that by the" Sharp" system you refer to vehicles which are gear-driven throughout? We believe that this system was introduced by Renault, and not by Sharp. The question of which is the better form of drive—
chain or gear—is one on which there is a great difference of opinion, and the choice depends, to a large extent, on the class of vehicle. We cannot see why chains should give ' more trouble than gearing, provided that they receive the same degree of attention and protection that is usually given to gear-driven vehicles.
A motorcar system can be applied to vehicles running on railway rails ; in fact, this has been done by Maudslay, Milnes-Daimler, Simms, and others, with vehicles about the size you name. Larger vehicles, for passenger service, have also been engined by several motor makers; for instance, the motor coaches of the North-Eastern Railway Company, which were equipped by the Wolseley Tool and Motor Car Co., Ltd., of Birmingham.