Correspondence.
13th June 1907
Page 18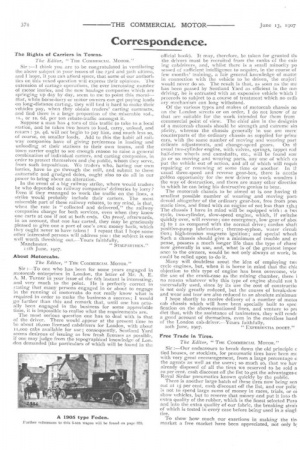 Page 19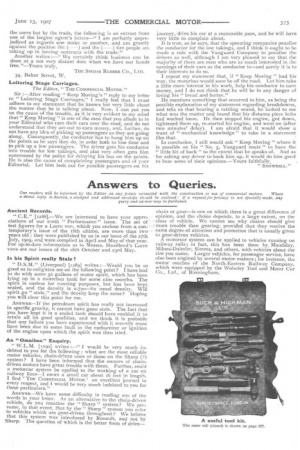 Page 18, 13th June 1907 —
Correspondence.
Close
The Rights of Carriers in Towns.
The Editor, 66 THE COMMERCIAL MOTOR."
Sir think you are to be congratulated in ventilating the above subject in your issues of the 23rd and 3otli
and I hope, it you can afford space, that some of our authorities on this vexed question will express their opinions. 1 he extension of cartage operations, the ever increasing number of motor lorries, and the new haulage companies which are Springing up day by day, seem to me to point this moral— that, while horse-lorry or motor owners can get paying loads on long-distance carting, they will find it hard to make their vehicles pay, when they obtain traders' carting contracts, arid find there is a large proportion of the miserable Tod., is., or is. 6(1. per ton rebate-traffic amongst it.
Suppose a man has 4 tons of this traffic to take to a local station, and he takes two hours to load, carry, unload, and return : 35. 4d. will not begin to pay him, and much less so, of course, on smaller loads. Add to this the habit all railway companies have of giving preference in loading and unloading at their stations to their own teams, and the town carrier ought to see enough reason to raise a general combination of individual carters, and carting companies, in order to protect themselves and the public, whom they serve, from such impositions. We traders who, having our own lorries, have to go through the mill, and submit to these autocratic and grudged doles, ought also to do all in our power to bring about an alteration.
In the event of a big railway strike, where would traders be who depended on railway companies' deliveries by lorry ? Even if they managed to work the traffic on the lines, a strike would probably include their carters. The most miserable part of these railway rebates, to my mind, is that, whea the rate is " collected and delivered," the railway companies charge for both services, even when they know one carts at one if not at both ends. On proof, afterwards, in an account, that one has carted, they may be graciously pleased to give one a part of one's own money back, which they ought never to have taken ! J repeat that I hope some other interested persons will address you : the subject is one well worth threshing out..—Yours faithfully,
Manchester. " STALPARTHEN." ilth June, 1907.
.About Motorcabs.
The Editor, " THE COMMERCIAL MOTOR."
Sir :—To one who has been for some years engaged in motorcab enterprises in London, the letter of Mr. A. E. A. M. Turner in your issue of the 6th instant is interesting, and very much to the point. He is perfectly correct in .stating that many persons engaged in or about to engage in the running of motorcabs do not really know what is required in order to make. the business a success; I would go further than this and remark that, until one has actually been engaged in the business for some appreciable time, it is impossible to realise what the requirements are.
The most serious question one has to deal with is that of the driver. There would appear at the present time to be about t6,000 licensed cabdrivers for London, with about 1,000 cabs available for use; consequently, Scotland Yard seems desirous of issuing as few fresh licenses as possible, if one may judge from the topographical knowledge of London demanded (the particulars of which will be found in the official book). It may, therefore, be taken for granted th: the drivers must be recruited from the ranks of the exis ing cabdrivers, and, whilst there is a small minority po sessed of sufficient intelligence to acquire, in the course of few months' training, a fair general knowledge of matte: in connection with the vehicle to be driven, the majori would never do so. The result is that, as soon as the me has been passed by Scotland Yard as efficient in the mei driving, he is entrusted with an expensive vehicle which f proceeds to subject to a course of treatment which no ordit ary mechanism can long withstand.
Of the various types and makes of motorcab chassis no on the London streets or on order, I do not know of ar that are suitable for the work intended for them from commercial point of view. The chief aim in the designin of a motorcab chassis should be strength and extreme sin plicity, whereas the chassis generally in use are mere counterparts of the ordinary chassis as supplied for privai cars, with the same number of moving and wearing part
delicate adjustments, and change-speed gears. On ti usual two-cylinder engine, with valves, springs, tappet rod half-time wheels and camshafts, etc., will be found son 50 or so moving and wearing parts, any one of which ea put the vehicle out of action, and all of which will requii repairing or renewing at some time or another. In tf usual three-speed and reverse gear-box, there is anothE golden opportunity for the new driver to work wonders i the way of destruction, and there are many other directior in which he can bring his destructive genius to bear.
The motorcab chassis to he aimed at is one having th smallest possible number of wearing and moving part: devoid altogether of the ordinary gear-box, free from pnet matic tires, and fitted with an engine of not less than t5h.1 The chassis I have in mind will be equipped with : a twa cycle, two-cylinder, slow-speed engine, which, if switche quickly over, will reverse; one emergency, low gear of abot 21 to i as compared with the normal drive; cardan shaft positive-pump lubrication; therrno-syphon, water circulz tion; high-tension magneto ignition; and special wheel: Such a chassis should give a minimum of trouble and e, pense, possess a much longer life than the type of chass! now generally in use, and, what is of the greatest impor ance to the owners, would be not only always at work, bt could be relied upon to do it.
Many will doubtless scout the idea of employing twE cycle engines, but, when it is borne in mind that the chit objection to this type of engine has been overcome, viz the use of the crank-case as the mixing chamber, there i no reason whatever why this type of engine should not b successfully used, since by its use the cost of constructio is not only greatly reduced, but the causes of break-dow and wear and tear are also reduced to an absolute minim= I hope shortly to receive delivery of a number of motoi cab chassis which will have been specially built to spec fication on the above-mentioned lines, and venture to prE diet that, with the assistance of taximeters, they will rendE a good account of themselves, even in the merciless hand of the London cab-driver.--Yours faithfully, loth June, 1907. " EXPERIENTIA DOCET."
Free Trade in Tires.
The Editor, " THE COMMERCIAL MOTOR."
Sir :—Our endeavours to break down the old principle c tied houses, or stockists, for pneumatic tires have been me with very great encouragement, from a large percentage the agents as well as the users; so much so, that we hay already disposed of all the tires we reserved to be sold a zo per cent, cash discount off the list to get the advantages c Royal Sirdar pneumatics known quickly by the public. There is another large batch of these tires now being sen out at 15 per cent, cash discount off the list, and our polic. is not to spend large sums of money in races, trials, or oi show vehicles, but to reserve that money and put it into th extra quality of the rubber, which is the finest selected Para and into the extra quality of our fabric, the breaking strait of which is tested in every case before being used in a sing-I. tire.
To show how much our exertions hi making the tin market a free market have been appreciated, not only b:
the users but by the trade, the following is an extract from one of the largest agent's letters—" I am perfectly unprejudiced as regards one make or another, and am greatly
against the position the (--) and the ( ) tire people are taking up in forcing contracts with the trade."
Another writes :—" We certainly think business can be done at a not very distant date when we have our hands free."—Yours truly, THE SIRDAR RUBBER CO., LTD. 34, I3aker Street, W. Loitering Stage Carriages.
The Editor," THE COMMERCIAL MOTOR."
Sir :—After reading " Keep Moving's " reply to my letter re " Loitering Stage Carriages," I really feel that I must adhere to my statement that he knows but very little about the matter that he is talking about. Now, I can put you on the cause of the trouble, as it is very evident to my mind that" Keep Moving" is one of the men that you allude to in your Editorial who race their cars over the road, and do not understand that they are out to earn money, and, further, do not have any idea of picking up passengers as they are going along. Consequently, the conductor has to hang him up on the points as he says they do, in order both to lose time and to pick up a few passengers. The driver gets his conductor into trouble for low takings, and also very often gets him summoned by the police for delaying his bus on the points. He is also the cause of complaining passengers and of your Editorial. Let him look out for possible passengers on his journey, drive his car at a reasonable pace, and he will have very little to complain about.
It is true, as he says, that the operating companies penalise the conductor for the low takings, and I think it ought to be made a rule with the Vanguard Company to penalise the drivers as well, although I am very pleased to say that the majority of them are men who are as much interested in the earnings of their cars as the conductor is—and surely it is to their interests to do so.
I repeat my statement that, if "Keep Moving" had his way, the motorbus would soon be off the road. Let him take a little more interest in his work, help his conductor to earn money, and I do not think that he will be in any danger of losing his "bread and butter." He mentions something that occurred to him, as being the possible explanation of my statement regarding breakdowns, and tells us that hearing a rattling sound, he looked to see what was the matter and found that his distance piece bolts had worked loose. He then stopped his engine, got down, tightened them up, re-started his engine, and went on (after two minutes' delay). I am afraid that it would show a want of "mechanical knowledge" to take in a statement like that. In conclusion, I still would ask " Keep Moving " where it is possible on his "No. 5, Vanguard route" to have the "little bit of back " to the extent that he speaks of. And as for asking any driver to back him up, it would do him good to hear some of their opinions.—Yours faithfully, "SNOWBALL."