Commercial Motors at Reading.
13th June 1907
Page 17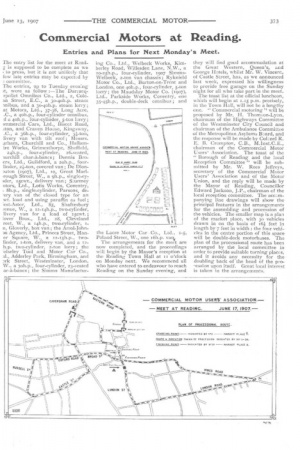 Page 17, 13th June 1907 —
Commercial Motors at Reading.
Close
Entries and Plans for Next Monday's Meet.
The entry list for the meet at Read; is supposed to be complete as we to press, but it is not unlikely that few late entries may be expected by corrunittce.
The entries, up to Tuesday evening it, were as follow :—The Darracqrpollet Omnibus Co., Ltd., 2, Colean Street, E.C., a 3o-4oh.p. steam inibus, and a 3o-4oh.p. steam lorry ; at Motors, Ltd., 37-38, Long Acre, .C., a 4oh.p., four-cylinder omnibus, d a 4oh.p., four-cylinder, 5-ton lorry ; )mmercial Cars, Ltd., Bisect Road, iton, and Craven House, Kingsway, .C., a 36h.p., four-cylinder, 3-ton, livery van with tilt roof ; Messrs. Irham, Churchill and Co., Hallamire Works, Grimcsthorpe, Sheffield, 24h.p., four-cylinder, 26-seated, iurchill char-A-bancs ; Dennis Broers, Ltd., Guildford, a 2oh.p., fourlinder, 2-ton, covered van ; De Dion3uton (1907), Ltd., lo, Great Marlrough Street, W., a oh.p., single-cyder, iscwt., delivery van ; S.;:urmey otors, Ltd., Lotis Works, Coventry, L 8h.p., single-cylinder, Parsons, de-cry _van of the closed type for an wt. load and using paraffin as fuel ; Cst-Aster, Ltd., 85, Shaftesbury 'critic, W., a 12-14h.p., two-cylinder, livery van for a load of 15cwt. ; [over Bros., Ltd., 28, Cleveland reet, W., a 14h.p., two-cylinder, In, Gloverly, box van ; the Arrol-Johnxi Agency, Ltd., Princes Street, Haner Square, W., a 12-15h.p., twolinder, 1-ton, delivery van, and a I2h.p. two-cylinder, 2-ton lorry ; the "olseley Tool and Motor Car Co., Adclerley Park, Birmingham, and 3rk Street, Westminster, London, W., a 30h.p,, four-cylinder, 23-seated ar-a-bancs ; the Simms Manufactur
ing Co., Ltd., Welbeck Works, Kimberley Road, Willesden Lane, N.W., a 2o-25h.p., four-cylinder, 1907 SimmsWelbeck, 2-ton van chassis ; Ryknield Motor Co., Ltd., Burton-on-Trent and London, one 4oh.p., four-cylinder, 5-ton lorry ; the Maudslay Motor Co. (1907), Ltd., Parkside Works, Coventry, one 35-45h.p., double-deck omnibus ; and
tie Lacre Motor Car Co., Ltd., 1-5, Poland Street, W., one 16h.p. vane
The arrangements for the meet are now completed, and the proceedings will begin by the Mayor's reception at the Reading Town Hall at ii o'clock on Monday next. We recommend all who have entered to endeavour to reach Reading on the Sunday evening, and they will find good accommodation at the Great Western, Queen's, and George hotels, whilst Mr. W. Vincent, of Castle Street, has, as we announced last week, expressed his willingness to provide free garage on the Sunday night for all who take part in the meet.
The toast list at the official luncheon, which will begin at 1.15 p.m. precisely, in the Town Hall, will not be a lengthy one. " Commercial motoring " will be proposed by Mr. H. Thomson-Lyon, chairman of the Highways Committee of the Westminster City Council and chairman of the Ambulance Committee of the Metropolitan Asylums B3ard, and the response will be made by Colonel R. E. B. Crompton, C.B., M.Inst.C.E., chairman of the Commercial Motor Users' Association. The toast of the " Borough of Reading and the local Reception Committee " will be submitted by Mr. W. Rees Jeffreys, secretary of the Commercial Motor Users' Association and of the Motor Union, and the reply will be made by the Mayor of Reading, Councillor Edward Jackson, J.P., chairman of the local reception committee. The accompanying line drawings will show the principal features in the arrangements for the assembling and procession of the vehicles. The smaller map is a plan of the market place, with 30 vehicles drawn in on the basis of 161 feet in length by 7 feet in width : the four vehicles in the centre portion of this space will be double-deck motorbuses. The plan of the processional route has been arranged by the local committee in order to provide suitable turning places, and it avoids any necessity for the doubling back of the head of the pro-ession upon itself. Great local interest is taken in the arrangements.