RED and WHITE a striking combination
13th January 1950
Page 51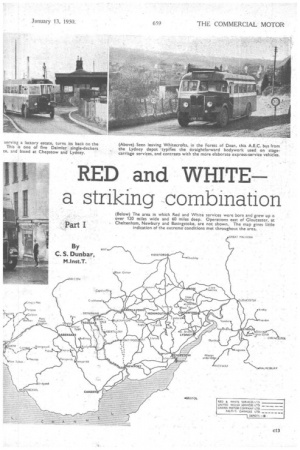 Page 50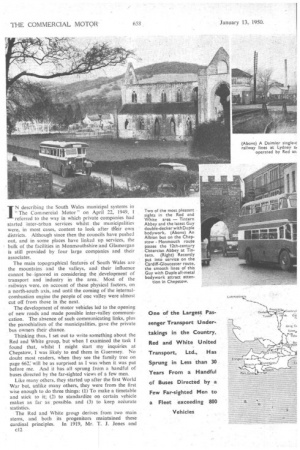 Page 52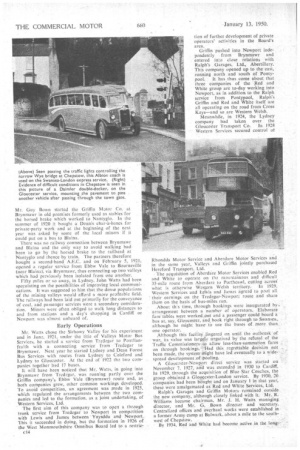 Page 53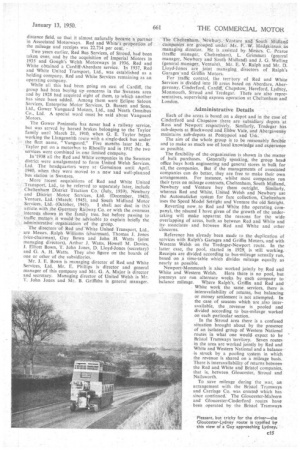 Page 54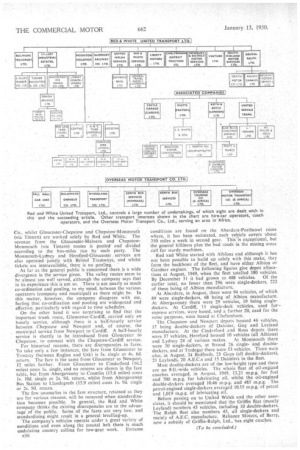 Page 51, 13th January 1950 —
RED and WHITE a striking combination
Close
IN describing the South Wales municipal systems in "The Commercial Motor" on April 22, 1949, I referred to the way in which private companies had started inter-zrban services whilst the municipalities were, in most cases, content to look after their own districts. Although since then the councils have pushed out, and in some places have linked up services, the bulk of the facilities in Monmouthshire and Glamorgan is still provided by four large companies and their associates.
The main topographical features of South Wales are the mountains and the valleys, and their influence cannot be • ignored in considering the development of transport and industry in the area. Most of the railways were, on account of these physical factors, on a north-south axis, and until the coming of the internalcombustion engine the people of one valley were almost cut off from those in the next.
The development of motor vehicles led to the opening of new roads and made possible inter-valley communication. The absence of such communicating links, plus the parochialism of the municipalities, gave the private bus owners their chance.
Thinking thus, I set out to write something about the Red and White group, but when I examined the task I found that, whilst I might start my inquiries at Chepstow, I was likely to end them in Guernsey. No doubt most readers, when they see the family tree on page 662; will be as surprised as I was when it was put before me. And it has all sprung from a handful of buses directed by the far-sighted views of a few men.
Like many others, they started up after the first World War but, unlike many others, they were from the first wise enough to do three things: (I) To make a timetable and stick to it; (2) to standardize on certain vehicle makes as far as possible, and (3) to keep accurate statistics.
The Red and White grow derives from two main stems, and both its progenitors maintained these cardinal principles. In 1919, Mr. T. J. Jones and c12
Mr. Guy Bown started the Griffin Motor Co. at Brynmawr in old premises formerly used as stables for the horsed brake which worked to Nantyglo. In the summer of 1920 it bought a Dennis char-a-bancs for private-party work and at the beginning of the next year was asked by some of the local miners if it could put on a bus to Blaina.
There was no railway connection between Brynmawr and Blaina and the only way to avoid walking had been to go by the horsed brake to the railhead at Nantyglo and thence by train. The partners therefore bought a second-hand A.E.C. and on February 5, 1921; opened a regular service from Ebbw Vale to Bourneville (near Blaina), via Brynmawr, thus connecting up two valleys which had previously been isolated from one another.
Fifty miles or so away, in Lydney, John Watts had been speculating on the possibilities of improving local communications. It was suggested to him that the dense populations of the mining valleys would afford a more profitable field. The railways had been laid out primarily for the conveyance of coal, arid passenger services Were a secondary consideration. Miners were often obliged to walk long distances to and from stations and a day's shopping in Cardiff or Newport was almost unheard of.
Early Operations
Mr. Watts chose the Sirhowy Valley for his experiment and in June, 1921, under the title of Valleys Motor Bus Services, he started a service from Tredegar to Pantllanf raith with a connecting service from Tredegar to Brynmawr. Next year he started Lydney and Dean Forest Bus Services with routes from Lydney to Coleford and Lydney to Gloucester. At the end of 1922 the two companies together had 17 buses. It will have been noticed that Mr. Watts, in going into Brynmawr from Tredegar, was running partly over the Griffin company's Ebbw Vale (Brynmawr) route and, as both companies grew, other common workings developed. To avoid competition, an agreement was made in 1925, which regulated the arrangements between the two companies and led to the formation, as a joint undertaking, of _Western Services, Ltd. The first aim of this company was to open a through trunk service from Tredegar to Newport in competition with Lewis and James between Ynysddu and Newport. This it succeeded in doing, but the formation in 1926 of the West Monmouthshire Omnibus Board led to a restric c14 Rhondda Motor Service and Aberdare Motor Services and in the same year. Valleys and Griffin jointly purchased Hereford Transport, Ltd.
The acquisition of Aberdare Motor Services enabled Red and White to operate on the mountainous and difficult 35-mile route from Aberdare. to Porthcavvl, cutting acrosswhat is otherwise Western Welsh territory. In 1929, Western Services and Lewis andJam-es agreed to pool all ' their earnings on the Tredegar-Newpori route and share them on the basis of bus-miles run.
About this time, through bookings were inaugurated by; arrangement between a number of operators. Elaborate fare tables were worked out and a passenger could board a bus at, say, Gloucester, and, book right through to Swansea, although, he might have to use the buses of more than one operator. Although this facility lingered on until the outbreak' of war, its value was largely negatived by the refusal of the Traffic Commissioners to allow less-than-summation fares on through bookings. Had this regrettable decision not been made, the system might have led eventually to a widespread development of pooling, A Gloucester-Newport direct service was started on November 7, 1927, and was extended in 1930 to Cardiff. In 1929, through the acquisition of Blue Star Coaches, the group obtained a Gloucester-London service. By 1930, 20 companies had been bought and on January 1 in that year, these were amalgamated as Red and White Services, Ltd. Ralph's Garages and Griffin Motorsremained outside the new company, although closely linked with it. Mr. R. Williams became chairman. Mr. J. H. Watts managing director, and Mr. G. Bown director and secretary. Centralized offices and overhaul works were established in a former Army camp at Bulwark. about a mile to the southwest of Chepstow. By 1934, Red and White had become active in the long
distance field, so that it almost nafurally became a partner in Associated Motorways. Red and White's ,proportion of the mileage and receipts was 22.734 per cent.
Two years earlier, Red Bus Services, of Stroud, had been taken over, and by the acquisition of Imperial Motors in 1935 and Gough's Welsh Motorways in 1936, Red and White obtained a Cardiff-Aberdare service. In 1937, Red and White United Transport, Ltd. was established as a holding company. Red and White Services remaining as an operating company.
While all this had been going on east of Cardiff, the group had been buying up concerns in 'the Swansea area and by 1928 had acquired eight of them, to which another has since been added. Among them were Eclipse Saloon Services, Enterprise Motor Services, D. Bassett and Sons, Ltd., Gower Vanguard Motors, Ltd., and Neath Omnibus Co., Ltd. A special word must be said about Vanguard Motors.
The Gower Peninsula has never had a railway service, but was served by horsed brakes belonging to the Taylor family until March 21, 1910, when G. E. Taylor began working the Llangennith route with a single-deck bus under the fleet name, Vanguard." Five months later Mr. R. Taylor put on a motorbus to Rhosilly and in 1912 the two services were combined in one limited company.
In1938 all the Red and Whitecompanies in the Swansea district were amalgamated to form United Welsh Services, Ltd. The headquarters were at Gorseinon until April, 1940, when they were moved 4o a new and well-planned bus station in Swansea.
More recent acquisitions of Red and White United Transport, Ltd., to be referred to separately later, include Cheltenham District Traction Co. (July, 1939), Newbury and District Motor Services, Ltd. (December, 1943), Venture, Ltd. (March', 1945), and South Midland Motor Services, Ltd. (October, 1945). I shall not deal in this article with the Guernsey Railway Co. or with the overseas interests shown in the family tree, but before passing to traffic matters it would be advisable to explain briefly the • administrative organization of the group.
The directors of Red and White United Transport, Ltd., are Messrs. Ralph Williams (chairman), Thomas J. Jones (vice-chairman), Puy Bown and John H. Watts (joint managing directors), Arthur 1. Watts, Howell M. Davies, J. Elliott Bown, T. John Jones, D. Lloyd-Jones (secretary) and G. A. H. Watts. They also figure on the boards of one or other of the subsidiaries.
Mr. J. E. Bown is managing director of Red and White Services, Ltd. Mr. E. Phillips is director and general manager of this company and Mr. G. A. Major is director and secretary. Managing director of United Welsh is Mr. T. John Jones and Mr. B. Griffiths is general manager. The Cheltenham, NeAbur"). Venture and South Midland companies are grouped limier Mr. F.. W, •Hodgkinson as managing director. He is assisted by Messrs. C. Pearce (traffic manager, Cheltenham), L. Grirnmett (general manager, Newbury and South Midland) and J. G. Welling (general .manager, Venture)._ Mr. E. V. Ralph and Mr. D. Lloyd-Jones are joint managing, directors of Ralph's Garages and Griffin Motors.
For traffic control, the territory of Red and White Services is divided into 10 areas based on Aberdare, Abergavenny, Cirtderford, Cardiff, Chepstow, Hereford, Lydney, Monmouth, Stroud and Tredegar. There are also representatives, supervising express operation at Cheltenham and London.
Administrative Details
Each of the areas is based on a ,depot and in the case of Cinderford and Chepstow thereare subsidiary depots at Ross and Newport respectively. Similarly, Tredegar has sub-depots at Blackwood and Ebbw Vale, and Abergavenny maintains sub-depots at Pontypool and Usk.
The aim of the whole group is to be reasonably flexible and to make as much use of local knowledge and experience as possible.
The flexibility of the organization is shown in the matter of bulk purchases. Generally speaking, the group head office buys both engineering and general stores in bulk for all the companies. But if the managements of associated companies can do better, they are free to make their own arrangements. For instance, whilst most companies run their tyres on mileage contracts, Cheltenham, South Midland, Newbury and Venture buy them outright. Similarly, whereas Red and White, United Welsh and Newbury use the Automaticket system for fare collection, Cheltenham -uses the Speed Model Setright and Venture the old Setright.
Reverting now. to Red and White (the operating company), the resume I have given of the growth of the undertaking will make apparent the reasons for the wide overlapping of areas, both as between Red and White and itsassociates and between Red and White and other concerns.
Reference has already been made to the duplication of services with Ralph's Garages and Griffin Motors, and with Western Welsh on the Tredegar-Newport route. In the latter case, the pool, started in 1929; is still working. Receipts are divided according to bus-mileage actually run, based on a time-table which divides mileage equally as nearly as possible.
Newport-Monmouth is also worked jointly by Red and White and Western Welsh. Here there is no pool, but journeys are run alternate weeks by each company to balance mileage. Where Ralph's, Griffin and Red and White work the same services, there is interavailability of returns, but balancing or money settlement is not attempted. In the case of seasons which are also inter • available, the revenue is pooled and divided according to bus-mileage worked on each particular section.
ln the Stroud area there is a confused situation brought about by the presence of an isolated grOup of Western National routes in what one would expect to be Bristol Tramways territory. Seven routes in the area are worked jointly by Red and White and Western National and a balance' is struck by a pooling system in which the revenue is shared on a mileage basis. There is interavailability of returns between the Red and White and Bristol companies. that is. between Gloucester, Stroud and Nailsworth.
To save mileage during the war, an arrangement with the Bristol Tramways and Carriage Co. was created which has since continued. The Gloucester-Malvern and Gloucester-Cinderford routes have been operated by the Bristol Tramways
Co., whilst Gloucester-Chepstow and Chepstow-Monmouth (via Tintern) are worked solely by Red. and White. The revenue from the Gloucester-Malvern and ChepstowMonmouth (via Tintern) routes is pooled and divided according to the bus-miles run by each party. The Monmouth-Lydney and Hereford-Gloucester services are also operated jointly with Bristol Tramways, and whilst tickets are interavailable, there is no pooling.
As far as the general public is concerned there is a wide divergence in the service given. The valley routes seem to be almost too well served, although the company says that in its experience this is not so. There is not nearly as much co-ordination and pooling, to My mind, between the various operators (company and municipal) as there might be. In this matter, however, the company disagrees with me, feeling that co-ordination and pooling are widespread and effective, particularly with regard to time schedules.
On the other hand it was surprising to find that the important trunk route, Gloucester-Cardiff, carried only an hourly service, although there is a half-hourly service between Chepstow and Newport and, of course, the municipal service from Newport to Cardiff. A half-hourly service is shortly to be introduced from Gloucester to Chepstow. to connect with the Chepstow-Cardiff service.
For historical reasons, there are discrepancies in. fares. To take only a few instances, the fare from Gloucester to Trostrey (between Raglan and Usk) is 3s. single or 4s. 6d. return. The fare is the same from Gloucester to Newport, 12 miles farther. From Gloucester to Cinderford (16.2 miles) costs Is. single, and no returns are shown in the fare table, but from Abergavenny to Crumlin (15.6 miles) costs Is. 10d. single or 2s. 9d. return, whilst from Abergavenny Bus Station to Llandegreth (15.9 miles) costs Is. 9d. single or 2s. 9d. return.
The few anomalies in the fare structure, retained as they are for various reasons, will be removed when standardization becomes possible. In general, the Red and White company thinks the existing discrepancies are to the advantage of the public. Some of the fares are very low, and standardizing might result in a general levelling-up.
The company's vehicles operate under a great variety of conditions and even along the coastal belt there is much undulating country calling for low-gear work. Extreme cl 6
conditions are found on the Aberdare-Porthcawl rOute where, it has been estimated, each vehicle covers about 350 miles a week in second gear. This-is exceptional, but the general hilliness plus the had roads in the mining areas eallfor sturdy machines.
Red and White started with Albfons and although it has not been possible to build up solely with this make, they form the backbone of the fleet, and have either Albion or Gardner engines. The following figures give depot allocations at August, 1949, when the fleet totalled 380 vehicles. By December 31 it had grown to 408 vehicles. Of the earlier total, no fewer than 296 were single-deckers, 222 of these being of Albion manufacture.
At Aberdare, in August, there were 94 vehicles, of which 89 were single-deckers, 68 being of Albion manufacture. At Abergavenny there were 29 vehicles, 19 being singledeckers. At Cardiff, 11 single-deck vehicles, used for express services, were based, and a further 20, used for the same purposes, were based at Cheltenham.
The Chepstow and Newport depots housed 46 vehicles, 17 being doubie-deckers of Daimler. Guy and Leyland manufacture. At the Cinderford and Ross depots there were 37 vehicles, Hereford housed 10 vehicles (all Albions) and tydney 24 of various makes. At Monmouth there were 30 single-deckers, at Stroud 26 singleand doubledeckers. and at Tredegar there were 53 vehicles. There were also, in August, 34 Berlfords, 23 Guys (all double-deckers), 21 Leylands, 20 A.E.C.s and 15 Daimlers in the fleet. Most double-deckers are of the low-height type and there are no 8-ft.-wide vehicles. The whole fleet of oil-engined coaches averaged, in August, 1949, 13.21 m.p.g. for fuel and 700 m.p.g. for lubricating oil, whilst the oil-engined double-deckers averaged 10.46 m.p.g. and 485 m.p.g. The petrol-engined single-deckers averaged 10.15 m.p.g. of petrol and 1,019 m.p.g. of lubricating oil. Before passing on to United Welsh and the other associate8, it should be mentioned that the Griffin fleet (mostly Leyland) numbers 45 vehicles, including 10 double-deckers. The Ralph fleet also numbers 45, all single-deckers and mainly of A.E.C. manufacture. Reliance Motors, of Barry, now a subsidy of Griffin-Ralph, Ltd., has eight coaches.
Tags
People
:
John Watts
,
R. Williams
,
Lewis andJ
,
Lewis
,
Lydney Forest
,
T. John Jones
,
Puy Bown
,
Ralph Williams
,
R. Taylor
,
E. Phillips
,
J. E. Bown
,
D. Lloyd-Jones
,
J. Elliott Bown
,
J. H. Watts
,
G. A. Major
,
Newbury
,
B. Griffiths
,
James
,
E. V. Ralph
,
Howell M. Davies
,
Dean Forest
,
Guy Bown
,
Thomas J. Jones
,
John H. Watts
,
G. Bown
,
L. Grirnmett
,
T. J. Jones
,
C. Pearce
Locations
:
Bourneville
,
Stroud
,
Chepstow
,
Malvern
,
Cinderford
,
Bristol
,
Newport
,
Gloucester
,
Cardiff
,
Nailsworth
,
London
,
Trostrey