REGULATIONS FOR COACHES IN FRANCE.
13th January 1925
Page 22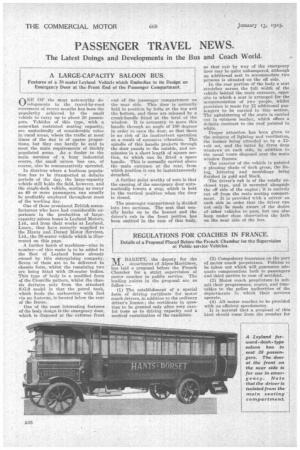 Page 23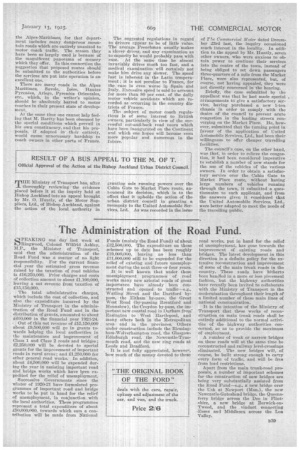 Page 22, 13th January 1925 —
REGULATIONS FOR COACHES IN FRANCE.
Close
Details of a Proposal Placed Before the French Chamber for the Supervision of Public•serkice Vehicles.
MBARETY, the deputy for the . department of Alpes-Maritimes, has laid a proposal before the French Chamber for a strict supervision of motor coaches in public service. The leading points in the proposal are as follow :—
(1) The establishment of a special form of driving certificate for motor coach drivers, in addition to the ordinary driver's licence ; the certificate in question to be granted only after very careful tests as to driving capacity and a medical examination of the candidate. (2) Compulsory insurance on the part of motor coach proprietors. Policies to be taken out which will guarantee adequate compensation both to passengers and third parties in case of accident.
(3) Motor coach proprietors to submit their programmes, routes, and timetables to the police authorities of the departments in which their services operate.
(4) All motor coaches to be provided with an efficient speedometer.
It is natural that a proposal of this kind should come from the member for the Alpes-Maritimes, for that department includes many dangerous .mountain roads which•a re entirely unsuited to motor coach traffic. The reason they have been so largely used is because of the magnificent panorama of scenery which they offer. In this. connection the suggestion that proposed routes should be submitted to the authorities before the services are put into operation is an excellent one.
There are many roads in the Alpes Maritimes, Savoie, Isere, Rautes Pyrenees, Ariege, Pyrenees Orienteles, etc., which, in the writer's opinion, should be absolutely barred to motor coaches in their present state of development.
At the same time one cannot help feeling that M. Barety has been obsessed by the special conditions which prevail in his own constituency, and that his proposals, if adopted in their entirety, would cause unnecessary hardship to coach owners in other parts of Franca.
The suggested regulations in regard to drivers appear to be of little value. The average Frenchman usually makes a clever driver, and any examination as to capacity he would probably pass. with ease. At the same time he almost invariably drives much too fast, and a medical examination will certainly not make him drive any slower. The speed lust is inherent in the Latin temperament it is not peculiar to France, for the case is even worse in. Spain and Italy. Excessive speed is said to account for more than SO per cent, of the daily motor vehicle accidents which are recorded as occurring in the country districts of France.
Pita subject of motor coach regulations is of some interest to British owners, particularly in view of the successful out-and-back road tours which have been inaugurated on the Continent and which one hopes will become even more popular and numerous in the future.