Testing the Crosland link by janus
13th February 1970
Page 55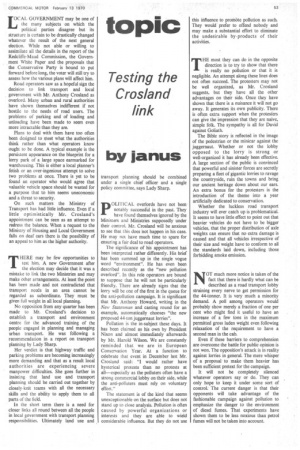 Page 55, 13th February 1970 —
Testing the Crosland link by janus
Close
ECAL GOVERNMENT may be one of the many subjects on which the political parties disagree but its structure is certain to be drastically changed whatever the result of the next general election. While not able or willing to assimilate all the details in the report of the kedcliffe-Maud Commission, the Govern . _.ment White Paper and the proposals that the Conservative Party is bound to put forward before long, the voter will still try to assess how the various plans will affect him.
Road operators saw as a hopeful sign the • decision to link transport and. local , government with Mr. Anthony Crosland as overlord. Many urban and rural authorities have shown themselves indifferent if not hostile to the needs of road users. The problems of parking and of loading and unloading have been made to seem even more intractable than they are.
Plans to deal with them have too often been designed to ineet what the authorities think rather than what operators know ought to be done. A typical example is the persistent appearance on the blueprint for a lorry park of a large -space earmarked for warehousing. This is either a local planner's fetish or an over-ingeniousattempt to solve two problems at once. There is yet to be found an operator who would agree that valuable vehicle space should be wasted for a purpose that to him seems uneconomic and a threat to security.
On such matters the Ministry of Transport has had little influence.. Even if a little optimistically . Mr. Crosland's appointment can be seen as an attempt to redress the balance. When a request to the Ministry of Housing and Local Government falls on deaf ears there is the possibility of an appeal to him as the higher authority.
THERE may be few opportunities to test him. A new Governmentafter the election may decide that it was a mistake to link the two Ministries and may make other arrangements. At least the point has been made and not contradicted that transport needs in an area cannot be regarded as subordinate. They must be given full weight in all local planning.
No opposition front any quarter has been made to Mr. Crosland's decision to establish a transport and environment centre for the advanced training of the people engaged in planning and managing urban transport. He was following a recommendation in • a report on transport planning by Lady Sharp.
Her verdict is that highway traffic and parking problems are becoming increasingly more demanding and that as a result local authorities are experiencing . severe manpower difficulties. She goes further in ' insisting that land use and transport planning should be carried out together by closely-knit teams with all the necessary skills and the ability to apply them to all parts of the field. • In the short term there is a need for closer links all round between all the people in local government with transport planning responsibilities. Ultimately land use and , transport planning should be combined under a single chief officer and a single policy committee, says Lady Sharp.
pOLITICAL overlords have not been notably successful in the past. They have found themselves ignored by the Ministers and Ministries supposedly under their control. Mr. Crosland will be anxious to see that this does not happen in his case. He may not have much time to spare for ensuring a fair deal to road operators.
The significance of his appointment has been interpreted rather differently. His brief has been summed up in the single vogue word "environment". He has even been described recently as the "new pollution overlord". In this role operators are bound to suppose that he will not be particularly friendly. There are already signs that the lorry will be one of the first in the queue for the anti-pollution campaign. It is significant that Mr. Anthony Howard, writing in the New Statesman and casting round for an example, automatically chooses "the new proposed 44-ton juggernaut lorries".
Pollution is the in-subject these days. It has been claimed as his own by President Nixon and almost immediately afterwards by Mr. Harold Wilson. We are constantly reminded that we are in European Conservation Year At a function to celebrate that event in December last Mr. Crosland said: "I would rather have hysterical protests than no protests at all—especially as the polluters often have a strong commercial lobby on their side, while the anti-polluters must rely on voluntary effort." .
The statement is of the kind that seems unexceptionable on the surface but does not stand up to close analysis. Pollution is often caused by powerful organizations or interests and they are able to wield considerable influence. But they do not use this influence to promote pollution as such. They would prefer to offend nobody and may make a substantial effort to eliminate the undesirable by-products of their activities.
THE most they can do in the opposite direction is to try to show that there is really no pollution or that it is negligible. An attempt along these lines does not often succeed. The protesters may not be well organized, as Mr. Crosland suggests, but they have all the other advantages on their side. Once they have shown that there is a nuisance it will not go away. It generates. its own publicity. There is often extra support when the protesters can give the impression that they are naive, simple folk. The sympathy is all for David
against Goliath. ,
The Bible story is reflected in the image of the pedestrian or the minicar against the juggernaut. Whether or not the lobby opposed to the lorry is strong or well-organized it has already been effective. A large section of the public is convinced that powerful and sinister forces are secretly preparing a fleet of gigantic lorries to ravage the countryside, ruin the towns and bring our ancient heritage down about our ears. An extra bonus for the protesters is the introduction of the theme into a year artificially dedicated to conservation.
Whether the luckless road transport industry will ever catch up is problematical. It seems to have little effect to point out that heavier vehicles do not have to be bigger vehicles, that the proper distribution of axle weights can ensure that no extra damage is caused and that all vehicles irrespective of their size and weight have to conform to all the standards laid down, including those forbidding smoke emission. '
NOT Much more notice is taken of the fact that there is hardly what can be described as• a road transport lobby straining every nerve to. get permission for the 44-tormer. It is very much a minority demand. A poll among operators would probably show merely a fraction of one per cent who might find it useful to have an increase of a few tons in the maximum permitted gross laden weight even following relaxation of the requirement to have a second man in the cab.
Even if these barriers to comprehension are overcome the battle for public opinion is not won. The opposition's attack is in reality against lorries in general. The mere whisper of a proposal to make them heavier has been sufficient pretext for the campaign.
It will not be completely silenced whatever operators say or do. They can only hope to keep it under some sort of control. The current danger is that their opponents will take advantage of the fashionable campaign against pollution to emphasize the danger to the environment of diesel fumes. That experiments have shown them to be less noxious than petrol fumes will not be taken into account.